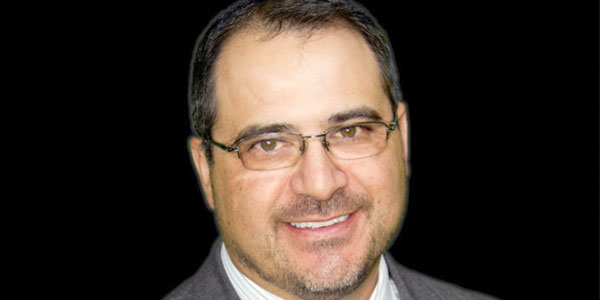 Local lawyer focusing on defending people's rights
By Chara
As a kid, Heber Gonzalez learned the importance of humility and helping others.
As an adult, Gonzalez is trying to apply those lessons by helping people understand their rights as an attorney with the Solorio & Avila Law Firm.
Gonzalez – who'll host a legal advice radio show at 2:30 p.m. every Thursday, starting this Thursday (Nov. 16) on La Gran D (1340 AM) – was born in Kansas. The first five years of his life took him to Mexico, where he was raised in Yepoera, Chihuahua. Then, his family decided to return to Kansas. When Gonzalez's family decided to return, he learned some important lessons about American culture.
"I learned about honor and humility," Gonzalez said. "I learned that people need to work hard. There are plenty of opportunities that you need to work on to get them."
Gonzalez's passion for law started when he was young. He became interested in learning about rights and obligations in American society.
"When you know the law, you can stand up for your rights and help others," Gonzalez said.
Through his work at Solorio & Avila in Shawnee Mission, Kan., Gonzalez tries to help others by focusing on personal injury cases, such as motor vehicle accidents, construction-related accidents and accidents caused by equipment defects. He works other types of cases, too, including product liability, wage theft, consumer protection, business and construction law, and construction contract disputes.
"I love to help our community," Gonzalez said. "In my clients, I see my aunts', family (members') and friends' faces. I'm ready to fight for their rights. Sometimes, they just need a free consultation to understand their rights and obligations."
Gonzalez tries to provide help in other ways. He's a member of the Hispanic Bar Association of Greater Kansas City. He also serves as a board member for the Migrant Farm Workers Assistance Fund.
For more information about Gonzalez's services, visit http://www.salawkc.com/. To schedule an appointment, call (913) 831-7300.
---
González apoya a la comunidad
Abogado local se enfoca en defender los derechos de las personas
Cuando era niño, Heber González aprendió la importancia de la humildad y de ayudar a los demás.
Como adulto, González intenta aplicar esas lecciones ayudando a la gente a entender sus derechos como abogado con el despacho de abogados Solorio & Avila.
González, quien será el anfitrión de un programa de radio de asesoramiento legal a las 2:30 p.m. todos los jueves, comenzando este jueves (16 de noviembre) en La Gran D (1340 AM) – nació en Kansas. Los primeros cinco años de su vida lo llevaron a México, donde se crió en Yepoera, Chihuahua. Después, su familia decidió regresar a Kansas. Cuando la familia de González regresó, aprendió algunas lecciones importantes sobre la cultura estadounidense.
"Aprendí sobre el honor y la humildad," indicó González. "Aprendí que la gente necesita trabajar duro. Hay muchas oportunidades y debes trabajar para obtenerlas."
La pasión de González por la ley comenzó cuando él era joven. Se interesó en aprender sobre los derechos y las obligaciones en la sociedad estadounidense.
"Cuando conoces la ley, puedes defender tus derechos y ayudar a otros," indicó González.
A través de su trabajo en Solorio & Ávila en Shawnee Mission, Kansas, González intenta ayudar a otros centrándose en casos de lesiones personales, como accidentes automovilísticos, accidentes relacionados con la construcción y accidentes causados ​​por defectos en los equipos. También trabaja en otros tipos de casos, incluida la responsabilidad por productos defectuosos, robo de salarios, protección del consumidor, derecho comercial y de construcción y disputas contractuales de construcción.
"Me encanta ayudar a nuestra comunidad," dijo González. "En mis clientes, veo las caras de mis tías, miembros de familia y amigos." Estoy listo para luchar por sus derechos. A veces, sólo necesitan una consulta gratuita para comprender sus derechos y obligaciones."
González intenta brindar ayuda de otras maneras. Es miembro de la Hispanic Bar Association de Kansas City. También se desempeña como miembro de la junta del Fondo de Asistencia para Trabajadores Agrícolas Migrantes.
Para obtener más información sobre los servicios de González, visite http://www.salawkc.com/. Para programar una cita, llame al (913) 831-7300.