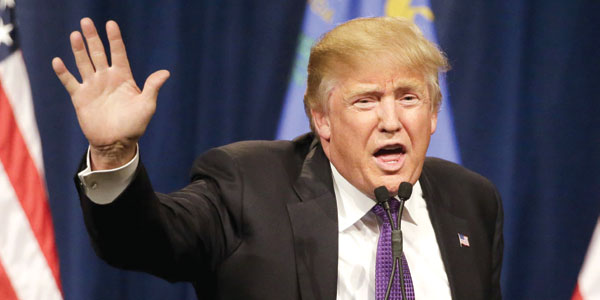 By Chara
On Monday (Dec. 11), several women held a press conference in New York City to accuse President Trump of sexual harassment and misconduct.
"This was serial misconduct and perversion on the part of Mr. Trump," accuser Rachel Crooks told reporters. "Unfortunately, this behavior isn't rare in our society, and people of all backgrounds can be victims. The only reason I am here today is that this offender is now the president of our country."
Crooks claimed that Trump had kissed her on her mouth in 2005 without her consent. Other accusers included Samantha Holvey, a former pageant contestant, who accused Trump of staring at her and many other contestants in the makeup room.
Holvey and Crooks are among 15 women who've accused Trump of sexual misconduct and harassment. According to news reports, 13 women claimed they felt attacked by Trump, with two others stating they had witnessed uncomfortable behavior displayed by him.
To address the accusations, White House press secretary Sarah Huckabee Sanders stated during a press conference Monday in Washington, D.C., that Trump had "addressed and denied all of these allegations." In addition, the press secretary said the alleged incidents had taken place years before he had been elected president.
"The people of this country, at a decisive election, supported President Trump – and we feel like these allegations have been answered through that process," Huckabee Sanders said in response to a question posed by a female journalist.
It appears, however, that the allegations won't disappear any time soon. In a letter to U.S. Rep. Trey Gowdy, House Oversight and Government Reform Committee chairman, a group of lawmakers asked Gowdy to investigate the allegations against Trump. Originally, news sources put the number of lawmakers signing the letter in the 50s; however, a Los Angeles Times story reported the number of signatures has jumped from 59 to 100-plus.
"We cannot ignore the multitude of women who have come forward with accusations," a paragraph of the letter stated, quoted in an NBC News story.
The Los Angeles Times and other news agencies reported that Gowdy answered the letter Tuesday (Dec. 12), saying he was sending the letter to Justice Department.
President Trump has said he never met his accusers and the allegations are fake.
____________________________________________________________________________________________________
Grupo de mujeres acusan a Trump de acoso sexual y mala conducta
El lunes (11 de diciembre), varias mujeres realizaron una conferencia de prensa en la ciudad de Nueva York para acusar al presidente Trump de acoso sexual y mala conducta.
"Esta fue una mala conducta y perversión por parte del Sr. Trump", indicó la acusadora Rachel Crooks a los periodistas. "Desafortunadamente, este comportamiento no es raro en nuestra sociedad y las personas de todos los orígenes pueden ser víctimas. La única razón por la que estoy aquí hoy es que este delincuente es ahora el Presidente de nuestro país ".Crooks afirmó que Trump la había besado en la boca en el 2005 sin su consentimiento. Otras de las acusadoras incluyen a Samantha Holvey, una ex participante del concurso de belleza, que acusó a Trump de mirarla a ella y a muchas otras participantes en la sala de maquillaje.
Holvey y Crooks están entre las 15 mujeres que acusaron a Trump de conducta sexual inapropiada y acoso. Según los medios de comunicación, 13 mujeres afirmaron que se sintieron atacadas por Trump y otras dos dijeron que habían presenciado un comportamiento incómodo mostrado por él.
Para abordar las acusaciones, la secretaria de prensa de la Casa Blanca, Sarah Huckabee Sanders, declaró durante una conferencia de prensa en Washington, DC, que Trump había "atendido y negado todas estas acusaciones". Además, el secretario de prensa dijo que los presuntos incidentes habían tenido lugar años atrás antes de que hubiera sido elegido Presidente.
"La gente de este país, en elecciones decisivas, apoyó al presidente Trump, y sentimos que estas denuncias han sido respondidas a través de ese proceso", mencionó Huckabee Sanders en respuesta a la pregunta de una periodista.
Sin embargo, parece que las acusaciones no desaparecerán en un corto plazo. En una carta al representante de los Estados Unidos Trey Gowdy, presidente de House Goveright and Government Reform Committee, un grupo de legisladores le pidió a Gowdy que investigara las acusaciones contra Trump. Originalmente, los medios de información indican el número de legisladores que firmaron la carta en los años 50; sin embargo, una historia de Los Angeles Times informó que la cantidad de firmas aumentó de 59 a 100 o más.
"No podemos ignorar la multitud de mujeres que han presentado acusaciones", decía un párrafo de la carta, citado en una historia de NBC News.
Los Angeles Times y otros medios de comunicación informaron que Gowdy respondió a la carta el martes (12 de diciembre), diciendo que estaba enviando la carta al Departamento de Jus-ticia.
El presidente Trump ha indicado que nunca conoció a sus acusadores y las acusaciones son falsas.