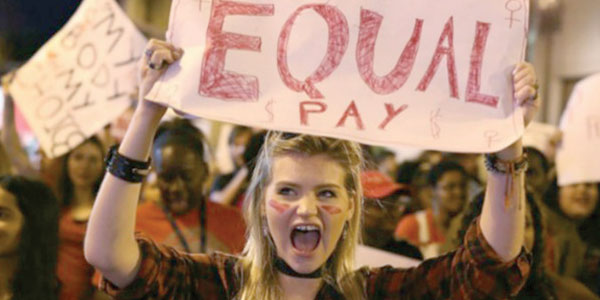 By Katherine Diaz
Iceland has become the first country to ensure gender equality in the workplace.
Under Icelandic law, it's illegal for companies with 25 or more employees to pay women less than their male counterparts. The North Atlantic country passed its equal pay law in 2017; however, it didn't officially take effect until Jan. 1, 2018.
According to Fortune, Iceland has worked toward closing the wage gap for more than a decade. The country seeks to eliminate the gap by 2020.
Before the law, Icelandic women had been earning "72 cents to every man's dollar," Fortune reported. By comparison, women in Missouri are paid 78 cents to every dollar men are paid. In Kansas, that difference is 77 cents to the dollar, according to the National Partnership for Women & Families.
The National Partnership for Women & Families also claims there's a nationwide disparity between Latina workers and their white, non-Hispanic counterparts. In March 2017, it published its findings of an analysis it had conducted of the wage gap in the 20 states with the largest full-time working Latina population. It concluded that Latinas who worked full time year-round were paid between "43 to 60 cents for every dollar paid to white, non-Hispanic men in those states."
Missouri and Kansas weren't among the selected 20 states.
________________________________________________________________________________________________
Islandia termina con la diferencia salarial de género, mientras que persiste en los EE.UU.
Islandia se ha convertido en el primer país en garantizar la igualdad de género en el lugar de trabajo.
Según la ley islandesa, es ilegal que las empresas con 25 empleados o más paguen menos a las mujeres que a sus colegas masculinos. El país del Atlántico Norte aprobó su ley de igualdad salarial en el 2017. Sin embargo, oficialmente no entró en vigencia hasta el 1 de enero del 2018.
Según Fortune, Islandia ha trabajado para acabar con la diferencia salarial durante más de una década. El país busca eliminar la diferencia para el 2020.
Antes de la ley, las mujeres islandesas ganaban "72 centavos por cada dólar de un hombre", informó Fortune. En comparación, a las mujeres en Missouri se les paga 78 centavos por cada dólar que se les paga a los hombres. Según la Asociación Nacional para Mujeres y Familias en Kansas, esa diferencia es de 77 centavos por dólar.
La Alianza Nacional para Mujeres y Familias también afirma que existe una disparidad a nivel nacional entre las trabajadoras latinas y sus colegas blancas y no hispanas. En marzo del 2017, publicó los resultados de un análisis que había llevado a cabo sobre la diferencia salarial en los 20 estados con la mayor población latina trabajadora de tiempo completo. Concluyó que a las latinas que trabajaban tiempo completo durante todo el año se les pagaba entre "43 y 60 centavos por cada dólar pagado a los hombres blancos y no hispanos en esos estados".
Missouri y Kansas no se encontraban entre los 20 estados seleccionados.