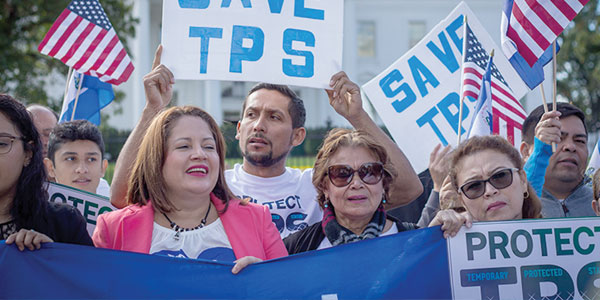 By Chara
Coffman seeking way to legalizing TPS enrollees, but end program
Recently, the Trump administration decided to end the temporary protected status (TPS) for immigrants from four countries, including more than 260,000 immigrants from El Salvador.
But if U.S. Rep. Mike Coffman has his say, they won't have to eventually leave the United States, as multiple media outlets have reported. Or at least some of them won't.
Recently, the Republican from Colorado introduced the TPS Act of 2018. Designed to grant legal residency to qualified TPS enrollees, the proposal also looks to extend the TPS program for three years for current enrollees. After three years, qualified people could apply for permanent residency. In addition, 50,000 green cards would be deducted annually for the program proportionally from each of the existing green card categories.
"This legislation will help those who have been living and working in the United States, under TPS for many years, to have a legal status that would give them a path to legal permanent residency and remove the fear of deportation," Coffman said in a press release posted online.
With the bill, however, Coffman hopes to gradually end the TPS program, which Congress created to grant protection to people who can't go back to their home countries because of wars or natural disasters. To Coffman, establishing the program was a bad, unrealistic idea.
"(It) is completely unrealistic in thinking that, once here, they would be willing to return to their home countries – where conditions may have improved, but are still nowhere near the living conditions here in the United States," he stated.
___________________________________________________________________________________________________
El legislador republicano introduce la Ley TPS del 2018
Coffman busca la forma de legalizar a los inscritos de TPS, pero finaliza el programa
Recientemente, el gobierno de Trump decidió terminar con el estatus de protección temporal (TPS) para inmigrantes de cuatro países, incluyendo a más de 260,000 inmigrantes de El Salvador.
Pero si el representante de los Estados Unidos Mike Coffman tiene su opinión, no tendrán que abandonar los Estados Unidos, como lo han informado varios medios de comunicación o al menos algunos de ellos no lo harán.
Recientemente, el republicano de Colorado presentó la Ley TPS del 2018. Diseñada para otorgar residencia legal a los inscritos en TPS que califiquen, la propuesta también busca extender el programa TPS durante tres años para los inscriptos actuales. Después de tres años, las personas que califiquen podrían solicitar la residencia permanente. Además, 50,000 credenciales de residencia (green card) se deducirían anualmente para el programa proporcionalmente de cada una de las categorías existentes de la credencial de residencia.
"Esta legislación ayudará a aquellos que han estado viviendo y trabajando en los Estados Unidos, bajo TPS durante muchos años, a tener un estatus legal que les dé un camino hacia la residencia legal permanente y eliminen el temor a la deportación", mencionó Coffman en un comunicado de prensa publicado en línea.
Sin embargo con el proyecto de ley, Coffman espera terminar gradualmente el programa TPS, que el Congreso creó para otorgar protección a las personas que no pueden regresar a sus países de origen debido a guerras o desastres naturales. Para Coffman, establecer el programa era una idea mala e irreal.
"Es completamente irreal pensar que, una vez aquí, estarían dispuestos a regresar a sus países de origen, donde las condiciones pueden haber mejorado, pero todavía no están cerca de las condiciones de vida aquí en Estados Unidos", afirmó.