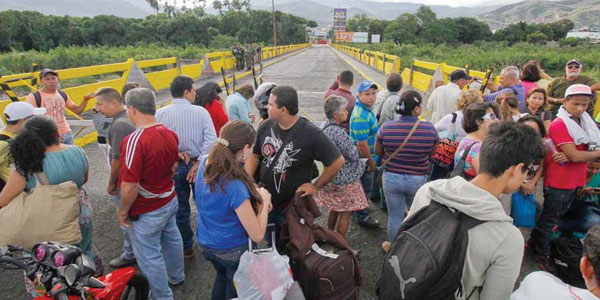 Venezuela, formerly one of Latin America's wealthiest countries, is suffering the consequences of the late President Hugo Chavez and his communist agenda.
The country's deep political and economic crises have brought extreme inflation, social tensions, and shortages of food and medical supplies. As a result, thousands of Venezuelans have made the hard decision to flee in search of a better life.
Sadly, they face many roadblocks trying to do so.
The most affordable option to flee Venezuela is to take a bus to a city that borders another country. The journey isn't cheap. For most Venezuelans, the bus fare is more than half of their monthly wage.
Even purchasing a one-way ticket can be a hassle. There's such a high demand for tickets and so few options available that purchasing a ticket might take from several hours to a few days, as hundreds of people line up to buy tickets.
Typically, the thousands of people who flee by bus leave the capital, Caracas, and head to San Cristobal – 500 miles from the capital. What makes this city so special is that it borders Colombia and is a popular exit point. But once outside Venezuela, life doesn't magically become great.
In Bogota, Colombia, for example, you can find 12 Venezuelans living in one small apartment. Hot water and furniture are luxuries most of them can't afford. They work 12-hour shifts (or longer), earning only between $6.50 and $13 a day. Still, despite the conditions, life in Colombia is better for them than what they left in Venezuela.
Unfortunately, the one-way trips aren't new. In 1999, when Chavez started his "revolution," Venezuelans started leaving. In 2016, there were 27,000 Venezuelan asylum seekers in the world. In 2017, there were more than 55,000. And unless conditions improve, the exodus will continue – regardless of how many roadblocks they face while fleeing to freedom.
_______________________________________________________________________________________________
Venezolanos huyen por una vida mejor
Venezuela, país que llegó a ser uno de los países más ricos de América Latina, está sufriendo las consecuencias del difunto presidente Hugo Chávez y su agenda comunista.
La profunda crisis política y económica del país ha provocado una inflación extrema, tensiones sociales y escasez de alimentos y suministros médicos. Como resultado, miles de venezolanos han tomado la difícil decisión de huir en busca de una vida mejor.
Lamentablemente, en el transcurro estas personas enfrentan muchos obstáculos.
La opción más económica para huir de Venezuela es tomar un autobús a una ciudad que limita con otro país. El viaje no es barato. Para la mayoría de los venezolanos, la tarifa del autobús es más de la mitad de su salario mensual.
Incluso la compra de un boleto puede ser una gran travesía. Hay una demanda tan alta de boletos y hay tan pocas opciones disponibles que la compra de un boleto poder tomar entre varias horas hasta varios días, ya que cientos de personas se alinean para comprar boletos.
Por lo general, los miles de personas que huyen en autobús salen de la capital, Caracas, y se dirigen a San Cristóbal, a 500 millas de la capital. Lo que hace a esta ciudad tan especial es que limita con Colombia y es un punto de salida popular. Pero una vez fuera de Venezuela, la vida no se vuelve mágicamente grandiosa.
En Bogotá, Colombia, por ejemplo, puedes encontrar 12 venezolanos viviendo en un apartamento pequeño. El agua caliente y los muebles son lujos que la mayoría de ellos no puede pagar. Trabajan turnos de 12 horas (o más), ganando sólo entre $ 6.50 y $ 13 por día. Aun así, a pesar de las condiciones, la vida en Colombia es mejor para ellos que lo que dejaron en Venezuela.
Desafortunadamente, los viajes de ida no son nuevos. En 1999, cuando Chávez comenzó su «revolución», los venezolanos comenzaron a irse. En 2016, había 27,000 solicitantes de asilo venezolanos en el mundo. En 2017, hubo más de 55,000. Y a menos que mejoren las condiciones, el éxodo continuará, independientemente de la cantidad de obstáculos que enfrentan al huir a la libertad.