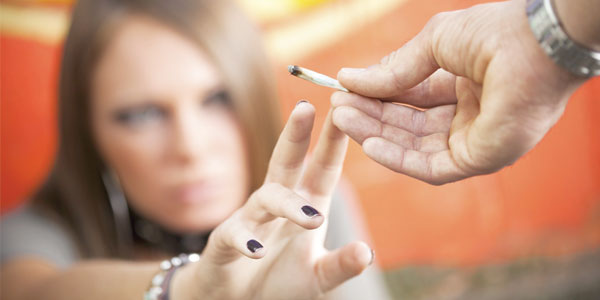 On Jan. 19, 18 days after it became legal to sell recreational cannabis in California, stores in Los Angeles started selling recreational marijuana to anyone over the age of 21 with an ID.
As has been expected, much has been debated about the legalization of recreational cannabis in California – how far stores should be away from schools, who should be allowed to sell, how much farmers should be allowed to grow. Unfortunately, though, not much has been debated about the message legalization sends.
No doubt, some people think that making marijuana legal means it's safe. But just because marijuana is legal doesn't mean it's risk-free.
Some studies suggest that one out of 10 marijuana users develop an addiction over time. Thus, making cannabis legal will most likely result in more people consuming it, resulting in more people becoming addicted to it.
Furthermore, the debates leading up to legalization in California didn't focus nearly enough on how Los Angeles, let alone other California communities, would regulate and patrol to assure cannabis products didn't get into the hands of children. Nor did they address some key questions. For example, what would the consequences be if someone who's under 21 years old gets caught with marijuana? And what would the consequences be to those buying marijuana for someone who's underage?
Arguing that marijuana is bad for one's health is irresponsible, because science hasn't confirmed that yet. However, arguing that marijuana is safe also is irresponsible. There simply isn't enough research that offers proof that marijuana is safe to consume – i.e., that it doesn't cause long-term damage to the human body.
Cities and states are putting their citizens at risk by making this questionable substance legal without a thorough discussion of the issues concerning marijuana. Therefore, it's up to us citizens to do our duty as parents, grownups and educators and talk to our children about cannabis.
If you need an extra incentive, think back to when you were in high school or college, when peer pressure probably drove you to have your first alcoholic beverage and/or cigarette. Why would it be different for today's children with marijuana?
So parents, grownups and educators, please talk to your children about marijuana. And start by telling them this: Just because it's legal (in some states), doesn't make it risk-free.
________________________________________________________________________________________________
El cannabis legal también puede traer riesgos
El 19 de enero del 2018, días después de que fuera legal vender cannabis recreativo en California, las tiendas en Los Ángeles comenzaron a vender marihuana recreativa a cualquier persona mayor de 21 años con una identificación.
Como es de esperar, se ha debatido mucho sobre la legalización del cannabis recreativo en California: cuán lejos deberían estar las tiendas de las escuelas, a quién se debería permitir vender, cuánto se debería permitir que los agricultores crezcan, y demás. Desafortunadamente, sin embargo, no se ha debatido mucho sobre el mensaje que envía la legalización.
Sin duda, algunas personas piensan que legalizar la marihuana significa que es seguro. Pero el hecho de que la marihuana sea legal no significa que esté libre de riesgos.
Algunos estudios sugieren que uno de cada 10 consumidores de marihuana desarrolla una adicción con el tiempo. Por lo tanto, hacer que el cannabis sea legal probablemente resultará en que más personas lo consuman, lo que provocará que más personas se vuelvan adictas a él.
Además, los debates que condujeron a la legalización en California no se enfocaron lo suficiente en cómo Los Ángeles, y mucho menos otras comunidades de California, regularían y patrullarían para asegurar que los productos de cannabis no cayeran en manos de los niños. Tampoco abordaron algunas preguntas clave. Por ejemplo, ¿cuáles serían las consecuencias si alguien menor de 21 años queda atrapado con marihuana? ¿Y cuáles serían las consecuencias para aquellos que compran marihuana para alguien que es menor de edad?
Argumentar que la marihuana es perjudicial para la salud es irresponsable, porque la ciencia aún no lo ha confirmado. Sin embargo, argumentar que la marihuana es segura también sería irresponsable. Simplemente no hay suficiente investigación que ofrezca pruebas de que la marihuana es segura para consumir, es decir, que no causa daños a largo plazo al cuerpo humano.
Las ciudades y los estados están poniendo en riesgo a sus ciudadanos al hacer que esta cuestionable sustancia legal sin una discusión a fondo de los problemas relacionados con la marihuana. Por lo tanto, depende de nosotros los ciudadanos hacer nuestro deber como padres, adultos y educadores y hablar con nuestros hijos sobre el cannabis.
Si necesita un incentivo adicional, recuerde cuando estaba en la escuela secundaria o la universidad, cuando la presión de los compañeros probablemente lo llevó a tomar su primera bebida alcohólica y / o cigarrillo. ¿Por qué sería diferente para los niños de hoy con marihuana?
Entonces padres, adultos y educadores, hablen con sus hijos sobre la marihuana. Y comience diciéndoles esto: el hecho de que sea legal (en algunos estados) no quiere decir que no tenga un gran riesgo.