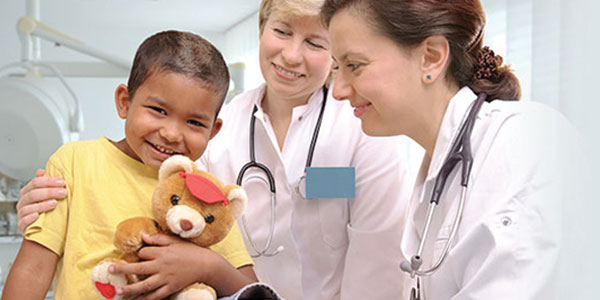 The Children's Health Insurance Program (CHIP) has funding again – through 2024, at least.
As multiple news sources reported, federal funding initially ran out on Sept. 30, 2017, for the low-cost, combination federal-and-state government insurance program, which assists families with incomes that are too high for Medicaid, but who can't afford private insurance plans. Although Congress passed a short-term funding extension shortly before Christmas, many states had almost exhausted their funds. Moreover, some health officials worried that some states could exhaust their funding by the end of January.
Recent budget negotiations and a three-day federal government shutdown further fueled uncertainty about the program. According to The New York Times, on Jan 11., federal lawmakers were nearing a budget deal that would protect the children of undocumented immigrants (a.k.a., "Dreamers"), increase military funding and make proportional increases to non-military programs, including CHIP. But when Congress presented the deal to President Trump, he rejected it.
Lawmakers couldn't agree on a "continuing solution" to keep the government funded, resulting in a government shutdown that started on Jan. 19. For three days, they negotiated to reach an agreement. Democrats reported wanted a bill to reopen the government to include a provision to let Dreamers stay in the United States. That didn't happen.
However, on Monday (Jan. 22), Congress passed a short-term spending bill to reopen the government. In addition to keeping the government operating until Feb. 8, the bill legislation extended funding for CHIP for another six years.
The move ended a 114-day funding crisis for the program. According to a story posted on Monday at Vox.com, passing the legislation means that CHIP won't be used as a bargaining strategy in negotiations on Capitol Hill.
---
CHIP recibe financiamiento en un acuerdo para finalizar el cierre del gobierno
El Programa de seguro médico para niños (CHIP) tiene fondos nuevamente, hasta el 2024, como mínimo.
Como informaron varias fuentes de noticias, el 30 de septiembre del 2017 se agotaron los fondos federales para el programa de seguro gubernamental federal y estatal de bajo costo, que ayuda a las familias con ingresos demasiado altos para Medicaid, pero que no pueden pagar un seguro privado. Aunque el Congreso aprobó una extensión del financiamiento a corto plazo poco antes de Navidad, muchos estados casi habían agotado sus fondos. Además, algunos funcionarios de salud temen que algunos estados puedan agotar sus fondos para fines de enero.
Las recientes negociaciones presupuestarias y un cierre del gobierno federal de tres días impulsaron aún más la incertidumbre sobre el programa. Según The New York Times, el 11 de enero, los legisladores federales estaban llegando a un acuerdo presupuestario que protegería a los hijos de inmigrantes indocumentados (también conocidos como "Dreamers"), aumentaría el financiamiento militar y aumentarían proporcionalmente los programas no militares, incluyendo CHIP. Pero cuando el Congreso presentó el trato al presidente Trump, lo rechazó.
Los legisladores no pudieron ponerse de acuerdo sobre una "solución continua" para mantener al gobierno financiado, lo que resultó en un cierre del gobierno que comenzó el 19 de enero. Durante tres días, negociaron para llegar a un acuerdo. Los demócratas informaron que querían un proyecto de ley para reabrir el gobierno e incluir una disposición que permita a los Dreamers quedarse en Estados Unidos. Eso no sucedió
Sin embargo, el lunes (22 de enero), el Congreso aprobó un proyecto de ley de gastos a corto plazo para reabrir el gobierno. Además de mantener su funcionamiento hasta el 8 de febrero, la legislación de ley extendió los fondos para CHIP por otros seis años.
La medida puso fin a una crisis de financiamiento de 114 días para el programa. Según una historia publicada el lunes en Vox.com, aprobar la legislación significa que no se usará CHIP como una estrategia de negociación en Capitol Hill.