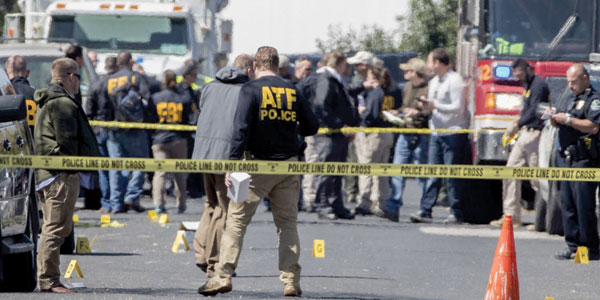 By Eulogio JP
From March 2 through Wednesday (March 21), millions of Texans lived in fear – particularly residents of Austin, the state capital.
The reason for their fear was a serial bomber who killed three people and detonated six explosions over 19 days, including the explosion that caused his death.
Frantically, authorities searched for clues to lead them to the bomber. However, the bomber would change tactics with every attack, making it almost impossible for the authorities to catch him.
As CNN and other news agencies reported, the bomber's most recent attack was on Tuesday (March 20), via a FedEx package that exploded at a mail sorting facility near San Antonio. A second package with explosives was discovered that day at another FedEx facility near Austin, but it didn't explode. Authorities deemed both packages to be connected to four previous bombings.
Additionally, FedEx confirmed that the person who had sent the package that exploded Tuesday also had shipped the second package that didn't explode and was turned over to law enforcement officials.
Early on Wednesday, the bombing suspect committed suicide inside his car with an explosive device as a SWAT team closed in, the police said. Authorities in Texas tracked the bomber through information they had received between 24 and 36 hours before the suspect's death. The information directed them to a person of interest, who eventually became a suspect.
Authorities have issued a statement explaining that the motives for the suspect, a 24-year-old white man, remained unknown. At press time, authorities didn't know if the suspect had acted alone, where the suspect had been in the past 24 hours or if he had sent any other packages. Austin Police Chief Brian Manley urged residents of his community to continue to be vigilant.
________________________________________________________________________________________
El sospechoso de un bombardero en serie de Texas está muerto
Desde el 2 de marzo hasta el miércoles (21 de marzo), millones de tejanos vivieron con miedo, particularmente los residentes de Austin, la capital del estado.
La razón de su miedo fue un bombardero serial que mató a tres personas y detonó seis explosiones durante 19 días, incluida la explosión que causó su muerte.
Frenéticamente, las autoridades buscaron pistas para llevarlos al atacante. Sin embargo, el atacante cambiaría las tácticas con cada ataque, lo que haría casi imposible que las autoridades lo atraparan.
Como informaron CNN y otras agencias de noticias, el ataque más reciente del atacante fue el martes (20 de marzo), a través de un paquete de FedEx que explotó en una instalación de clasificación de correo cerca de San Antonio. Un segundo paquete con explosivos fue descubierto ese día en otra instalación de FedEx cerca de Austin, pero no explotó. Las autoridades consideraron que ambos paquetes estaban conectados a cuatro bombardeos anteriores.
Además, FedEx confirmó que la persona que había enviado el paquete que explotó el martes también había enviado el segundo paquete que no explotó y fue entregado a las autoridades.
A primera hora del miércoles, el sospechoso se suicidó dentro de su automóvil con un artefacto explosivo mientras el equipo SWAT se acercaba, dijo la policía. Las autoridades en Texas rastrearon al terrorista con información que habían recibido entre 24 y 36 horas antes de la muerte del sospechoso. La información los dirigió a una persona de interés, que finalmente se convirtió en sospechosa.
Las autoridades emitieron una declaración explicando que los motivos del sospechoso, un hombre blanco de 24 años, permanecían desconocidos. En el momento de la publicación, las autoridades no sabían si el sospechoso había actuado solo, dónde había estado el sospechoso en las últimas 24 horas o si había enviado otros paquetes. El jefe de policía de Austin, Brian Manley, instó a los residentes de su comunidad a seguir vigilantes.