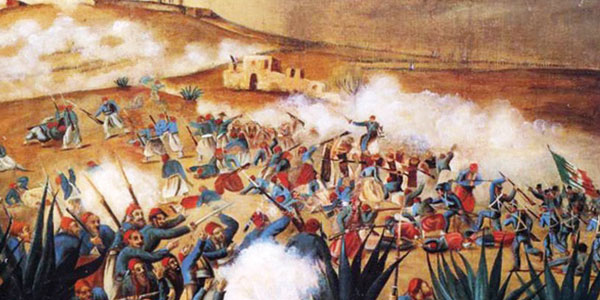 Saturday is the fifth of May, and there's a lot going on. Louisville, Ky., is hosting the 144th Kentucky Derby, the famous one-and-a-quarter-mile-long race for three year-old Thoroughbred horses. In honor of Free Comic Book Day, celebrated annually on the first Saturday in May, participating specialty comic book stores across the country will hand out complimentary comic books. To commemorate Herb Day, select local nurseries and herb gardens are offering demonstrations and tutorials.
May 5 also marks the Mexican army's victory over Napoleon III's French forces at the Battle of Puebla in 1862. On Kansas City's Westside, the Guadalupe Center is hosting its two-day Cinco de Mayo Fiesta, a tradition since 1922. Singer/songwriter and actor Bobby Pulido will headline the fête featuring mariachis, folkloric dancers, food, games and contests, a petting zoo, kids' rides and more.
Metro area restaurants get in the spirit by offering Mexican-inspired gastronomy and drink specials. Local libraries this week organized special events observing Cinco de Mayo.
It's a uniquely Mexican-American holiday. Schools are closed for the day in Mexico, but it isn't observed as a national holiday. The state of Puebla celebrates with military parades, historical reenactments and other festive events. In contrast, Cinco de Mayo is meaningful here in the U.S. It has become a major universal celebration of Mexican culture, cuisine and heritage, an occasion to acknowledge and honor the contributions of Mexican-Americans to U.S. society.
A cross section of Mexican-American notables would include the physicist, Albert Vinicio Báez who developed the x-ray microscope. Paulo Lozano, an aerospace engineer who's recognized as a pioneer in the field of micro-propulsion. Mario J. Molina won the Nobel Prize in Chemistry for his work on the depletion of the ozone layer. Anna Maria Chávez, former chief executive officer of Girl Scouts of the U.S.A. amplified participation of Girl Scouts in STEM-related fields. Nínive Clements Calegari, a teacher and author founded a national literacy program and The Teacher Salary Project. Last but not least are the more than 40 Mexican-Americans awarded the Medal of Honor, our nation's highest military decoration, for their valor in armed conflicts since World War I.
Cinco de Mayo is a day to celebrate, to reflect on the fact that our two nations – the United States and Mexico — share not only a continent, but an intimate history. 
____________________________________________________________________________________
Celebrando una historia compartida
El sábado es el 5 de mayo y están sucediendo muchas cosas. Louisville, Kentucky será la sede del 144º Derby de Kentucky, la famosa carrera de un cuarto de milla de caballos de 3 años pura sangre. En honor al día gratuito del cómic, que se celebra anualmente el primer sábado de mayo, las tiendas especializadas en cómics de todo el país repartirán cómics de cortesía. Para conmemorar el Herb Day, ciertos viveros locales y jardines de hierbas ofrecerán demostraciones y tutoriales.
El 5 de mayo también marca la victoria del ejército mexicano sobre las fuerzas francesas de Napoleón III en la Batalla de Puebla en 1862. En el Westside de Kansas City, el Guadalupe Center acoge su Fiesta del Cinco de Mayo, una tradición desde 1922. Cantante/ compositor y actor Bobby Pulido encabezará la fiesta con mariachis, bailarines folclóricos, comida, juegos y concursos, un zoológico de mascotas, paseos para niños y más.
Los restaurantes del área metropolitana se animan ofreciendo gastronomía y bebidas de inspiración mexicana. Las bibliotecas locales organizaron esta semana eventos especiales celebrando el Cinco de Mayo.
Es un feriado mexicano-estadounidense único. Las escuelas están cerradas por el día en México, pero no se celebra como feriado nacional. El estado de Puebla celebra con desfiles militares, recreaciones históricas y otros eventos festivos. En contraste, el Cinco de Mayo es muy significativo aquí en Estados Unidos. Se ha convertido en una gran celebración universal de la cultura, la gastronomía y el patrimonio mexicano, una ocasión para reconocer y honrar las contribuciones de los mexicano-estadounidenses a la sociedad de los EE. UU.
Una sección representativa de notables mexicano-estadounidenses incluiría al físico, Albert Vinicio Báez, quien desarrolló el microscopio de rayos X. Paulo Lozano, un ingeniero aeroespacial reconocido como pionero en el campo de la micropropulción. Mario J. Molina ganó el Premio Nobel de Química por su trabajo sobre el agotamiento de la capa de ozono. Anna Maria Chávez, ex directora ejecutiva de Girl Scouts de EE. UU. amplió la participación de Girl Scouts en campos relacionados con STEM. Nínive Clements Calegari, profesor y autor, fundó un programa nacional de alfabetización y el proyecto The Teacher Salary. Por último, pero no por ello menos importante, los más de 40 mexicano-estadounidenses galardonados con la Medalla de Honor, la condecoración militar más importante de nuestra nación, por su valor en los conflictos armados desde la Primera Guerra Mundial.
El Cinco de Mayo es un día para celebrar, para reflexionar sobre el hecho de que nuestras dos naciones, Estados Unidos y México, comparten no sólo un continente, sino también una íntima historia.