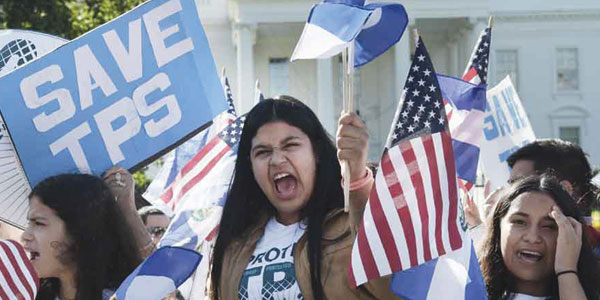 Hello my friends, it has been a difficult week of ups and downs in immigration news. We had good news for DACA and bad news for TPS. Now is time to stay informed and take action!
DACA: A third federal judge said that the cancellation of DACA was done incorrectly. This time, the judge said that if President Trump cannot provide a good explanation of why the program should be cancelled, the USCIS will have to accept new applications. The president has 90 days to respond, so no new applications will be accepted until August at least. For now, prepare your money (filing fee is $495) and documents just in case to be ready. The USCIS continues to accept renewal applications for now.
TPS: As expected, the President has cancelled TPS for Honduras. All Hondurans will have to re-register one last time, though we do not yet have the details or the time frame. The new work permits will be valid until January 5, 2020. All TPS holders should explore future options like obtaining permanent residency through family. In many cases, it is a good idea to obtain a travel permit and take a trip outside the US to ensure you have a legal entry for the future.
Vote: Make sure all of your family members and friends are registered to vote if they are eligible. You have to register at least a month in advance and the next major election is on November 6, 2018. We will be voting for members of Congress – they have the power to pass the DREAM Act and other immigration reform bills to protect our families.
The rules for immigrants are changing every day. Stay informed by following us on Facebook at www.facebook.com/jpiedralaw. I will also be doing free consultations at the Mexican Consulate on May 16th and May 30th at 10am. More information is on our Facebook page or call us at 816-895-6363.  
___________________________________________________________________________________
Incertumbre para DACA/TPS – Vota y organiza!
Hola amigos, ha sido una semana difícil de altibajos en las noticias sobre inmigración. Tuvimos buenas noticias para DACA y malas noticias para TPS. ¡Ahora es el momento de mantenerse informado y actuar!
DACA: Un tercer juez federal dijo que la cancelación de DACA se realizó de forma incorrecta. Esta vez, el juez dijo que si el presidente Trump no puede dar una buena explicación de por qué se debe cancelar el programa, el USCIS tendrá que aceptar nuevas solicitudes. El Presidente tiene 90 días para responder, por lo que no se aceptarán nuevas solicitudes hasta agosto como mínimo. Por ahora, prepare su dinero (la tarifa es de $ 495) y documentos para estar listo. El USCIS continúa aceptando solicitudes de renovación por el momento.
TPS: Como se esperaba, el presidente canceló el TPS para Honduras. Todos los hondureños tendrían que volver a registrarse por última vez, aunque todavía no tenemos los detalles ni las fechas de inscripción. Los nuevos permisos de trabajo serán válidos hasta el 5 de enero de 2020. Todos los quienes tienen TPS deben explorar opciones futuras, como obtener la residencia permanente a través de la familia. En muchos casos, es una buena idea obtener un permiso de viaje y realizar un viaje fuera de los EE. UU. Para garantizar que tenga una entrada legal para el futuro.
Votar: Asegúrese de que todos los miembros de su familia y amigos estén registrados para votar si son elegibles. Debe registrarse con al menos un mes de anticipación y la próxima elección principal es el 6 de noviembre de 2018. Votaremos por los miembros del Congreso: tienen el poder de aprobar el DREAM Act y otros proyectos de reforma migratoria para proteger a nuestras familias.
Las reglas para los inmigrantes cambian todos los días. Manténgase informado al seguirnos en Facebook en www.facebook.com/jpiedralaw. También realizaré consultas gratuitas en el Consulado de México el 16 de mayo y el 30 de mayo a las 10 de la mañana. Puede encontrar más información en nuestra página de Facebook o llámenos al 816-895-6363.