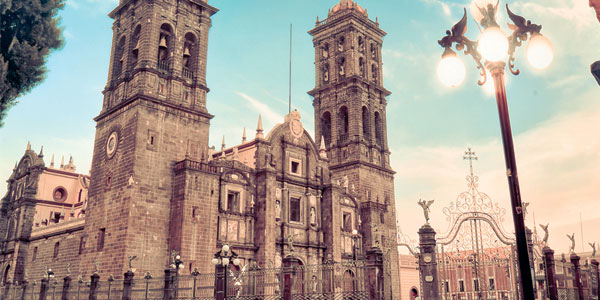 Welcome tourists! In this edition, we will talk about the fourth largest city in Mexico and without a doubt one of the most beautiful. We refer to Puebla, Mexico, where the famous "battle of May 5" took place. City founded in 1531 by the Spaniards and where most of them lived, so it took little time to develop its renowned architecture and cultural wealth. Its official name is Puebla de Zaragoza.
It should be noted that the beauty of the city is not only for its colonial style but also for its natural wealth, as it is surrounded by four imposing volcanoes: Popocatépetl, Iztaccíhuatl, La Malinche and Pico de Orizaba. The city is known as "Puebla de los Ángeles", since, according to legend, it was just traced by the angels, it is also known as the Angelópolis.
You can find round tickets from Kansas to the city of Puebla for $300, with at least 2 layovers. If you are planning to rent a vehicle consider going to Mexico City directly, so you can save a few hundred dollars and perhaps several hours of discomfort waiting for your next stop. But keep in mind that you will have to drive for 2 hours. The best way to get around the city is by car, but if you really want to know the city and all its wonders the best way is to do it on foot, so if you have more days you will not regret doing it on foot. As for accommodation, the night per room is usually around $80. But if your budget is limited, I advise you to stay at the hostels in the city for $5 per night. Puebla has a gastronomy of envy, there is a mixture between the cuisine of the indigenous people, the Spanish conquerors as well as the cultures that little by little came to the place. A dish that without a doubt you can not miss is the mole poblano, which is chicken either in a piece or shredded and bathed in an exquisite sauce full of ingredients that give it a unique flavor. A drink that you should not miss is the eggnog, a delicious drink prepared with egg yolks, vanilla, liquor, cinnamon and that is not only used to drink it but it is used in a variety of pastry preparations, such as cookies, ice creams, gelatins, cakes and many more. Finally, for dessert, I advise you to try the great variety of traditional candies, among which are the poblano sweet potatoes, walnut and pine nut jamoncillos. A full meal can be found for less than $15.
Now, the time has come to learn which are the places that you should not miss during your visit to the Angelópolis:
Historic Downtown, undoubtedly one of the most beautiful in all of Mexico, has wide cobbled streets and colonial houses, besides having more than 2,000 religious and civic monuments. It has several styles and techniques, such as Baroque, Renaissance and the classic architecture. With more than 5,000 buildings, it's the second city with more buildings and historical monuments in all Latin America only behind Cuzco, Peru. In addition, it also is Patrimony of the Humanity by the UNESCO.
The Basilica of Puebla claims to be the largest cathedral in Latin America, with two towers of 70 meters in height, besides being considered one of the most important museums of New Spain art with all the treasures it houses. Throughout the years it has been enriched in works of painting, sculpture, carpentry of great artistic quality, besides having chalices, corks, crosses, and reliquaries bathed in gold inlaid with jewels and diamonds. Located in the Historic Downtown, its access is free.
El Parián, one of the most representative markets of the city, without a doubt a place to visit if you want to go shopping. You will find stone crafts, bracelets, typical sweets, paintings, dry nature and many food snacks. It was built in 1801.
Barrio del Artista, very close to El Parián market, it is a corridor where artists work in their open-door workshops. It was created in 1941, it is an ideal place to walk and get to know a bit of local art or to sit, chat and enjoy the afternoon with a baroque fountain adorned with sculptures.
Museo Amparo is a large museum divided into 2 buildings, where you can find 14 rooms with ceramics exhibition, stelae, and sculptures from the Zapotec, Huasteca, Mayan, Olmec and Aztec cultures. Without a doubt a place to learn from the culture of the indigenous ancestors of Mexico. The entrance fee is $2 and on Monday there is free admission.
I hope you have enjoyed this little walk inside your head and I encourage you to jump into the real adventure. Have a good trip.
______________________________________________________________________________________
Bienvenido turistas, en esta edición nos toca hablar de la cuarta ciudad más grande de México y sin duda una de las más bellas, lugar en donde se llevó la famosa "batalla del 5 de mayo", por supuesto nos referimos a Puebla, México. Ciudad fundada en 1531 por los españoles y en donde era casi exclusivo que vivieran sólo los españoles, por lo que poco tardó para desarrollarse su reconocida arquitectura y riqueza cultural. Su nombre oficial es el de Puebla de Zaragoza.
Cabe destacar que la belleza de la ciudad no sólo es por su estilo colonial, sino también por su riqueza natural, ya que está rodeada por cuatro imponentes volcanes: el Popocatépetl, el Iztaccíhuatl, La Malinche y el Pico de Orizaba. La ciudad es conocida como "Puebla de los Ángeles", ya que según cuenta la leyenda fue justamente trazada por los ángeles, también se le conoce como la Angelópolis.
Los vuelos redondos de Kansas a la ciudad de Puebla los podrás encontrar a partir de $300, con al menos 2 escalas, si tu plan es el de rentar vehículo considera llegar a Ciudad de México directamente, así podrás ahorrarte unos cientos de dólares y quizás varias horas de incomodidad de esperar tu siguiente escala, pero tendrás que manejar un lapso de 2 horas aproximadamente. La mejor manera de moverse dentro de la ciudad es en automóvil, pero eso si, si realmente quieres conocer la ciudad y todas sus maravillas la mejor manera es hacerlo a pie, así que si tienes poco tiempo de estadía en la ciudad es mejor automóvil, pero si tienes más días no te arrepentirás de conocerla a pie. En cuanto a hospedaje la noche por habitación suele rondar los $80, pero si tu presupuesto es limitado te recomiendo conozcas los hostales que hay en la ciudad por $15 por noche. Ahora que si hablamos de comida Puebla tiene una gastronomía de envidiarse, existe una mezcla entre la gastronomía de los pueblos indígenas, los conquistadores españoles así como de las culturas que poco a poco llegaron al lugar, un plato que no puedes perderte sin duda es un mole poblano, que es pollo ya sea en pieza o deshebrado y bañado en una exquisita salsa llena de ingredientes que le dan un sabor único, una bebida que no debes perderte es el rompope, una deliciosa bebida preparada con yemas de huevo, vainilla, licor, canela entre otros tantos y que no sólo se utiliza para beberla sino que es empleada en gran variedad de preparaciones de repostería, como galletas, helados, gelatinas, pasteles y muchos más. Por último de postre te recomiendo a que pruebes la gran variedad de dulces típicos, entre los que destacan los camotes poblanos, jamoncillos de nuez y piñón. Una comida completa la podrás encontrar en menos de $15.
Ahora bien, llegó el momento para saber cuáles son los lugares que sin lugar a dudas no debes perderte en tu visita por la Angelópolis:
Centro Histórico, es sin lugar a dudas uno de los más hermosos de todo México, cuenta con amplias calles adoquinadas y casonas coloniales, además de tener más de 2,000 monumentos religiosos y civiles, cuenta con varios estilos y técnicas, como la barroca, renacentista y la arquitectura clásica contando con más de 5,000 edificios, por lo que además de ser la segunda ciudad con más edificios y monumentos históricos en todo Latinoamérica sólo por detrás de Cuzco, Perú, también es Patrimonio de la Humanidad por la UNESCO.
Catedral Basílica de Puebla, presume ser la catedral más grande en Latinoamérica en cuanto a su base y con 2 torres de 70 metros de altura, además de ser considerada como uno de los museos más importantes de arte novohispano y posterior por todos los tesoros que alberga. A lo largo de los años se ha enriquecido en obras de pintura, escultura, carpintería de gran calidad artística, además de contar con cálices, copones, cruces y relicarios bañados en oro con incrustaciones de joyas y diamantes. Se encuentra en pleno Centro Histórico y su acceso es gratuito.
El Parián, es uno de los mercados más representativos de la ciudad, sin duda alguna un lugar para visitar si quieres ir de compras, podrás encontrar manualidad de piedra, pulseras, dulces típicos, pinturas, naturaleza seca y muchos antojitos de comida. Fue construido en 1801.
Barrio del Artista, se encuentra muy cerca del mercado El Parián, es un corredor donde artistas trabajan en sus talleres a puertas abiertas. Fue creado en 1941, es un lugar ideal para caminar y conocer un poco del arte local, o bien sentarse a platicar y disfrutar de la tarde junto a una fuente de estilo barroco adornada con esculturas.
Museo Amparo, es un gran museo dividido en 2 edificios, en los que podrás encontrar 14 salas con exposición de cerámica, estelas y esculturas de las culturas zapoteca, huasteca, maya, olmeca y azteca, sin lugar a dudas un sitio para poder conocer un poco de la cultura de los antepasados indígenas de México. El costo de entrada es de $2 y los lunes hay entrada gratuita.
Espero hayas disfrutado de este pequeño paseo dentro de tu cabeza y te animo a que te lances a la aventura real, saludos y buen viaje.