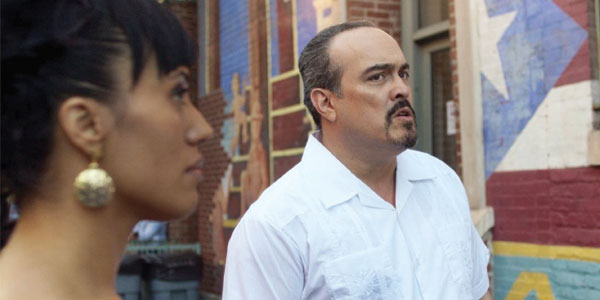 Shine, una película dirigida y producida de forma independiente por Anthony Nardolillo a través 13 Paces junto a la productora Sandra Varona y en alianza con Sugar Studios LA y The Exchange. Llega a los cines, el drama, protagonizado por David Zayas ("Dexter", "Blue Bloods"), Alysia Reiner ("OITNB") y los bailarines conocidos mundialmente Gilbert Saldivar (actor méxico-americano y coreógrafo de Jennifer López, Christina Aguilera, Madonna) y Jorge "Ataca" Burgos (aclamado instructor de bachata que debuta como actor), llegará a los cines a nivel nacional en el tercer trimestre de 2018.
Ambientada en la era de oro de las bandas sonoras de salsa y de la escena urbana latina más candente del momento, 'SHINE' narra la historia de dos hermanos que en el pasado tuvieron reconocidas trayectorias como bailarines de salsa y que, tras la muerte de su padre años después, vuelven a reunirse, encontrándose cada uno en una ciudad fuertemente segregada por el aburguesamiento. La película, que está ambientada en la ciudad de Nueva York.
SHINE, tiene una narrativa muy actual enmarcada dentro del mejor entretenimiento latino", dijo Geno Taylor de GVN Releasing, no es únicamente una película de baile. Habla del momento cultural y político que atravesamos.
En septiembre de 2017, la película se alzó con el premio de la audiencia por "mejor película" en el festival de cine de Urbanworld, patrocinado por HBO y con el respaldo de Ava DuVernay. Las entradas para la proyección quedaron agotadas 48 horas antes, un récord en la historia del festival.
En octubre de 2017, se realizó una proyección privada de 'SHINE' en Beverly Hills para apoyar la iniciativa encabezada por el bailarín Gilbert Saldivar, que estaba recaudando fondos destinados a ayudar a los damnificados del huracán a través de la organización sin fines lucrativos "Voices for Puerto Rico". Otras celebridades destacadas como Christina Aguilera estuvieron presentes en el acto en apoyo a esta causa.
'SHINE' es una película apasionada y vibrante que transmite el sentir del barrio, y que cuenta con temas musicales propios de la era de oro de la salsa gracias a una alianza con Fania Records y los titanes latinos de Sony Music, Marc Anthony y Romeo Santos, el sabor del hip-hop neoyorquino del rapero puertorriqueño y ganador del Premio Grammy Big Pun, y el dúo de rap The Beat Nuts.