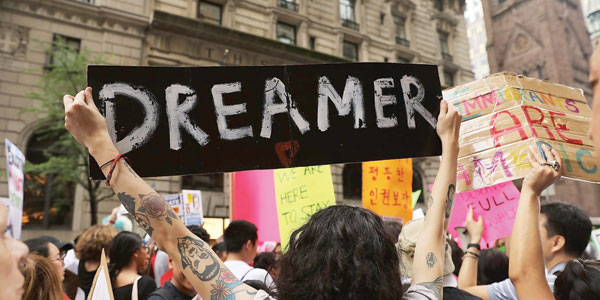 It started in Texas and could go to the Supreme Court.
The Justice Department is urging a federal judge in Texas to declare the 'Dreamers' program illegal, which could allow the government to end the program in weeks.
WASHINGTON — The Trump administration is urging a federal court in Texas to declare DACA illegal, setting up a potential conflict that could allow the government to shut the program down within a matter of weeks.
While this latest development has received little attention, it could suspend or stop a federal initiative that has allowed 700,000 young people, known as Dreamers, to avoid deportation.
In that event, the government would ask the Supreme Court to put a hold on all the lower court rulings. And if the justices agreed, the Trump administration would be free to shut DACA down immediately, because nothing would be in effect to prevent the government from taking that action.
Republican moderates have been pushing for a vote in the House to grant permanent legal status to DACA recipients. But even if that effort succeeds, its prospects are doubtful in the Senate. And in the unlikely event that Congress were to pass such a law, Republican congressional leaders say they believe President Donald Trump would veto it.
So while DACA appeared likely a short time ago to stay on safe ground at least through the fall, its future is once again in doubt.
---
Trump tiene un plan para terminar con DACA.
Comenzó en Texas y podría ir a la Corte Suprema.
El Departamento de Justicia está instando a un juez federal en Texas a declarar ilegal el programa 'Dreamers', lo que podría permitirle al gobierno terminar el programa en semanas.
La administración de Trump está instando a un tribunal federal en Texas a declarar ilegal a DACA, lo que genera un conflicto potencial que podría permitirle al gobierno cerrar el programa en cuestión de semanas.
Si bien este último acontecimiento ha recibido poca atención, podría suspender o detener una iniciativa federal que ha permitido que 700,000 jóvenes, conocidos como Dreamers, eviten la deportación.
En ese caso, el gobierno pediría a la Corte Suprema que suspenda todas las decisiones de los tribunales inferiores. Y si los jueces estaban de acuerdo, la administración de Trump sería libre de cerrar inmediatamente DACA, porque nada estaría en vigencia para evitar que el gobierno tome esa medida.
Los moderados republicanos han estado presionando para que se vote en la Cámara de Representantes para otorgar estatus legal permanente a los beneficiarios de DACA. Pero incluso si ese esfuerzo tiene éxito, sus perspectivas son dudosas en el Senado. Y en el improbable caso de que el Congreso aprobara tal ley, los líderes republicanos del Congreso dicen que creen que el presidente Donald Trump la vetaría.
Así que aunque DACA parece que hace poco tiempo estaba en un lugar seguro al menos durante el otoño, su futuro está una vez más en duda.