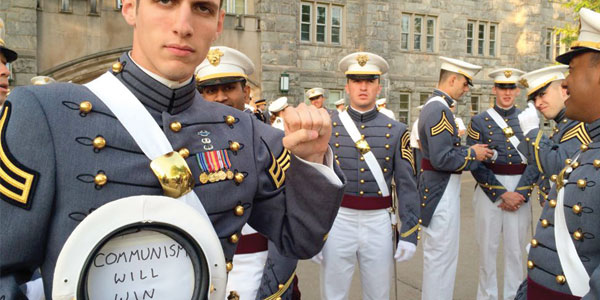 By Eulogio JP
In September 2017, Spenser Rapone posted two controversial pictures of himself on social media.
Because of those pictures, the 26-year-old West Point graduate and onetime U.S. Army Ranger is no longer a second lieutenant in the Army.
The pictures were taken during Rapone's 2016 graduation from the U.S. Military Academy. One showed a message written inside his cap that read: "Communism will win." The second picture was of him wearing his uniform with a red Che Guevara T-shirt.
Rapone's photos went viral and created a strong backlash. U.S. Sen. Marco Rubio of Florida received hundreds of calls begging him to investigate Rapone.
To separate itself from the pictures, West Point published a statement after they had been posted, stating that Rapone's actions "in no way reflect the values of the U.S. Military Academy or the U.S. Army."
On Monday (June 18), the Army accepted Rapone's resignation as an officer. In addition, as multiple news outlets reported, Rapone was given an other-than-honorable discharge. As a result, Rapone won't receive many veterans' benefits, despite his military service.
Senator Rubio was satisfied with the Army's decision. In a statement on Tuesday (June 19) reported by the Washington Post and other media outlets, Rubio said: "While in uniform, Spenser Rapone advocated for communism and political violence, and expressed support and sympathy for enemies of the United States."
"I'm glad to see that they have given him an 'other-than-honorable' discharge," he added.
Rapone, a self-proclaimed "revolutionary socialist," could face other repercussions. Not only did he publish the pictures, but he also promoted communist ideology in some comments he made to the Associated Press.
"I would encourage all soldiers who have a conscience to lay down their arms and join me and so many others who are willing to stop serving the agents of imperialism and join us in a revolutionary movement," Rapone said.
__________________________________________________________________________________________
El ejército le da a Rapone de alta después de que las fotos se vuelven virales
En septiembre de 2017, Spenser Rapone publicó dos imágenes controvertidas de sí mismo en las redes sociales.
Debido a esas fotos, el graduado de West Point de 26 años y el ex Guardabosques del Ejército de los EE. UU. Ya no es un segundo teniente en el Ejército.
Las imágenes fueron tomadas durante la graduación de Rapone en 2016 de la Academia Militar de los EE. UU. Una mostraba un mensaje escrito dentro de su gorra que decía: "El comunismo ganará". La segunda foto era de él vistiendo su uniforme con una camiseta roja de Che Guevara.
Las fotos de Rapone se volvieron virales y crearon una fuerte reacción. El senador de los Estados Unidos Marco Rubio de Florida recibió cientos de llamadas pidiéndole que investigara a Rapone.
Para separarse de las imágenes, West Point publicó una declaración después de haber sido publicadas, declarando que las acciones de Rapone "de ninguna manera reflejan los valores de la Academia Militar de los Estados Unidos o del Ejército de los EE. UU."
El lunes (18 de junio), el Ejército aceptó la renuncia de Rapone como oficial. Además, como lo informaron varios medios de noticias, a Rapone se le dio otra descarga que no era honorable. Como resultado, Rapone no recibirá muchos beneficios para veteranos, a pesar de su servicio militar.
El senador Rubio esta satisfecho con la decisión del ejército. En una declaración del martes (19 de junio) reportada por el Washington Post y otros medios, Rubio dijo: "Mientras estaba en uniforme, Spenser Rapone abogó por el comunismo y la violencia política, y expresó su apoyo y simpatía por los enemigos de Estados Unidos".
"Me alegra ver que le han dado una descarga 'diferente a la honorable'", agregó.
Rapone, un autoproclamado "socialista revolucionario", podría enfrentar otras repercusiones. No sólo publicó las imágenes, sino que también promovió la ideología comunista en algunos comentarios que hizo a Associated Press.
"Animaría a todos los soldados que tienen conciencia a deponer las armas y se unirán a mí y a tantos otros que están dispuestos a dejar de servir a los agentes del imperialismo y unirse a nosotros en un movimiento revolucionario", dijo Rapone.