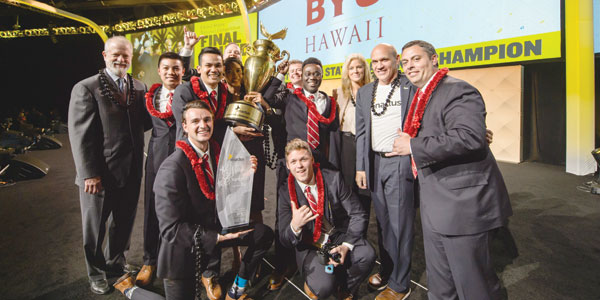 The 2018 Enactus United States National Champion team from Brigham Young University – Hawaii with Dave Hall, President, Hallmark Cards, Inc. (far left); Alex Perwich, President, Enactus United States (2nd from right) and Rachael Jarosh, President & CEO, Enactus (3rd from right)
Students display entrepreneurial acumen, pursue career opportunities
Recently, teams of student entrepreneurs from various colleges around the United States got to share with corporate leaders how their social enterprise projects have helped improve the world while also being profitable.
And they got to compete for prize money while doing it.
From May 20 to 22, the students represented their respective schools in the Kansas City (Mo.) Convention Center while competing in the Enactus United States National Exposition League competition. Enactus United States is part of the international non-profit organization Enactus, which is based in Springfield, Mo.
Regional schools that were represented at the national competition included Pittsburg State and Benedictine College from Kansas, and the University of Missouri-Kansas City and Southwest Baptist University. Southwest Baptist, a Bolivar, Mo.-based school, reached the semifinals, placing third in League 2 and receiving $1,500.
The team from Brigham Young University-Hawaii received the top prize, $10,000. In addition, the students will represent the United States in October in California in Enactus World Cup competition. The other top four finishers and the prizes they received were as follows: Utah Valley University, second place, $5,000; Coker College, third place, $4,000; and the City University of Seattle, fourth place, $3,000.
In addition, the students had opportunities to talk with company recruiters and pursue jobs. Alex Perwich, Enactus United States president, felt optimistic during a June 1 phone interview that some students got hired.
"I can tell you that one, single, major (corporate) partner – (I'm) not going to give you their name – interviewed 78 candidates and was feeling really, really happy," Perwich said.
Companies will have the chance to recruit student enterprisers in Kansas City again in 2019, when Enactus stages its next national competition in the City of Fountains. Enactus is "in negotiations and discussions to finalize an agreement" with the city to stage the 2020 competition there, too, Perwich said.
It would benefit Enactus if Kansas City could continue serving as the host city beyond its current three-year agreement, according to Perwich, who's in his fourth year as Enactus United States president.
"Kansas City serves us well," he said. "(It's) centrally located."
For more information about Enactus, visit http://enactus.org/.
__________________________________________________________________________________________
KCMO acoge la competencia empresarial nacional de estudiantes
Los estudiantes muestran perspicacia empresarial y persiguen oportunidades de carrera
Recientemente, equipos de estudiantes emprendedores de varios colegios universitarios de los Estados Unidos compartieron con los líderes corporativos cómo sus proyectos empresariales sociales han ayudado a mejorar el mundo al mismo tiempo que los han hecho rentables.
Y llegaron a competir por premios en efectivo mientras lo hacían.
Del 20 al 22 de mayo, los estudiantes representaron sus respectivas escuelas en el Centro de Convenciones de Kansas City (Missouri) mientras competían en la competencia de la Liga de Exposición Nacional de Estados Unidos Enactus. Enactus Estados Unidos es parte de la organización internacional sin fines de lucro Enactus, con sede en Springfield, Mo.
Las escuelas regionales que estuvieron representadas en la competencia nacional incluyeron a Pittsburg State y Benedictine College de Kansas, y la Universidad de Missouri-Kansas City y Southwest Baptist University. Southwest Baptist, una escuela ubicada en Bolivar, Missouri, llegó a las semifinales, consiguiendo tercero en League 2 y recibiendo $1,500.
El equipo de Brigham Young University-Hawaii recibió el premio mayor de $10,000. Además, los estudiantes representarán a Estados Unidos en octubre en California en la competencia de la Copa Mundial Enactus. Los otros cuatro primeros clasificados y los premios que recibieron fueron los siguientes: Utah Valley University, segundo lugar, $5,000; Coker College, tercer lugar, $4,000; y City University of Seattle, cuarto lugar, $3,000.
Además, los estudiantes tuvieron la oportunidad de hablar con los reclutadores de la compañía y buscar trabajo. Alex Perwich, presidente de Enactus Estados Unidos, expresó su felicidad durante una entrevista telefónica el 1 de junio en relación a que algunos estudiantes fueron contratados.
"Puedo decirte que que uno de los mayores corporativos que es nuestro socio – (no) te voy a dar su nombre – entrevistó a 78 candidatos y me sentí muy, muy feliz", dijo Perwich.
Las empresas tendrán la oportunidad de reclutar estudiantes emprendedores en Kansas City nuevamente en el 2019, cuando Enactus realice su próxima competencia nacional en la ciudad de las fuentes. Enactus está "en negociaciones y discusiones para finalizar un acuerdo" con la ciudad para organizar la competencia del 2020 allí también, dijo Perwich.
Beneficiaría a Enactus si Kansas City pudiera continuar sirviendo como ciudad anfitriona más allá de su actual acuerdo de tres años, según Perwich, que se encuentra en su cuarto año como presidente de Enactus en los Estados Unidos.
"Kansas City nos funciona muy bien", dijo. "Está ubicado en una zona central".
Para obtener más información acerca de Enactus, visite http://enactus.org/.