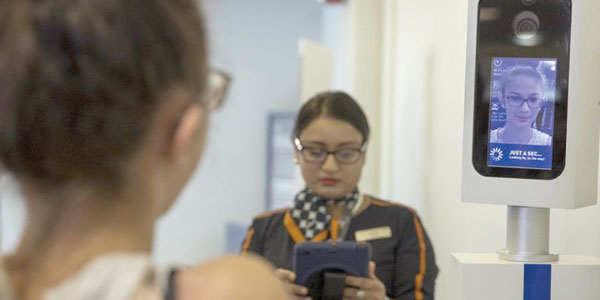 By Tere Siqueira
Multiple news sources have reported that Orlando (Fla.) International Airport will become the first U.S. airport to require face-scans for all passengers on international flights.
U.S. Customs and Border Protection officials made the announcement during a June 21 press conference. They claimed the procedure would improve security and speed up boarding, as did Greater Orlando Aviation Authority CEO Phil Brown.
"We are committed to delivering a premier travel experience to Orlando International Airport's more than 5 million annual international passengers," Brown said. "(By) incorporating biometric technology into our entry and exit processes, safety, security and speed are optimized, so customers can enjoy a more streamlined and comfortable journey."
As news agencies have reported, passengers entering or leaving the country from Orlando will go through biometric scans to verify their identity. Cameras will take pictures of passengers and match them with passport photos on file in a few seconds. Later, when passengers are boarding a plane, another image will be captured at the gate and be compared to their passport photos in the federal government's database.
Similar technology is in use at several U.S. airports. However, Orlando will be the first to use the biometric system on all international travelers.
According to Customs and Boarder Protection officials, the system has the potential to drastically improve the customer experience at the gate. During one of the first test runs, one airline boarded an entire flight in less than 20 minutes. However, critics are concerned because the government doesn't have formal rules yet on how it will manage the sensitive data.
U.S. citizens may refuse the scans. In addition, their photos will be stored for only 14 days. Photos of foreign nationals will be kept in the government's IDENT database for 75 years as part of their travel records.
_________________________________________________________________________________________
Aeropuerto Internacional de Orlando requerirá escáner facial para vuelos internacionales
Múltiples fuentes de noticias han informado que el Aeropuerto Internacional de Orlando (Florida) se convertirá en el primer aeropuerto de los EE. UU. en requerir escáner facial para todos los pasajeros en vuelos internacionales.
Los funcionarios de Aduanas y Protección Fronteriza de EE. UU. hicieron el anuncio durante una conferencia de prensa el 21 de junio. Afirmaron que el procedimiento mejoraría la seguridad y aceleraría el embarque, al igual que Phil Brown, director ejecutivo de Greater Orlando Aviation Authority.
"Estamos comprometidos a brindar una experiencia de viaje de primer nivel a los más de 5 millones de pasajeros internacionales anuales del Aeropuerto Internacional de Orlando", dijo Brown. "Al incorporar la tecnología biométrica en nuestros procesos de entrada y salida, la seguridad y la velocidad se optimizan para que los clientes puedan disfrutar de un viaje más ágil y cómodo".
Como informaron los medios de comunicación, los pasajeros que ingresan o salen del país desde Orlando realizarán escáners biométricos para verificar su identidad. Las cámaras tomarán fotos de los pasajeros y las combinarán con las fotos del pasaporte en el archivo en unos segundos. Más tarde, cuando los pasajeros aborden un avión, se capturará otra imagen en la puerta de embarque y se comparará con las fotos de sus pasaportes en la base de datos del gobierno federal.
Se está utilizando tecnología similar en varios aeropuertos de EE. UU. Sin embargo, Orlando será el primero en utilizar el sistema biométrico en todos los viajeros internacionales.
Según los funcionarios de Aduanas y Protección de Boarder, el sistema tiene el potencial de mejorar drásticamente la experiencia del cliente en la puerta de embarque. Durante una de las primeras pruebas, una aerolínea abordó un vuelo completo en menos de 20 minutos. Sin embargo, los críticos están preocupados porque el gobierno aún no tiene reglas formales sobre cómo manejará los datos confidenciales.
Los ciudadanos de EE. UU. pueden rechazar los escáners. Además, sus fotos serán almacenadas por solo 14 días. Las fotos de ciudadanos extranjeros se mantendrán en la base de datos IDENT del gobierno durante 75 años como parte de sus registros de viaje.