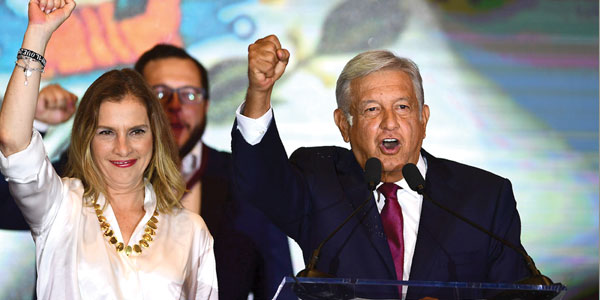 By Chara
Leftist candidate Andres Manuel Lopez Obrador was declared the winner of Mexico's presidential election, held on Sunday (July 1). According to the results reported by the Instituto Nacional Electoral, Obrador received 53 percent of the vote, followed by Ricardo Anaya with 22.5 percent, Jose Antonio Meade with 16.2 percent and Jaime Rodriguez Calderon with 5.2 percent.
Shortly after being declared the winner, Obrador talked to thousands of people at the Zocalo in Mexico City.
"I'm not going … (to betray) the people," he assured the crowd.
Obrador also assured the crowd that Mexicans would enjoy various types of freedom, including a free press; and enjoy a good relationship with the United States. He said that relationship would be based on mutual respect, but that he would defend the migrants who are in the United States.
Obrador discussed other plans for his presidency, which will begin in December, when he officially relieves outgoing President Enrique Pena Nieto (Peña Nieto in Spanish). His main goal is to reduce the corruption that has plagued Mexico for decades, he said. In addition, Obrador said he plans to strengthen Mexico's domestic market, so that people in Mexico consume what's being produced there. On a related note, the president-elect said he wants to build a nation where people can work and be happy with their families in Mexico, instead of migrating from there to other countries.
Several leaders from other countries congratulated Obrador on his victory. U.S. President Donald Trump tweeted: "Congratulations to Andres Manuel Lopez Obrador on becoming (the) next President of Mexico. I look very much forward to working with him. There is much to be done that will benefit both the United States and Mexico."
Canadian Prime Minister Justin Trudeau also congratulated Obrador.
"I look forward to working closely with President-elect Lopez Obrador, his administration and the Mexican Congress to build on the vibrant partnership between our two countries, create economic growth that works for everyone, and advance human rights and equality," Trudeau said in a statement released by the Canadian government.
Leaders from Colombia, Spain, France, El Salvador, Ecuador, Bolivia and Venezuela also were among those who congratulated Obrador. In addition, Obrador's victory from Mexicans such as Guillermo Martin.
"I think it is a great opportunity to make things different," said Martin, a Mexico City resident. "We need to invest in our country, and I'm not just talking about money. I'm talking about investing time and effort. I know the transformation is not going to be easy, but we need to support the new government and be there to see how we can help."
Editor's note: For additional reactions, see "Street Talk: Mexico's new president," also in this week's issue of Dos Mundos.
_______________________________________________________________________________________
México tiene un nuevo Presidente
El candidato izquierdista Andrés Manuel López Obrador fue declarado ganador de las elecciones presidenciales de México, celebradas el domingo (1 de julio). Según los resultados reportados por el Instituto Nacional Electoral, Obrador recibió el 53 por ciento de los votos, seguido por Ricardo Anaya con un 22.5 por ciento, José Antonio Meade con un 16.2 por ciento y Jaime Rodríguez Calderón con un 5.2 por ciento.
Poco después de ser declarado ganador, Obrador habló con miles de personas en el Zócalo en la Ciudad de México.
"No voy a … traicionar a la gente", aseguró a la multitud.
Obrador también aseguró a la multitud que los mexicanos disfrutarían de varios tipos de libertad, incluida la libertad de prensa y disfrutar de una buena relación con los Estados Unidos. Dijo que la relación se basaría en el respeto mutuo, pero que defendería a los inmigrantes que están en los Estados Unidos.
Obrador discutió otros planes para su presidencia, que comenzará en diciembre, cuando releva oficialmente al presidente saliente Enrique Peña Nieto. Su principal objetivo es reducir la corrupción que ha plagado a México durante décadas, dijo. Además, Obrador mencionó que planea fortalecer el mercado interno de México, para que la gente en México consuma lo que allí se produce. En una nota relacionada, el presidente electo dijo que quiere construir una nación donde las personas puedan trabajar y ser felices con sus familias, en lugar de emigrar de allí a otros países.
Varios líderes de otros países felicitaron a Obrador por su victoria. El presidente de EE. UU., Donald Trump, tuiteó: "Felicidades a Andrés Manuel López Obrador por convertirse en el próximo Presidente de México. Espero con ansias trabajar con él. Hay mucho por hacer que beneficiará tanto a Estados Unidos como a México".
El primer ministro de Canadá, Justin Trudeau, también felicitó a Obrador.
"Espero trabajar estrechamente con el presidente electo López Obrador, su gobierno y el Congreso mexicano para construir sobre la vibrante sociedad entre nuestros dos países, crear un crecimiento económico que funcione para todos y avanzar en los derechos humanos y la igualdad", dijo Trudeau en una declaración publicada por el gobierno canadiense.
Líderes de Colombia, España, Francia, El Salvador, Ecuador, Bolivia y Venezuela también estuvieron entre los que felicitaron a Obrador. Además, de otros mexicanos como Guillermo Martin.
"Creo que es una gran oportunidad para hacer las cosas diferentes", dijo Martin, un residente de la Ciudad de México. "Necesitamos invertir en nuestro país, y no sólo estoy hablando de dinero. Estoy hablando de invertir tiempo y esfuerzo. Sé que la transformación no será fácil, pero tenemos que apoyar al nuevo gobierno y estar allí para ver cómo podemos ayudar".
Nota del editor: Para ver las reacciones adicionales, consulte "Street Talk: El nuevo Presidente de México", también en la edición de esta semana de Dos Mundos.