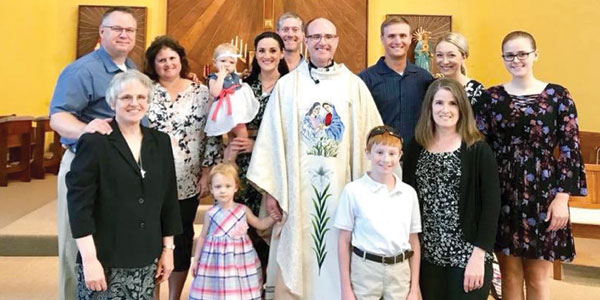 By Chara
The Rev. Kent O'Connor is preparing for a new opportunity to serve the Catholic Church.
After nine years of service at Our Lady of Unity Parish, O'Connor is transferring from the Kansas City, Kan., church to the Good Shepherd Catholic Church in Shawnee, Kan. His last day at Our Lady of Unity was Tuesday (July 3). On Thursday (July 5), he'll begin serving at Good Shepherd.
"I would say it is a mixed emotion (for me)," O'Connor said. "I'm sad because I have to leave, but I'm excited because of the new challenges. So it is part excitement, part sadness."
O'Connor's sadness is largely because of the people he'll miss at Our Lady of Unity "and the nice connection I made with them through the years," he said. Through his nine years at Our Lady of Unity, O'Connor connected with his parishioners in part by working on various projects, including the parish's yearly celebration, its 4 p.m. Mass, Unity Fest, the parish dinner and dance, and a car show to raise funds.
O'Connor wishes the Our Lady of Unity community the best.
"I want to thank them for their love and support – and I also would like to thank (the) people at Good Shepherd that already … (have been) in touch with me," O'Connor said. "It is sad to leave, but sometimes (it) is good for the parish and the community. I learned a lot while I was here (at Our Lady of Unity), and I think it is time for new ideas."
The Archdiocese of Kansas City in Kansas probably felt it was time for a change, too. Usually, the archdiocese assigns priests to parishes for a time frame of between six and 12 years. The parish tends to assign priests to communities where it thinks those priests will fit in well.
"I think they waited for the right time to make (the) right move and they thought Good Shepherd would be a good fit for me," O'Connor said.
As for his future at Good Shepherd, O' Connor said he doesn't know much about his new church, but added that it seems to be "a very good parish with very good people." He might add a Mass service while he's there, he said.
"I'm happy to get there," O'Connor said. "I'm ready for new challenges and opportunities."
Good Shepherd is located at 12800 W. 75th St. For more information about the parish, including Mass times, visit http://www.gsshawnee.org/.
---
Kent O'Connor se despide de Our Lady of Unity
El reverendo Kent O'Connor se está preparando para una nueva oportunidad de servir a la Iglesia Católica.Después de nueve años de servicio en la parroquia de Our Lady of Unity, O'Connor se está trasladando de la iglesia de Kansas City, Kansas, a la Iglesia Católica Good Shepherd en Shawnee, Kan. Su último día en Our Lady of Unity fue el martes (3 de julio). El jueves (5 de julio), comenzará a servir en Good Shepherd.
"Diría que tengo sentimientos encontrados", dijo O'Connor. "Estoy triste porque tengo que irme, pero estoy emocionado por los nuevos desafíos. Entonces es parte emoción, parte tristeza".
La tristeza de O'Connor se debe en gran parte a la gente que extrañará en Our Lady of Unity "y la agradable conexión que hice con ellos a través de los años", dijo. A través de sus nueve años en Our Lady of Unity, O'Connor se conectó con sus feligreses en parte al trabajar en varios proyectos, incluida la celebración anual de la parroquia, la misa de las 4 p.m., Unity Fest, la cena parroquial y el baile, y un espectáculo de autos para recaudar fondos.
O'Connor le desea a la comunidad de Our Lady of Unity lo mejor.
"Quiero agradecerles por su amor y apoyo y también me gustaría agradecer a la gente de Good Shepherd que ya … ha estado en contacto conmigo", dijo O'Connor. "Es triste irse, pero a veces (eso) es bueno para la parroquia y la comunidad. Aprendí mucho mientras estuve aquí (en Our Lady of Unity), y creo que es hora de nuevas ideas".
La Arquidiócesis de Kansas City en Kansas probablemente sintió que era hora de un cambio, también. Por lo general, la arquidiócesis asigna sacerdotes a las parroquias por un período de tiempo de entre seis y 12 años. La parroquia tiende a asignar sacerdotes a comunidades donde cree que esos sacerdotes encajarán bien.
"Creo que esperaron el momento adecuado para hacer el movimiento correcto y pensaron que Good Shepherd sería una buena opción para mí", dijo O'Connor.
En cuanto a su futuro en Good Shepherd, O 'Connor dijo que no sabe mucho sobre su nueva iglesia, pero agregó que parece ser "una muy buena parroquia con muy buenas personas". Dijo que podría agregar un servicio de misa mientras está allí.
"Estoy feliz de llegar allí", dijo O'Connor. "Estoy listo para nuevos desafíos y oportunidades".
Good Shepherd está ubicado en el 12800 W. 75th St. Para obtener más información sobre la parroquia, incluidos los horarios de misas, visite http://www.gsshawnee.org/.