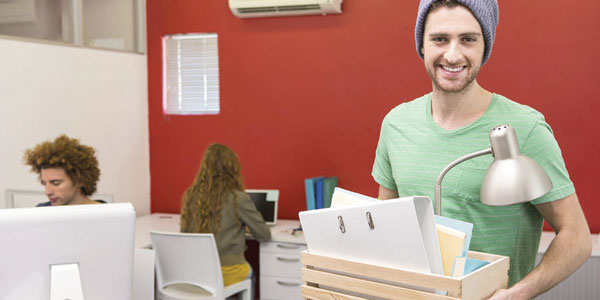 American businesses have a new, multibillion-dollar problem: They can't hold onto their youngest workers. More than one in five millennials changed jobs in the past year, triple the share of non-millennials who did so.
Such turnover is expensive. Every person who quits costs his employer about 20 percent of his annual salary, and that doesn't include the cost of recruiting and training his replacement. Millennial turnover saps the U.S. economy an estimated $30 billion a year.
Today's baby boomer bosses can avoid those costs by updating their workplaces to meet the psychological needs and aesthetic preferences of their youngest workers. Research shows that even small investments in workplace design and better management can deliver outsized returns.
Companies have little choice but to cater to millennials. They account for the largest share of the U.S. workforce: 35 percent. Next year, they'll pass the baby boomers to become America's largest generation.
Millennials don't just have strength in numbers. They're the best-educated and most technologically adept generation in history. It's in corporate America's interest to bring as many of them into the fold as possible.
Young adults want a workplace that cares about them as individuals, not just cogs in the corporate machine. Over 90 percent of millennials say work-life balance is a top priority when searching for a job, compared with 70 percent of baby boomers.
Unfortunately, just 29 percent of millennials say they're engaged at work. Worse, companies don't know what to do to fix this state of affairs. Forty-six percent of CEOs don't have a plan to address the epidemic of disengagement within their ranks.
That's a mistake. With unemployment near record lows, millennials can afford to job-hop until they find a company that offers them what they're looking for.
That company is likely to prioritize a few things.
First, communication. Forty percent of millennials prefer weekly feedback from their supervisor — more than twice the share of any other generation.
There are other ways to boost communication between old hands and office rookies. Companies can experiment with reverse mentorship programs, whereby younger hires offer guidance to senior managers. 
When millennials feel connected to their employers, they stick around. Financial services firm Pershing retained 96 percent of its millennial workforce over a three-year period after instituting a reverse mentorship program in 2013.
Second, the ideal millennial workplace will look like a college campus. Recent college graduates have spent four years switching seamlessly from group work in a coffee shop to cram sessions at the library.
But when they get to the workplace, they're expected to sit at a desk eight hours a day. It shouldn't be surprising that nearly 90 percent of college graduates say they feel "lost in transition" after moving to static office layouts.
Employers can meet their workers halfway by giving them tools to customize their workspaces. Some workers might use movable screens to grab some privacy. Others might wheel work tables together to create an ad hoc brainstorming space.
Empowering workers can boost productivity and revenue. A 2013 Cornell University study found that businesses that gave employees a choice over how to work grew four times faster than their inflexible counterparts.
In today's tight labor market, successfully retaining employees can be a multibillion-dollar proposition. That's a big enough sum to make even the most grizzled baby boomer boss embrace his millennial colleagues' vision of work.
---
El costoso resultado de la inestabilidad laboral de los millennials
Las empresas estadounidenses tienen un nuevo problema multimillonario: no pueden mantener a sus trabajadores más jóvenes en la empresa. Más de uno en cinco millennials cambió de trabajo en el último año, triplicando la proporción de personas que lo hicieron y no son millennials.
Tal rotación es costosa. Cada persona que renuncia le cuesta a su empleador alrededor del 20 por ciento de su salario anual y eso no incluye el costo de reclutar y entrenar a su reemplazo. El cambio de trabajos de los millennials le quita a la economía de los EE. UU. un estimado de $30 mil millones al año.
Los jefes de baby boomers de hoy en día pueden evitar esos costos al actualizar sus lugares de trabajo para satisfacer las necesidades psicológicas y las preferencias estéticas de sus trabajadores más jóvenes. La investigación muestra que incluso pequeñas inversiones en el diseño del lugar de trabajo y una mejor gestión pueden generar retornos desmesurados.
Las empresas no tienen mucha opción sobre recurrir a los millennials. Estos representan la mayor parte de la fuerza laboral de los EE. UU: 35 por ciento. El próximo año, superarán a los baby boomers para convertirse en la generación más grande de Estados Unidos.
Los Millennials no sólo tienen fuerza en los números. Son la generación mejor educada y tecnológicamente más adepta de la historia. Es del interés de las empresas estadounidenses atraer a tantos de ellos al negocio como sea posible.
Los adultos jóvenes quieren un lugar de trabajo que se preocupe por ellos como individuos, no que los vea solamente como engranajes en la máquina corporativa. Más del 90 por ciento de los jóvenes millennials dicen que el equilibrio trabajo-vida es una prioridad cuando se busca un trabajo, en comparación con el 70 por ciento de los baby boomers. Desafortunadamente, sólo el 29 por ciento de los millennials dicen estar comprometidos en el trabajo. Peor aún, las empresas no saben qué hacer para solucionar está situación. El 46% de los CEO no tiene un plan para abordar la epidemia de desvinculación con sus trabajadores.
Eso es un error. Con el desempleo cerca de mínimos históricos, los millennials pueden permitirse el salto laboral hasta que encuentren una empresa que les ofrezca lo que están buscando.
Es probable que esa empresa prioritice algunas cosas. Primero, la comunicación. El cuarenta por ciento de los millennials prefieren la retroalimentación semanal de su supervisor, más del doble de la participación de cualquier otra generación. Hay otras formas de aumentar la comunicación entre las personas mayores y los novatos en la oficina. Las empresas pueden experimentar con programas de tutoría inversa, mediante los cuales los empleados más jóvenes ofrecen orientación a los gerentes superiores.
Cuando los millennials se sienten conectados con sus empleadores, se quedan. La firma de servicios financieros Pershing retuvo el 96 por ciento de su fuerza laboral millennial durante un período de tres años luego de instituir un programa de mentores inversos en el 2013. Segundo, el lugar de trabajo ideal para el milenio se verá como un campus universitario. Los recién graduados de la universidad han pasado cuatro años cambiando sin interrupciones del trabajo grupal en una cafetería para organizar sesiones en la biblioteca.
Pero cuando llegan al lugar de trabajo, se espera que se sienten en un escritorio ocho horas al día. No debería sorprender que casi el 90 por ciento de los graduados universitarios dicen que se sienten "perdidos en la transición" después de pasar a diseños de oficinas estáticos. Los empleadores pueden encontrar sus trabajadores a mitad de camino al darles herramientas para personalizar sus espacios de trabajo. Algunos empleados pueden usar pantallas movibles para obtener algo de privacidad. Otros pueden combinar mesas de trabajo para crear un espacio de lluvia de ideas ad hoc. Empoderar a los trabajadores puede aumentar la productividad y los ingresos.
Un estudio de 2013 de la Universidad de Cornell descubrió que las empresas que daban a los empleados la opción de trabajar crecían cuatro veces más rápido que sus contrapartes inflexibles. En el apretado mercado laboral actual, retener con éxito a los empleados puede ser una proposición multimillonaria. Esa es una suma lo suficientemente grande como para hacer que incluso el jefe baby boomer más canoso siga la visión del trabajo de los millennials.