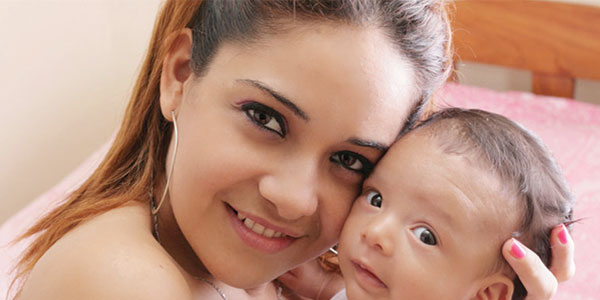 By Angie Baldelomar
All the speakers at the July 27 Mother & Child Health Coalition meeting agreed on one thing: Anxiety is the No. 1 mental disorder affecting teens and young adults.
Organized in conjunction with Children's Mercy Hospital, the meeting took place in Biery Auditorium at the Kansas City (Mo.) Health Department offices. It featured speakers from organizations that are implementing mental health programs for young people to help address anxiety disorders, which reportedly affect 25.1 percent of Americans ages 13-18.
The teen voice also was present, with high school student Tyree Bayan as one of the speakers. How teens are treated greatly impacts their development of anxiety, Bayan said.
"It's important people know that every little thing you do affects somebody," he said.
Bayan also discussed the importance of talking about mental health in high schools and having programs in place to support students who are dealing with mental health disorders.
As was mentioned during the meeting, an organization that's helping to provide support is the Greater Kansas City Mental Health Coalition. The coalition offers schools a range of student-oriented mental health programming, including the SOS Signs of Suicide Prevention Program – a training program for high school staff members, who then help implement the program on a designated day in classrooms.
Another initiative is the year-round "You Be You" campaign, developed by Bernstein-Rein Advertising. Implemented as a pilot initiative in 2017 in schools in Blue Springs, Mo.; and Johnson County, Kan., the anti-suicide program is spreading to more schools this fall. The plan is to eventually spread the program throughout the Kansas City area.
"We wanted to create a campaign that would reach teens in a positive message of self-worth and value," said Don Goldman, CEO of Jewish Family Services, about the teen-led campaign.
Other meeting participants included Karen Mulligan, a social worker with Children's Mercy Hospital. Mulligan spoke about the "tremendous adversity" teens experience in high school because of the stress they face over issues such as their grades, applying to college and figuring out who they are. She also addressed the ways adults should support kids.
"What's important is how we help empower kids," Mulligan said.
---
Reunión de la Coalición resalta la ansiedad como el principal trastorno mental de los adolescentes
Todos los oradores en la reunión de la Coalición de Salud Materno Infantil del 27 de julio coincidieron en una cosa: la ansiedad es el trastorno mental número uno que afecta a adolescentes y adultos jóvenes.
Organizado en conjunto con el hospital Children's Mercy, la reunión tuvo lugar en el auditorio Biery en las oficinas del Departamento de Salud en Kansas City, Mo. Contó con oradores de organizaciones que implementan programas de salud mental para jóvenes para ayudarlos a tratar trastornos de ansiedad, que según los informes afectan al 25.1 por ciento de los estadounidenses entre 13 y 18 años.
La voz joven estuvo presente con el estudiante de secundaria Tyree Bayan como uno de los oradores. Dijo que cómo se trata a los adolescentes tiene un gran impacto en el desarrollo de la ansiedad.
"Es importante que la gente sepa que cada cosa que hacen afecta a alguien," dijo.
Bayan también habló sobre la importancia de hablar sobre la salud mental en las escuelas secundarias y sobre la implementación de programas para apoyar a los estudiantes que están lidiando con trastornos de salud mental.
Como fue mencionado durante la reunión, una organización que está ayudando a brindar apoyo es la Coalición de Salud Mental de Gran Kansas City. La coalición ofrece a las escuelas un rango de programación de salud mental orientada a los estudiantes, que incluye el Programa SOS de Señales de Prevención del Suicidio – un programa de capacitación para el personal de escuelas secundarias, que luego ayudan a implementar el programa en un día designado en las aulas.
Otra iniciativa es la campaña "Sé tú mismo" ("You Be You" en inglés), que sucede todo el año y fue desarrollada por Bernstein-Rein Advertising. Implementada como una iniciativa piloto en el 2017 en escuelas de Blue Springs, Mo., y el condado Johnson en Kansas, el programa anti-suicidio se esta esparciendo en más escuelas este otoño. El plan es que eventualmente el programa se esparza por todo el área de Kansas City.
"Queríamos crear una campaña que llegaría a los adolescentes con un mensaje positivo de autoestima y valor propio," dijo Don Goldman, CEO de Jewish Family Services, sobre la campaña dirigida por adolescentes.
Otros participantes en la reunión incluyó Karen Mulligan, trabajadora social afiliada con el hospital Children's Mercy. Mulligan habló sobre la "tremenda adversidad" que los adolescentes pasan en la secundaria debido al estrés por cosas como calificaciones, aplicaciones a universidades y descubrir quiénes son. También habló de las distintas formas en la que los adultos deben apoyar a los niños.
"Lo que importa es cómo ayudamos a empoderar a los niños," dijo Mulligan.