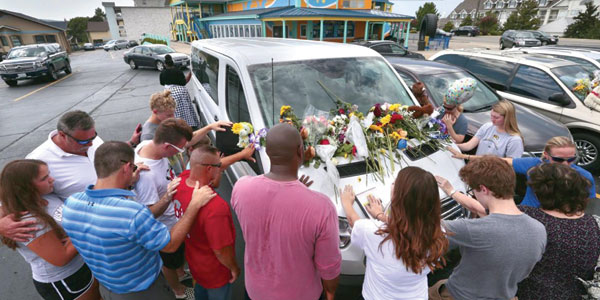 At 11:20 a.m. CDT on July 19, the National Weather Service Storm Prediction Center in Springfield, Mo., issued a severe thunderstorm watch for southwest Missouri through 9 p.m. Included in the watch was Table Rock Lake. The announcement portended disaster for 17 people who were going about their day, unaware that it was their last. They came from Arkansas, Illinois, Indiana and Missouri; they died together in Table Rock Lake when the duck boat they boarded at 6:29 p.m. sank 40 minutes later.
The dead were William Asher, Janice and William Bright, Angela Coleman, Arya Coleman, Belinda Coleman, Ervin Coleman, Evan Coleman, Glenn Coleman, Horace Coleman, Maxwell Coleman, Reece Coleman, Leslie Dennison, Rosemarie Hamann, Bob Williams, Lance Smith and Steve Smith. They ranged in age from one to 76.
They didn't have to die. Life jackets would have save some, if not all of them. According to statistics from the U.S. Coast Guard, 83 percent of drowning victims who were boating weren't wearing life jackets.
Robert Clifford, an attorney in a Chicago-based law firm that specializes in maritime cases told the media on July 21 that everyone aboard the ill-fated duck boat should've had life jackets on.
He's quoted as saying, "The minute they thought they were in trouble, they should have put on life jackets … You can certainly conjure up scenarios where a life jacket could have trapped someone (under the canopy), but the same can be said with seat belts in cars. At the end of the day, on average, you're better off, and your survival rate is better if you're wearing a life vest."
Missouri law requires boat passengers ages seven and younger to wear life jackets whenever they're on the water, but commercial vessels, like the duck boat that sank on July 19, are exempt. Commercial vessels are only required by law to have enough flotation devices for all passengers and crew, and life jackets that fit every child on board. However, the 2018 edition of the handbook on Missouri boating laws and responsibilities directs captains how to prepare passengers for severe weather. Have everyone put on their U.S. Coast Guard-approved life jacket, and make sure they're secured properly.
The debate over the use of life jackets on amphibious tourist boats is long-standing. Yet, the National Transportation Safety Board (NTSB), after investigating the capsizing of a duck boat in Arkansas in 1999, which claimed 13 lives, made these recommendations. Remove the canopies because they can obstruct evacuation and trap passengers on a sinking boat. Require all passengers on an excursion boat to wear life jackets during the tour. Sadly, the Coast Guard never implemented the recommendations, and the NTSB isn't authorized to enact regulations.
Duck boats are amphibious vessels used during World War II to transport troops and supplies from ships to shore. When they were modified as sightseeing crafts for tourists, canopies were added to provide shade and shield passengers from precipitation. They're more vulnerable to being overcome by water when hit with high waves – as the doomed July 19 duck boat was – because they sit low in the water and, as the NTSB found, they lack buoyancy. 
_________________________________________________________________________________________
No necesitan haber muerto
A las 11:20 a.m. CDT del 19 de julio, el Centro Nacional de Predicción de Tormentas del Servicio Meteorológico en Springfield, Missouri, emitió una advertencia de severa tormenta eléctrica para el suroeste de Missouri hasta las 9 p.m. Incluida en la advertencia estaba Table Rock Lake. El anuncio representó un desastre para 17 personas que estaban pasando su día, sin saber que era el último. Vinieron de Arkansas, Illinois, Indiana y Missouri; murieron juntos en Table Rock Lake cuando abordaron el barco de patos a las 6:29 p.m. se hundió 40 minutos después.
Los fallecidos fueron William Asher, Janice y William Bright, Angela Coleman, Arya Coleman, Coleman, Ervin Coleman, Coleman, Glenn Coleman, Coleman, Reece Coleman, Rosemarie Hamann, Bobson, Lance Smith y Maxwell Coleman. Steve Smith. Ellos tenían edades comprendidas entre uno y 76.
No tenían que morir. Los chalecos salvavidas hubieran salvado a algunos, si no todos. Según las estadísticas de la Guardia Costera de los EE. UU., el 83 por ciento de las víctimas que se ahogaron que estaban en el bote no llevaban chalecos salvavidas.
Robert Clifford, un abogado de un bufete de abogados con sede en Chicago que se especializa en casos marítimos le dijo a los medios de comunicación el 21 de julio que todos los que iban a bordo del funesto bote deberían haber tenido chalecos salvavidas.
Él dijo: "En el momento en que pensaron que estaban en problemas, debieron haberse puesto chalecos salvavidas … Sin duda, pueden conjurar escenarios en los que un chaleco salvavidas podría haber atrapado a alguien (debajo del dosel), pero lo mismo puede decirse con cinturones de seguridad en los automóviles. Al final del día, en promedio, estás mejor y tu tasa de supervivencia es mejor si llevas un chaleco salvavidas «.
La ley en Missouri requiere que pasajeros en bote de siete años o menos lleven chalecos salvavidas cuando estén en el agua, pero los buques comerciales, como el barco de patos que se hundió el 19 de julio, están exentos. Los buques comerciales sólo están obligados por ley a tener suficientes dispositivos de flotación para todos los pasajeros y la tripulación, y chalecos salvavidas que se ajustan a todos los niños a bordo. Sin embargo, la edición de 2018 del manual sobre las leyes y responsabilidades de navegación de Misuri ordena a los capitanes cómo preparar a los pasajeros para condiciones climáticas severas, hacer que todos se pongan su chaleco salvavidas aprobado por la Guardia Costera de los EE. UU. y asegurarse de que estén bien sujetos.
El debate sobre el uso de chalecos salvavidas en botes turísticos es antiguo. Sin embargo, la Junta Nacional de Seguridad del Transporte (NTSB por sus siglas en inglés), después de investigar la zozobra de un barco de patos en Arkansas en 1999, que se cobró 13 vidas, hizo estas recomendaciones. Remover las marquesinas porque pueden obstruir la evacuación y atrapar a los pasajeros en un bote que se hunde. Requerir que todos los pasajeros en un bote de excursión usen chalecos salvavidas durante el recorrido. Tristemente, la Guardia Costera nunca implementó las recomendaciones, y la NTSB no está autorizada para promulgar regulaciones.
Los botes de pato son embarcaciones anfibias usados durante la Segunda Guerra Mundial para transportar tropas y suministros desde los barcos hasta la costa. Cuando fueron modificados como artesanías turísticas para los turistas, se agregaron toldos para proporcionar sombra y proteger a los pasajeros de las precipitaciones. Son más vulnerables a ser vencidos por el agua cuando son golpeados por olas altas – como lo fue el condenado bote del 19 de julio- porque se sientan bajos en el agua y, como encontró la NTSB, carecen de flotabilidad.