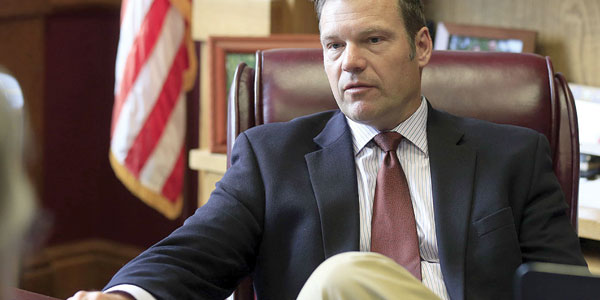 By Angie Baldelomar
On Tuesday (Aug. 14), a week after the Kansas primaries, Kansas Secretary of State Kris Kobach has captured the Republican nomination for governor.
In the tightest primary fight in state history, Kobach led Gov. Jeff Colyer by 345 votes as of Tuesday night, with 85 counties out of 105 having processed their provisional ballots. Colyer conceded Tuesday night, announcing his decision after failing to narrow the gap against Kobach when provisional ballots in Johnson County were tallied.
"This election is probably the closest in America, but the numbers just aren't there unless we go to extraordinary measures," Colyer said during a news conference, as was reported by several news outlets.
The governor also said he wouldn't challenge the result or ask for a recount and that he's committed to keeping the seat in Republican hands.
The concession ends a week that featured scrutiny over every ballot, and questions over whether Kobach would recuse himself in a potential recount.
Kobach obtained President Trump's endorsement of his candidacy the day before the primary election. Kobach believes the endorsement was essential to his victory.
Kobach led the president's controversial voter fraud commission. He supports restrictive voting laws and hardline immigration measures.
The Republican nominee will face Democratic state Sen. Laura Kelly and independent Greg Orman in the general election in November.
---
Kobach gana la candidatura republicana después de que Colyer concede
El martes (14 de agosto), una semana después de las elecciones primarias en Kansas, el secretario de estado de Kansas Kris Kobach ha capturado la candidatura republicana para gobernador.
En la elección primaria más apretada de la historia, Kobach lideró al gobernador Jeff Colyer por 345 votos hasta el martes en la noche, cuando 85 condados de 105 habían procesado sus boletas provisionales. Colyer concedió el martes por la noche, anunciando su decisión después de no reducir la brecha contra Kobach luego de que se contaran las boletas provisionales en el condado de Johnson.
"Esta elección es probablemente la más peleada de los Estados Unidos, pero los números no están ahí a menos que tomemos medidas extraordinarias", Colyer dijo durante una conferencia de prensa, cómo fue reportado por varios medios de prensa.
El gobernador también dijo que no desafiaría el resultado o pediría por un recuento y que está comprometido con mantener el puesto en manos republicanas.
La concesión termina una semana que incluyó escrutinio sobre cada boleta, y preguntas sobre si Kobach se recusaría en un posible recuento.
Kobach obtuvo el respaldo a su candidatura del presidente Trump el día antes de las elecciones primarias. Kobach cree que este respaldo fue esencial para su victoria.
Kobach dirigió la polémica comisión de fraude electoral del Presidente. Él apoya las leyes restrictivas de votación y las medidas de inmigración más duras.
El candidato republicano se enfrentará a la senadora estatal demócrata Laura Kelly y al independiente Greg Orman en las elecciones generales de noviembre.