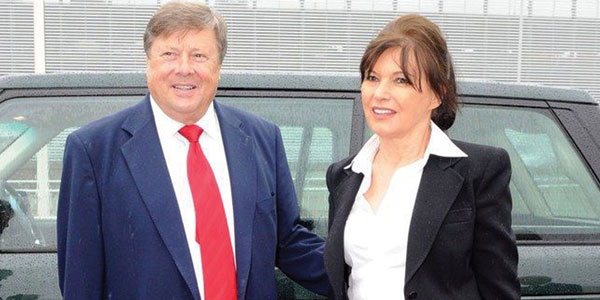 By Eulogio JP
Repeatedly, President Trump has expressed his opposition to what many people call "chain migration."
Chain migration refers to the process available to American citizens to help foreign-born relatives gain citizenship. The citizen sponsors the relative for a green card. If approved, the immigrant can apply for citizenship five years after that.
One example of Trump slamming chain migration took place during an Oct. 11, 2017, interview with Sean Hannity on Fox News.
"Chain migration is one of the disasters (of this country)," Trump said. "You allow one person in and that one person brings in 10 or 12 people."
Then, on Feb. 10, the president said during his weekly address: "My administration has identified three major priorities for creating a safe, modern and lawful immigration system: fully securing the border, ending chain migration and canceling the visa lottery. Chain migration is a disaster, and very unfair to our country."
However, despite his opposition to chain migration, it appears that the president's wife, who was born in Slovenia, has used it to help her parents gain U.S. citizenship. On Aug. 9, first lady Melania Trump's Slovenian parents, Viktor and Amalija Knavs, were granted citizenship.
The first lady's office and the White House haven't commented on the couple becoming citizens.
In related news, another opponent of chain migration is Stephen Miller, the president's senior policy adviser. Miller developed Trump's "zero tolerance" policy, which has drawn criticism for separating families at the U.S.-Mexico border.
However, according to Miller's uncle, the policy adviser "is an immigration hypocrite." Miller's uncle shared with multiple new sources that his nephew is a product of chain migration. In 1903, Miller's great-great-grandfather landed on Ellis Island. Over time, he brought the rest of his family to America.
---
Es posible que la Primera Dama haya usado "migración en cadena" con sus padres
Repetidamente, el presidente Trump ha expresado su oposición a lo que mucha gente llama "migración en cadena".
La migración en cadena se refiere al proceso disponible para los ciudadanos estadounidenses para ayudar a los parientes nacidos en el extranjero a obtener la ciudadanía. El ciudadano patrocina al familiar para obtener una tarjeta verde. Si se aprueba, el inmigrante puede solicitar la ciudadanía cinco años después de eso.
Un ejemplo de las muchas críticas sobre la migración de cadena de Trump tuvo lugar durante una entrevista del 11 de octubre de 2017 con Sean Hannity en Fox News.
"La migración en cadena es uno de los desastres (de este país)", dijo Trump. "Permites a una persona entrar y esa persona trae a 10 o 12 personas".
Luego, el 10 de febrero, el Presidente dijo durante su discurso semanal: "Mi administración ha identificado tres prioridades principales para crear un sistema de inmigración seguro, moderno y legal: asegurar completamente la frontera, terminar con la migración en cadena y cancelar la lotería de visas. La migración en cadena es un desastre y muy injusto para nuestro país ".
Sin embargo, a pesar de su oposición a la migración en cadena, parece que la esposa del Presidente, que nació en Eslovenia, la usó para ayudar a sus padres a obtener la ciudadanía estadounidense. El 9 de agosto, los padres eslovenos de la primera dama Melania Trump, Viktor y Amalija Knavs, obtuvieron la ciudadanía.
La oficina de la primera dama y la Casa Blanca no han comentado que la pareja se convierta en ciudadana.
En noticias relacionadas, otro opositor de la migración en cadena es Stephen Miller, el principal asesor político del presidente. Miller desarrolló la política de "tolerancia cero" de Trump, que ha provocado críticas por separar a las familias en la frontera entre México y EE. UU.
Sin embargo, de acuerdo con el tío de Miller, el asesor político "es un hipócrita de la inmigración". El tío de Miller compartió con varias fuentes nuevas que su sobrino es un producto de la migración en cadena. En 1903, el tatara-tatara-abuelo de Miller aterrizó en Ellis Island. Con el tiempo, trajo al resto de su familia a América.