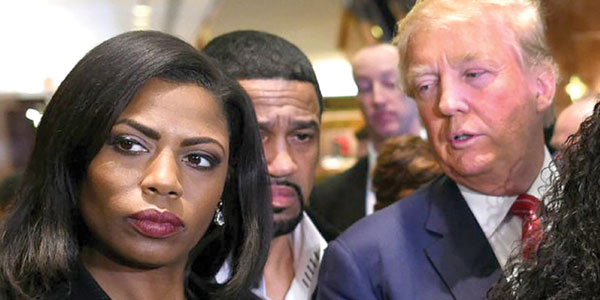 By Tere Siqueira
Former White House adviser Omarosa Manigault Newman recently shared the fourth of 200 allegedly secret tapes recorded during her time working in President Trump's administration.
Some of the audio leaked by the former reality TV star includes conversations with White House Chief of Staff John Kelly, and her phone calls to Trump and several other White House advisers.
The new audio emerged amid many claims against Trump's administration made in Newman's new book, "Unhinged." In the recording, shared during an interview on MSNBC, Lara Trump – who's overseeing President Trump's re-election campaign – is heard offering Newman a monthly salary of $15,000 after Newman's termination from the administration.
"All the money that we raise and that pays salaries is directly from donors, small-dollar donors for the most part," Lara Trump, who's married to President Trump's son Eric, states in the recording. "So I know you … were making 179 at the White House, and I think we can work something out where we keep you right along those lines."
Multiple news outlets have reported that Trump's re-election campaign is threatening to sue Simon & Schuster and Gallery Books, a Simon & Schuster imprint, for publishing of "Unhinged." The publishing company has accused Trump of using the highest platform in the United States for censorship.
---
La ex asesora comparte otra cinta secreta de la Casa Blanca
La ex asesora de la Casa Blanca Omarosa Manigault Newman recientemente compartió la cuarta de las supuestamente 200 cintas secretas grabadas durante su tiempo trabajando en el gobierno del presidente Trump.
Parte del audio filtrado por la ex estrella de reality TV incluye conversaciones con el jefe de gabinete de la Casa Blanca, John Kelly y sus llamadas telefónicas a Trump y a varios asesores de la Casa Blanca.
El nuevo audio surgió en medio de los muchos reclamos contra el gobierno de Trump en el nuevo libro de Newman, "Unhinged". En la grabación, compartida durante una entrevista en MSNBC, se escucha a Lara Trump -que supervisa la campaña de reelección del presidente Trump- ofrecer a Newman un salario mensual de $15,000 después del despido de Newman en el gobierno.
"Todo el dinero que recaudamos y que paga los sueldos proviene directamente de los donantes, en su mayoría donantes pequeños", afirma en la grabación Lara Trump, que está casada con Eric, el hijo del presidente Trump. "Así que sé que … hiciste 179 en la Casa Blanca, y creo que podemos llegar a un acuerdo en el que te mantengamos en esa línea".
Múltiples medios de comunicación informaron que la campaña de reelección de Trump amenaza con demandar a Simon & Schuster y Gallery Books, una imprenta de Simon & Schuster, por publicar "Unhinged". La editorial acusó a Trump de utilizar la plataforma más poderosa de Estados Unidos para censurar.