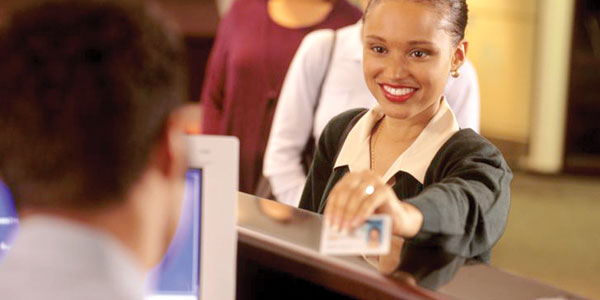 By Angie Baldelomar
The American Civil Liberties Union (ACLU) of Kansas has launched an effort to promote its "Safe and Welcoming Kansas" ordinance, which would give a municipal ID card to everyone in Wyandotte County who wants one.
One part of the ordinance is the push to offer a low-cost, municipal ID to everyone. Alex Martinez, ACLU field organizer behind the effort, said it's a coalition effort, with partners such as El Centro Inc. and other local nonprofits.
A local ID will increase the access to services for people who don't have one, Martinez explained. Around 1 in 5 people living in Wyandotte County don't have a government-issued photo ID. With the card, residents can prove their identities within the city or county limits or access services from any institution that agrees to accept the card as proof of identity.
There would not be a citizenship requirement. Based on what other cities with this type of program have done, Martinez expects the requirements won't be extensive, most likely only presenting proof of residency.
Micah Kubic, ACLU of Kansas executive director, said the card is more than just a piece of plastic.
"This piece of plastic has the power to transform peoples' lives," Kubic said, ticking off a list of things an ID card allows a person to do, from getting a prescription filled to enrolling children in school. "We're going to make this community safer and more welcoming for everyone."
The other part of the ordinance focuses on stopping the Unified Government of Wyandotte County/Kansas City, Kansas, from detaining undocumented immigrants and turning them over to U.S. Immigration and Customs Enforcement officers, Martinez explained.
Martinez, who has been canvassing throughout the county, said the initiative has "received … overwhelming support from the community."
During the coming weeks and months, the effort will focus on talking with commissioners and the mayor/CEO to discuss the project and try to get support from them. Either way, Martinez is looking forward to getting support from people.
"We're really excited to launch this effort," he said. "Wyandotte County has a very diverse population, so it means a lot for this community."
For more information about the ordinance, go to https://www.aclukansas.org/en/campaigns/safe-and-welcoming-kansas.
---
La ACLU de Kansas impulsa su ordenanza 'Kansas, segura y acogedora'
La Unión Americana de Libertades Civiles (ACLU por sus siglas en inglés) de Kansas ha lanzado una iniciativa para promover su ordenanza "Kansas, segura y acogedora" que daría una tarjeta de identificación municipal para todo aquel en el condado de Wyandotte que quiera uno.
Una parte de la ordenanza es la iniciativa para ofrecer una identificación municipal de bajo costo a todos. Alex Martínez, organizador de campo de la ACLU detrás de la iniciativa, dijo que es una iniciativa de coalición, con socios como El Centro Inc. y otras organizaciones sin fines de lucro locales.
Una tarjeta de identificación local aumentará el acceso a servicios para personas que no tienen una tarjeta, Martínez explicó. Alrededor de 1 en 5 personas viviendo en el condado Wyandotte no tienen una identificación con foto emitida por el gobierno. Con la tarjeta, los residentes pueden probar su identidad dentro de los límites de la ciudad o del condado o acceder a los servicios de cualquier institución que acepte la tarjeta como prueba de identidad.
No habría un requerimiento de ciudadanía. Basado en lo hecho en otras ciudades con este tipo de programa, Martínez espera que los requerimientos (para sacar la tarjeta) no sean extensos, probablemente sólo presentado prueba de residencia.
Micah Kubic, director ejecutivo de la ACLU de Kansas, dijo que la tarjeta es más que un pedazo de plástico.
"Este pedazo de plástico tiene el poder de transformar la vida de las personas", Kubic dijo, marcando una lista de cosas que una tarjeta de identificación le permite hacer a una persona, desde conseguir medicamentos recetados hasta inscribir a los niños a la escuela. "Vamos a hacer que esta comunidad sea más segura y más acogedora para todos".
La otra parte de la ordenanza se centra en evitar que el Gobierno Unificado del Condado de Wyandotte/Kansas City, Kansas, detenga a inmigrantes indocumentados y los entregue a los oficiales de Inmigración y Control de Aduanas (ICE por sus siglas en inglés) de los EE.UU., explicó Martínez.
Martínez, quien ha estado recorriendo todo el condado dando información sobre esta ordenanza, dijo que la iniciativa "recibió … un apoyo abrumador de la comunidad".
"Estamos emocionados de lanzar esta iniciativa", dijo. "El condado de Wyandotte tiene una población muy diversa, así que esto significa mucho para la comunidad".
Para más información sobre la ordenanza, visite https://www.aclukansas.org/en/campaigns/safe-and-welcoming-kansas.