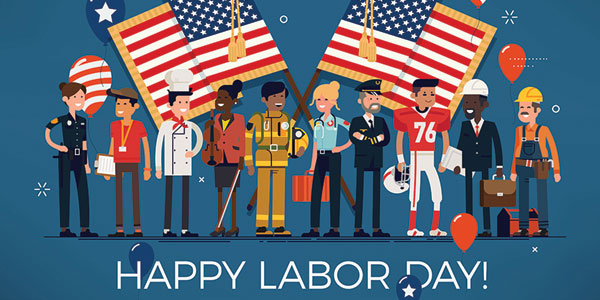 Harley-Davidson Motorcycles began laying off employees earlier this month. The company had warned that it would close the Kansas City plant by 2019, cutting some 800 jobs. Those unemployed workers could soon be joined by communications personnel.
If the Federal Communications Commission approves a proposed merger between Sprint and T-Mobile, it could result in the loss of more than 24,000 jobs at retail stores and some 4,500 jobs in the two companies' headquarters, claims the Communications Workers of America union. Up to 2,250 employees at Sprint's Overland Park headquarters could be affected.
And yet as we approach Labor Day, our national holiday celebrating the contributions of American workers, employment prospects, overall, are fairly reassuring. According to the U.S. Labor Department's Aug. 7 report, open jobs have outnumbered unemployed workers for the past three consecutive months, and the unemployment rate fell to 3.9 percent last quarter, the lowest in nearly two decades. Overall, the economy grew at the fastest pace since 2013.
Metro area workers can take heart. Both Kansas and Missouri are benefitting from U.S. economic growth. In Kansas, the unemployment rate has held steady at 3.4 percent for the last six consecutive months, reported the state labor department Aug. 17. Unemployment in Missouri at 3.4 percent is at an 18-year low, according to data released by the state's economic development department Aug. 7.
What's more, upwards of about 4,000 new jobs are coming to the metro over the next five years. CVS Health just opened a new retail distribution center in the Northland's Skyport Industrial Park. The center will employ about 360 employees and add 70 to 100 additional jobs through work with local businesses.
And on the Kansas side, JCPenny began interviewing applicants Aug. 22 for its new distribution center in Lenexa. The retailer wants to hire 900 new employees. Last month, Shamrock Trading Corp. announced expansion plans that would create 1,000 new jobs at its Overland Park facility. Turn5 plans to open a new distribution center in Lenexa Oct. 1. The e-commerce fulfillment center will create about 100 new jobs over the next three years. GEICO is opening a new service center, also in Lenexa, expected to add 500 new jobs over the next five years.
Lowe's new home improvement center in Overland Park celebrated a grand opening last week. According to officials, stores of that size typically create about 125 jobs, The Kansas City Star reported.
And officials in Kansas and Missouri are lobbying for some 700 well-paying federal jobs. The U.S. Department of Agriculture is moving the jobs from Washington D.C. to be closer to their agricultural constituency. It makes sense, and Kansas City's the perfect place for the USDA offices, Missouri U.S. Rep. Vicky Hartzler told KCUR; there are already USDA offices in the metro.
The U.S. economic outlook is bright, and the consumer confidence index this month is the highest since October 2000, the Conference Board announced this week. Isn't this flourishing Labor Day a good time to apportion a bigger share of the prosperity pie to our lowest-wage workers?
_________________________________________________________________________________________
En el Día del Trabajo, una imagen próspera para algunos
La compañía de motocicletas Harley-Davidson comenzó a despedir a sus empleados a principios del mes. La compañía había advertido que cerraría su planta en Kansas City para 2019, reduciendo unos 800 empleos. Esos trabajadores desempleados pronto podrían ser acompañados por personal de comunicaciones.
Si la Comisión Federal de Comunicaciones aprueba una fusión propuesta entre Sprint y T-Mobile, podría resultar en la pérdida de más de 24,000 empleos en tiendas minoristas y unos 4,500 empleos en las oficinas centrales de las dos compañías, según afirma el sindicato de Trabajadores de Comunicaciones de América. Hasta 2,250 empleados en la oficina central de Sprint en Overland Park podrían verse afectados.
Y sin embargo, a medida que nos acercamos al Día del Trabajo, nuestra fiesta nacional celebrando las contribuciones de los trabajadores estadounidenses, las perspectivas de empleo, en general, son bastante tranquilizadoras. Según el reporte del 7 de agosto del Departamento de Trabajo de EE.UU., los empleos abiertos han superado en número a los trabajadores desempleados durante los últimos tres meses consecutivos, y la tasa de desempleo cayó al 3.9 por ciento el trimestre pasado, la más baja en casi dos décadas. En general, la economía creció al ritmo más rápido desde 2013.
Los trabajadores del área metropolitana pueden animarse. Tanto Kansas como Missouri se están beneficiando del crecimiento económico de los EE. UU. En Kansas, la tasa de desempleo se ha mantenido estable en 3.4 por ciento en los últimos seis meses consecutivos, informó el departamento estatal de trabajo el 17 de agosto. El desempleo en Missouri al 3.4 por ciento se encuentra en su nivel más bajo en 18 años, según los datos publicados por el departamento estatal de desarrollo el 7 de agosto.
Además, más de 4,000 nuevos puestos de trabajo llegarán al área metropolitana en los próximos cinco años. CVS Health acaba de abrir un nuevo centro de distribución minorista en el Parque Industrial Skyport de Northland. El centro empleará a alrededor de 360 empleados y agregará de 70 a 100 empleos adicionales a través del trabajo con empresas locales.
Y en el lado de Kansas, JCPenny comenzará a entrevistar a postulantes el 22 de agosto para su nuevo centro de distribución en Lenexa. La compañía quiere contratar 900 empleados nuevos. El mes anterior, Shamrock Trading Corp. anunció planes de expansión que crearían 1,000 nuevos empleos en sus instalaciones en Overland Park. Turn5 planea abrir un nuevo centro de distribución en Lenexa el 1 de octubre. El centro de cumplimiento de comercio electrónico creará alrededor de 100 nuevos puestos de trabajo en los próximos tres años. GEICO está abriendo un nuevo centro de servicio, también en Lenexa, que se espera que agregue 500 nuevos empleos en los próximos cinco años.
El nuevo centro de mejoras para el hogar de Lowe›s en Overland Park celebró una gran apertura la semana pasada. Según los funcionarios, las tiendas de ese tamaño suelen crear alrededor de 125 puestos de trabajo, informó The Kansas City Star.
Y funcionarios en Kansas y Missouri están presionando por unos 700 empleos federales bien pagados. El Departamento de Agricultura de EE. UU. (USDA, por sus siglas en inglés), está moviendo los empleos fuera de Washington D.C. para estar más cerca de su circunscripción agrícola. Tiene sentido, y Kansas City es el lugar perfecto para las oficinas del USDA, la representante de Missouri en los EE. UU. Vicky Hartzler le dijo a KCUR; ya hay oficinas del USDA en el área metropolitana.
El panorama económico de los Estados Unidos es brillante, y el índice de confianza del consumidor este mes es el más alto desde octubre de 2000, anunció el Conference Board esta semana. ¿No es este floreciente Día del Trabajo un buen momento para distribuir una porción más grande de la torta de la prosperidad a nuestros trabajadores con los salarios más bajos?