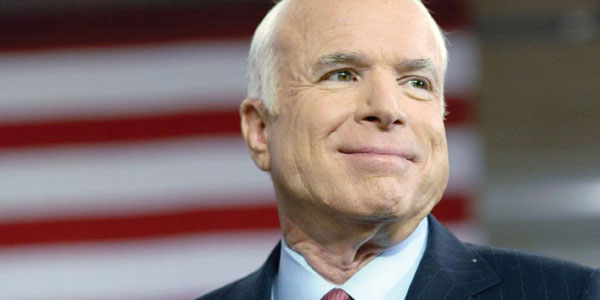 By Angie Baldelomar
U.S. Sen. John McCain died on Aug. 25 – four days before his 82nd birthday.
McCain was diagnosed with a malignant brain tumor, called glioblastoma, in 2017. Since then, he had been treated periodically with radiation and chemotherapy.
Coming from a military family, McCain was in the Navy and served in the Vietnam War. He was held prisoner for five years before returning home, where he underwent a long period of rehabilitation and recovery from being tortured.
McCain served two terms in the U.S. House of Representatives (1983-87) and six in the Senate, all representing Arizona. He also ran for the presidency twice. He lost the 2000 Republican nomination to George W. Bush. In 2008, he won the Republican nomination, but ultimately lost to the Democratic candidate, Barack Obama.
McCain is survived by his wife, his mother, seven children and five grandchildren.
---
Muere John McCain, senador y ex candidato presidencial
El senador John McCain falleció el 25 de agosto – cuatro días antes de su cumpleaños número 82.
McCain fue diagnosticado con un tumor cerebral maligno, llamado glioblastoma, en el 2017. Desde entonces, ha sido tratado periódicamente con radiación y quimioterapia.
Viniendo de una familia militar, McCain estuvo en la Marina y sirvió en la Guerra de Vietnam. Estuvo prisionero durante cinco años antes de regresar a su hogar, donde se sometió a un largo período de rehabilitación y recuperación tras ser torturado.
McCain sirvió dos períodos en la Cámara de Representantes de EE.UU. (1983-87) y seis en el Senado, todos representando a Arizona. También se postuló para la presidencia dos veces. Perdió la nominación republicana en el 2000 ante George W. Bush. En el 2008, ganó la nominación republicana pero perdió las elecciones generales ante el candidato demócrata, Barack Obama.
A McCain le sobreviven su esposa, su madre, siete hijos y cinco nietos.