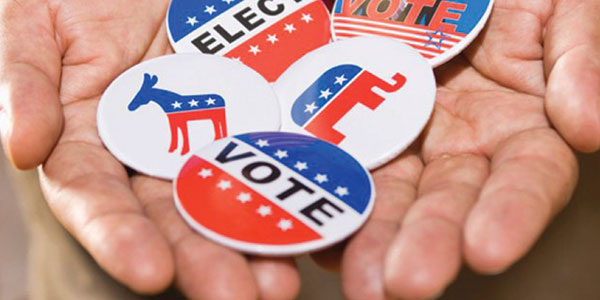 Commentary by Eulogio JP
The results of the midterm elections in November are important for America.
For one, they'll shape Donald Trump's remaining time in office as president. Not only that, but they'll also likely mold the U.S. political landscape for years to come.
There are many offices up for election in November – the 435 U.S. House of Representative seats, 35 U.S. Senate seats, 36 governorships and many state legislature seats. It's virtually impossible for one person to keep track of them all, even a political aficionado like myself.
The elections are especially important for Democrats. If the Democratic Party comes out ahead, it can stop the Republican Party's legislative agenda in Congress and block Trump's Supreme Court nominees from being confirmed, thus preventing the court from having a conservative majority. Additionally, if the Democrats become the majority, they'll gain the ability to perform a much-needed effective, fair investigation into the Trump administration.
In U.S. history, there has never been a more questioned and allegedly corrupted presidential campaign as the one Trump ran in 2016. Having the right people in office is vital for an effective, fair investigation to take place. Americans deserve a fair, aggressive investigation – one that'll leave no questions unanswered.
The committee in charge of the investigation into the 2016 presidential election is controlled by Republicans, the majority party. Naturally, Republicans have little motivation to dig deeply into matters that could embarrass Trump's administration and consequently their own party. This is unfair to the American people – and offensive to American democracy.
If the Democrats take control of the investigation committee by gaining the majority, chances are, they'll investigate beyond the allegations that the Russian government colluded with Trump to help him win the election. Chances are, they'll dig into Trump's businesses, sexual assault allegations and all sorts of controversial policy choices or potential White House scandals.
No doubt, Trump would consider such an extensive investigation to be a witch hunt. But it's the kind of investigation America deserves.
Please vote in the midterm elections. It's important. By voting, you'll assure that, if any crimes were committed, the right people pay the consequences – even if one of those people is the president himself.
---
Las elecciones de mitad de ciclo son la única oportunidad a una investigación justa
Los resultados de las elecciones de mitad de ciclo en noviembre son importantes para Estados Unidos.
Por un lado, darán forma al resto de la presidencia de Donald Trump. No sólo eso, sino que también moldearán el panorama político de los EE. UU. por años.
Hay muchas oficinas por ser electas en noviembre: los 435 asientos de la Cámara de Representantes, 35 escaños del Senado, 36 gobernaciones y muchos escaños legislativos estatales. Es virtualmente imposible para una persona hacer un seguimiento de todos ellos, incluso un aficionado político como yo.
Las elecciones son especialmente importantes para los demócratas. Si el Partido Demócrata sale adelante, podrá detener la agenda legislativa del Partido Republicano en el Congreso y bloquear la confirmación de los candidatos a la Corte Suprema de Trump, evitando así que la Corte tenga una mayoría conservadora. Además, si los demócratas se convierten en mayoría, obtendrán la capacidad de realizar una investigación justa, efectiva y muy necesaria sobre la administración de Trump.
En la historia de los EE. UU., nunca ha habido una campaña presidencial más cuestionada y presuntamente corrupta como la que dirigió Trump en 2016. Tener a las personas adecuadas en los cargos es vital para que se lleve a cabo una investigación efectiva y justa. Los estadounidenses merecen una investigación justa y agresiva, una que no deje preguntas sin respuesta.
El comité a cargo de la investigación de las elecciones presidenciales de 2016 está controlado por los republicanos, el partido mayoritario. Naturalmente, los republicanos tienen poca motivación para profundizar en asuntos que podrían avergonzar a la administración de Trump y, en consecuencia, a su propio partido. Esto es injusto para el pueblo estadounidense y ofensivo para la democracia estadounidense.
Si los demócratas toman el control del comité de investigación al obtener la mayoría, lo más probable es que investiguen más allá de Rusia. Lo más probable es que investiguen también los negocios de Trump, las acusaciones de agresión sexual y todo tipo de elecciones políticas controvertidas o posibles escándalos en la Casa Blanca.
Sin duda, Trump consideraría tal investigación como una cacería de brujas. Pero es el tipo de investigación que Estados Unidos merece.
Por favor vote en las elecciones de medio ciclo en noviembre. Es sumamente importante. Al votar, garantizará que, si se cometieron crímenes, las personas correctas paguen las consecuencias, incluso si una de esas personas es el propio presidente.