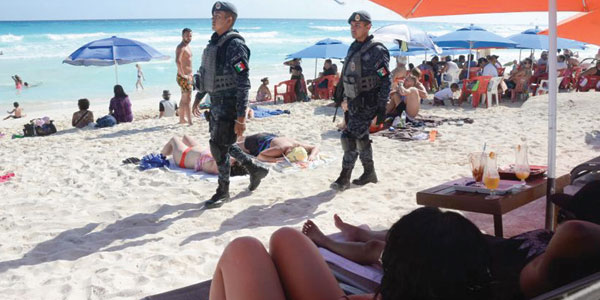 By Angie Baldelomar
The U.S. Department of State has issued a Level 2 travel advisory warning for Mexico following the discovery of eight bodies by Mexican authorities in Cancun.
The advisory recommends travelers going to Quintana Roo, the state where Cancun is located, to "exercise increased caution due to crime" and warns that "violent crime, such as homicide, kidnapping, carjacking and robbery, is widespread."
On Aug. 21, eight bodies were found in the Cancun area, as was reported by The Associated Press. Two victims were found in an abandoned taxi. Two others were found dismembered in plastic bags at another location. A fifth body was discovered bound and fatally shot, and another was found dead in a hammock. The seventh victim was shot to death and discovered in a plastic bag.
No details were revealed about the eighth body.
According to the State Department, Quintana Roo has seen an increase in homicide rates compared to the same time period in 2016.
"While most of these homicides appeared to be targeted, criminal organization assassinations, turf battles between criminal groups have resulted in violent crime in areas frequented by U.S. citizens," the department stated in its advisory.
The advisory also mentions that shooting incidents have taken place where bystanders were injured or killed.
The Aug. 21 discovery is similar to a discovery earlier this year by Mexican authorities. In April, they found the bodies of five men stuffed into a car in Cancun.
---
EE. UU. emite advertencia de viaje luego de que se encontraran 8 cuerpos en Cancún
El Departamento de Estado de EE.UU. ha emitido una advertencia de viaje para México Nivel 2 después del descubrimiento de ocho cuerpos en Cancún por las autoridades mexicanas.
El aviso recomienda a los viajantes yendo a Quintana Roo, el estado donde Cancún está ubicado, a "ejercer una mayor cautela debido al crimen" y advierte que "el crimen violento, como el homicidio, secuestro, robo de automóviles y robo, está muy extendido".
El 21 de agosto, ocho cuerpos fueron encontrados en el área de Cancún, como lo reportó The Associated Press. Dos víctimas fueron encontradas en un taxi abandonado. Otras dos víctimas fueron encontradas desmembradas en bolsas plásticas en otro lugar. Un quinto cuerpo fue descubierto atado y fatalmente fusilado, y otro fue encontrado muerto en una hamaca. La séptima víctima fue asesinada a tiros y descubierta en una bolsa de plástico.
Ningún detalle fue revelado sobre el octavo cuerpo.
Según el Departamento de Estado, Quintana Roo ha visto un aumento en la tasa de homicidios comparado con el mismo período en 2016.
"Si bien la mayoría de estos homicidios parecían estar dirigidos, los asesinatos de organizaciones delictivas, las batallas territoriales entre grupos delictivos han resultado en crímenes violentos en áreas frecuentadas por ciudadanos estadounidenses", dijo el departamento en su aviso.
La advertencia también menciona que han ocurrido tiroteos donde resultaron heridos o murieron.
El descubrimiento del 21 de agosto es similar a un descubrimiento realizado a principios de este año por autoridades mexicanas. En abril, encontraron los cuerpos de cinco hombres metidos en un automóvil en Cancún.