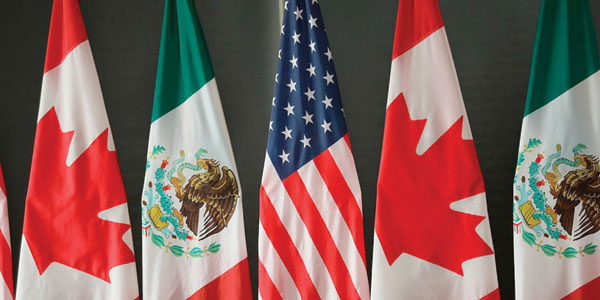 On Monday (Aug. 27), the Mexican and U.S. governments announced they had reached a preliminary trade agreement.
Government officials said the final agreement could be completed within a few days.
"They used to call it NAFTA," President Trump announced from the White House. "We are going to call it the United States-Mexico Trade Agreement."
The president had said multiple times that he wanted to create separate trade agreements with Mexico and Canada, instead of continuing with NAFTA, a trade agreement among the United States, Canada and Mexico. However, Mexican officials have said they want Canada to be part of the latest agreement.
In addition, Robert E. Lighthizer, U.S. trade representative, told The New York Times that the United States wants Canada to be involved.
"If we don't have Canada involved, we will notify (Congress) that we have a bilateral agreement that Canada is welcome to join," Lighthizer was quoted by The New York Times as saying.
Canadian officials haven't opted out of the agreement. Adam Austeen, a spokesperson for Canadian Foreign Minister Chrystia Freeland, said Canada would look for an agreement that's good for Canada.
On Twitter, Mexican President Enrique Pena Nieto (Peña Nieto in Spanish) said he had spoken with Canadian Prime Minister Justin Trudeau and that Mexico expects Canada to join the agreement.
The preliminary agreement includes the following conditions:
*Seventy-five percent of the parts in cars that are sold in North America will be produced in the United States or Mexico.
*Between 40 and 45 percent of auto parts in cars sold will be made by workers who earn at least $16 per hour.
*The agreement will last for 16 years and be reviewed every six years.
In a statement, the White House said the preliminary agreement would benefit American workers, American manufacturing and American agriculture.
"It is an incredible deal for the workers and for the citizens of both countries," Trump was quoted in a White House tweet as saying.
---
México y EE.UU. alcanzan tratado de comercio preliminar
By Chara
El lunes (27 de agosto), el gobierno de México y los Estados Unidos anunciaron que llegaron a un tratado de comercio preliminar.
Los oficiales del gobierno dijeron que el acuerdo final podría ser completado en los siguientes días.
"Lo solían llamar TLCAN", el presidente Trump anunció desde la Casa Blanca. "Lo llamaremos el Acuerdo de Comercio de Estados Unidos-México".
El Presidente ha dicho muchas veces que quería crear tratados de comercio separados con México y Canadá, en vez de continuar con el TLCAN, un tratado de comercio entre los Estados Unidos, Canadá y México. Sin embargo, los oficiales mexicanos han dicho que quieren que Canadá sea parte del tratado más reciente.
Además, Robert E. Lighthizer, el representante comercial de EE. UU., le dijo al New York Times que Estados Unidos quiere que Canadá participe.
"Si no involucramos a Canadá, notificaremos (al Congreso) que tenemos un acuerdo bilateral al que Canadá puede unirse", dijo el New York Times citando a Lighthizer.
Oficiales canadienses no se han salido del acuerdo. Adam Austeen, vocero de la canciller canadiense Chrystia Freeland, dijo que Canadá buscaría un acuerdo que sea bueno para Canadá.
En Twitter el presidente mexicano Enrique Peña Nieto dijo que había hablado con el primer ministro canadiense Justin Trudeau y que México espera que Canadá se una al tratado.
El tratado preliminar incluye las siguientes condiciones:
*Setenta y cinco por ciento de las partes en autos que son vendidos en Norte América serán producidos en los Estados Unidos o México.
*Entre 40 y 45 por ciento de las partes de autos en los autos vendidos serán hechos por trabajadores que ganarán al menos $16 la hora.
*El tratado durará por 16 años y será revisado cada seis años.
En un comunicado, la Casa Blanca dijo que el tratado preliminar beneficiaría a los trabajadores estadounidenses, la manufactura estadounidense y la agricultura estadounidense.
"Es un trato increíble para los trabajadores y para los ciudadanos de ambos países", dijo Trump en un tweet de la Casa Blanca.