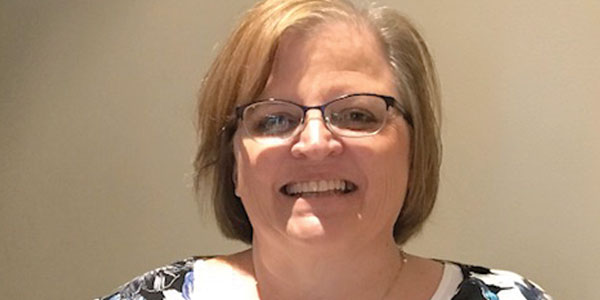 By Angie Baldelomar
Karen Hopson has started her first academic year as the principal at Holy Cross Catholic School in Overland Park, Kansas.
Hopson, who grew up in Lenexa, has been involved in education for 28 years, including 11 years in the classroom. She served as a principal at Our Lady of Unity; in the Xavier Catholic School system in Leavenworth; and at Bishop Ward High School in Kansas City, Kansas, before being appointed principal at Holy Cross.
Hopson's relationship with Holy Cross, however, goes back a few years. Her daughter is a 2010 Holy Cross eighth-grade graduate.
As principal, Hopson hopes to increase the students' faith.
"(My goal is) to really bring students closer to Jesus, to know how to rely on him and to increase their faith," she said.
To do that, Hopson will work to add religion to school subjects.
"(I think a way to do that is) to make sure that teachers are creative in incorporating the faith in the science, the math… and all these subjects," Hopson said.
A challenge Hopson expects to have is making sure the school has the funds available for all families who want a Catholic education.
"The best way to address this is to just continue to express the good word about … (a) Catholic education, making sure everyone knows the good things that are happening at Holy Cross to help with donations to the Guardian Angel Fund," she said.
Hopson said the community has been welcoming and supportive.
"I am very excited to be a part of this wonderful community," she said.
---
Nueva directora comienza a servir en Holy Cross
Karen Hopson ha comenzado su primer año académico como directora de la Escuela Católica Holy Cross en Overland Park, Kansas.
Hopson, que creció en Lenexa, ha estado involucrada en el campo de la educación por 28 años, incluyendo 11 en el salón de clases. Sirvió como directora en Nuestra Señora de la Unidad; en el sistema de la Escuela Católica Xavier en Leavenworth; y en Bishop Ward High School en Kansas City, Kansas, antes de ser nombrada directora en Holy Cross.
La relación de Hopson con Holy Cross, sin embargo, se remonta a algunos años atrás. Su hija es una graduada de Holy Cross del octavo grado de 2010.
Como directora, Hopson espera aumentar la fe de los estudiantes.
"(Mi objetivo es) acercar realmente a los estudiantes a Jesús, saber cómo confiar en Él y aumentar su fe", dijo.
Para lograr esto, Hopson trabajará para agregar la religión en las materias escolares.
"(Creo que una manera es) asegurarse que los profesores sean creativos en incorporar la fe en las ciencias, matemáticas… y todas las materias", Hopson dijo.
Un desafío que Hopson espera tener es asegurarse que la escuela tenga los fondos disponibles para todas las familias que quieran una educación católica.
"La mejor manera de abordar esto es simplemente continuar expresando la buena palabra sobre … (una) educación católica, asegurándonos de que todos sepan las cosas buenas que están sucediendo en Holy Cross para ayudar con las donaciones al Fondo Ángel Guardián", dijo.
Hopson dijo que la comunidad ha sido acogedora y solidaria.
"Estoy muy emocionada de ser parte de esta maravillosa comunidad", dijo.