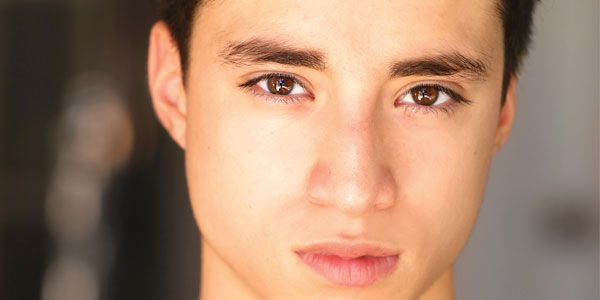 Interview by Chara
A recently released action film tackles the issue of Mexican drug cartels – and includes a nod to the City of Fountains.
The movie is "Sicario: Day of the Soldado." Released this summer in movie theaters and coming to home video on Oct. 2, it is set partly in Kansas City. As the sequel to the 2015 film "Sicario," it focuses on the drug cartels that traffic terrorists across the U.S.-Mexico border. To fight them, the U.S. authorities form a team that combats trafficking.
The cast includes Elijah Rodriguez, who spoke to Dos Mundos about his role in the movie and the reasons to watch it.
Dos Mundos: How did you start acting?
Elijah Rodriguez: I started when I was a kid. I started in my hometown, McAllen, Texas. I was taking acting classes and I did theater for a couple of years, then I started liking it more and I got my manager and moved out to L.A. to pursue my dreams with my mom when I was 12 and I worked on a couple of projects. I worked on "The Book of Life" and then I got this project.
DM: How did you get the role in "Sicario: Day of the Soldado"?
ER: My agent told me about the project and it caught my attention. I went in, met with the casting director and I came back again to meet the director, and he told me what he wanted in the character and what he wanted in the story. Then, I went for the third time and met with the guy that plays my cousin, David Castaneda (Castañeda in Spanish), and I did a chemistry read to see if we were good together. The chemistry was there. It worked pretty well, and the rest is history.
DM: What does it mean to you to participate in "Sicario: Day of the Soldado"?
ER: It is a blessing to be part of this project with the message it has behind it especially. It is bigger than itself and expands to something else, stands for a whole country, (a whole) people. It was a blessing to me to be part of this project.
DM: Do you think Miguel and Elijah are alike?
ER: Well, Miguel and Elijah grew up in the same city, in the same kind of life. I took a lot of inspiration from my life for this character. In some ways, I'm like Miguel, in some others, (I'm) not. Miguel could have been me, could have been any of us, but I chose not to (be him).
DM: Why do you think people should watch "Sicario: Day of the Soldado"?
ER: People should watch "Sicario: Day of the Soldado" because I think it definitely … (takes) you on a wild ride, but keeps you on your feet. It is the type of a movie to watch with action, but also if you want to see something that has a message, something meaningful, then you can watch this. I think it is good for everything.
DM: Do you have a favorite scene in the movie?
ER: The final moment. It kind of closes the movie. It (also) opens a new window for another one. I like the way it was from opening to end, so it left the viewer open for interpretation and that is something that I really like.
DM: Send a message to the people in KC.
ER: Never give up. Don't let anyone tell you what you can or can't do, especially with your dreams. Anyone can make it, as long as you really want it.
---
Rodríguez habla de su carrera, papel en la más reciente película de "Sicario"
Una película de acción recientemente lanzada aborda el tema de los cárteles de la droga mexicanos e incluye un guiño a la Ciudad de las Fuentes.
La película es "Sicario: Día del Soldado". Lanzada este verano en salas de cine y llegando a video casero el 2 de octubre, la película está ambientada en parte en Kansas City. Como la secuela de la película de 2015 "Sicario", se enfoca en los cárteles de la droga que trafican terroristas a través de la frontera de Estados Unidos con México. Para luchar contra ellos, las autoridades de EE.UU. forman un equipo que combate el tráfico.
El elenco incluye a Elijah Rodríguez, quien habló con Dos Mundos sobre su papel en la película y las razones para verla.
Dos Mundos: ¿Cómo comenzaste a actuar?
Elijah Rodríguez: Comencé cuando era niño. Inicié en mi pueblo natal, McAllen, Texas. Estaba tomando clases de actuación e hice teatro por un par de años, luego me empezó a gustar más y conseguí a mi representante y me mudé a Los Ángeles para perseguir mis sueños con mi mamá cuando tenía 12 y trabajé en un par de proyectos. Trabajé en "El Libro de la Vida" y luego obtuve este papel.
DM: ¿Cómo conseguiste el papel en "Sicario: Día del Soldado"?
ER: Mi agente me dijo sobre el proyecto y me llamó la atención. Tuve una audición, me reuní con el director de casting y volví para reunirme con el director, y él me dijo lo que quería en el personaje y lo que quería en la historia. De ahí, fui por tercera vez y me reuní con el muchacho que hace de mi primo, David Castañeda e hice una lectura de química para ver si éramos buenos juntos. La química estaba ahí. Todo salió bien y el resto es historia.
DM: ¿Qué significa para ti participar en "Sicario: Día del Soldado"?
ER: Es una bendición ser parte de este proyecto, especialmente con el mensaje que tiene detrás. Es más grande que sí mismo y se expande en algo más, representa a todo un país, (toda una) población de gente. Fue una bendición para mí ser parte de este proyecto.
DM: ¿Crees que Miguel y Elijah se parecen?
ER: Bueno, Miguel y Elijah crecieron en la misma ciudad, en el mismo estilo de vida. Tomé inspiración de mi vida para este personaje. En varias formas, soy como Miguel, en otras, no. Miguel podría haber sido yo, podría haber sido cualquiera de nosotros, pero elegí no ser (él).
DM: ¿Por qué crees que la gente debería ver "Sicario: Día del Soldado"?
ER: La gente debería ver "Sicario: Día del Soldado" porque creo que definitivamente… (te lleva) en un paseo salvaje, pero te mantiene en pie. Es el tipo de película que se ve con acción, pero también si quieres ver algo que tenga un mensaje, algo con significado, entonces puedes ver esto. Creo que es bueno para todo.
DM: ¿Tienes una escena favorita en la película?
ER: El momento final. Como que cierra la película. (También) abre una ventana para otra. Me gusta la manera en que fue de principio a fin, en cómo dejo al espectador con un final abierto a interpretación y eso es algo que me gusta demasiado.
DM: Manda un mensaje para la gente en KC.
ER: Nunca se rindan. No dejen que nadie les diga lo que pueden o no puede hacer, especialmente con sus sueños. Cualquiera lo puede lograr, siempre que realmente lo desees.