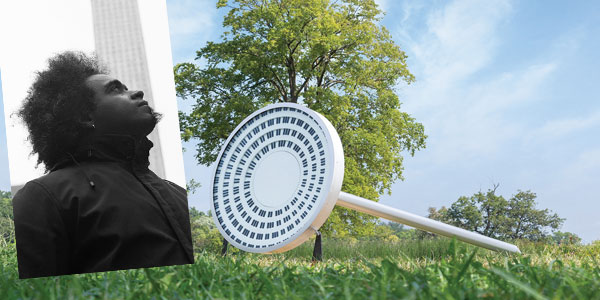 By Angie Baldelomar
Sculptor, painter and video artist Alexandre Arrechea knew from a young age that his path was in the arts.
Born and raised in Trinidad, Cuba, Arrechea's family was always supporting his dream of becoming an artist, he said during an interview with Dos Mundos.
"My family was always very forward with the idea of me being an artist," he said.
With no artists in the family before him, Arrechea's family was so excited about him becoming one that, at age 10, they began calling him "El Pintor" (The Painter).
At age 14, Arrechea moved to Havana to study art at the Instituto Superior de Arte in Havana. For 12 years, he was a member of the art collective Los Carpinteros. In 2003, he left the group and started his solo career.
Arrechea's work has been showcased in many cities around the world. Now, he divides his time among New York City, Madrid, Havana and Miami.
Arrechea is among the many artists showcasing their work at the nine-week arts experience, Open Spaces 2018, in Kansas City. A familiarity with Open Spaces curator Dan Cameron might have helped him get the opportunity to show his work. The two worked together in 2008.
"I told him, 'It seems like every 10 years we do a collaboration," he remembered he said jokingly before accepting the invitation.
Having never worked in the Midwest, Arrechea was attracted to the idea of getting to know more about this part of the country, he said.
Arrechea's sculpture, "Meat and Music," is on display at The Village at Swope Park in Kansas City, Missouri. It takes two cultural markers he perceived during his research trips to Kansas City before making the sculpture and combines them.
"I knew music was a very strong thing in Kansas City," Arrechea said. "I realized during my first trip (to Kansas City) that meat was also so big here."
So Arrechea set out to find a way to create a link between them.
"This idea of accepting is important in my work, … (of) creating an object that represents (Kansas City). … (I like) to make a mix of things that apparently don't go together," he said.
Arrechea's work also has been influenced by his Cuban roots. Coming from an island like Cuba, surrounded by water, he said creating ideas of what the world was like resulted from his state of mind.
"My energy comes from that idea – to bring the world to the island and the island to the world," he said.
The ultimate message Arrechea wants to send the people in Kansas City is to "learn to accept the other," he said.
Open Spaces 2018 will run through Oct. 28. Arrechea's "Meat and Music" will be on display for free at The Village at Swope Park until then.
---
Arrechea trae un mensaje de aceptación con su escultura "Carne y Música"
El escultor, pintor y artista de video, Alexandre Arrechea, sabía desde corta edad que su camino estaba en las artes.
Nacido y criado en Trinidad, Cuba, la familia de Arrechea siempre lo apoyó en su sueño de convertirse en artista, él explicó durante una entrevista con Dos Mundos.
"Mi familia siempre fue muy entusiasta con la idea de que yo fuera un artista", dijo.
Sin ningún artista en la familia antes que él, la familia de Arrechea estaba tan emocionada con la idea de que se convierta en uno que desde que tenía 10 años le decían "El Pintor".
Cuando tenía 14 años, Arrechea se mudó a La Habana a estudiar arte en el Instituto Superior de Arte de La Habana. Por 12 años, fue miembro del colectivo de arte Los Carpinteros. En 2003, dejó el grupo para empezar su carrera en solitario.
El trabajo de Arrechea se ha exhibido en muchas ciudades del mundo. Ahora, divide su tiempo entre Nueva York, Madrid, La Habana y Miami.
Arrechea es uno de los muchos artistas que exhibe su trabajo en la experiencia artística de nueve semanas, Open Spaces 2018, en Kansas City. La familiaridad con el curador de Open Spaces, Dan Cameron, podría haberlo ayudado a tener la oportunidad de mostrar su trabajo. Los dos trabajaron juntos en 2008.
"Le dije, 'parece que cada 10 años hacemos una colaboración'", recuerda que le dijo bromeando antes de aceptar la invitación.
Nunca habiendo trabajado en el medio oeste, a Arrechea le atrajo la idea de llegar a conocer más sobre esta parte del país, dijo.
Su escultura, "Carne y Música" ("Meat and Music"), está en exhibición en The Village en Swope Park en Kansas City, Missouri. Toma dos marcadores culturales que pudo percibir durante sus viajes de investigación a Kansas City antes de hacer la escultura y los combina.
"Sabía que la música es algo muy fuerte en Kansas City," dijo Arrechea. "Me di cuenta durante mi primer viaje (a Kansas City) que la carne también era algo grande aquí".
Así que Arrechea se propuso encontrar una forma de crear un vínculo entre ellos.
"Esta idea de aceptación es importante en mi trabajo, … (de) crear un objeto que representa (Kansas City). … (Me gusta) combinar cosas que aparentemente no van juntas", explicó.
El trabajo de Arrechea también ha sido influenciado por sus raíces cubanas. Viniendo de una isla como Cuba, rodeada de agua, explicó que crear ideas sobre cómo era el mundo formaba parte de su estado de ánimo.
"Mi energía proviene de esa idea – de traer el mundo a la isla y la isla al mundo", dijo.
El último mensaje que Arrechea quiere enviar a la gente de Kansas City es "aprender a aceptar al otro", dijo.
Open Spaces 2018 estará abierto hasta el 28 de octubre. "Carne y Música" de Arrechea se exhibirá de forma gratuita en The Village at Swope Park hasta entonces.