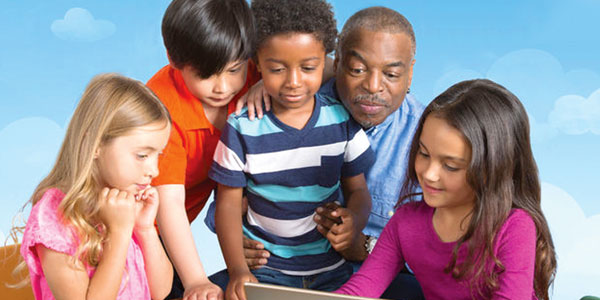 Commentary by Yanis De Palma
The use of technology often raises concerns – and those concerns increase when children use technology.
However, there are many ways that technology works as a tool for parents to help their children learn. Some apps, for example, can allow children to develop their minds in ways that will prepare them for school and educate them on how to safely use technology.
Some of the best apps for younger children include the following:
*Daily Vroom: Focused on parents and caregivers, this free app offers everyday learning activities and tips for each kid's age. The activities can be personalized by topic, situation or date, or by scheduling a daily notification. The tips explain the skills that are developed through each activity. In addition, you can keep a journal with photos to monitor your children's progress. There's also a feature to set up the app in Spanish.
*Busy Shapes: Based on psychologist Jean Piaget's theory of cognitive development, this app offers a digital playground to explore. By using artificial intelligence, it adjusts the level of difficulty of tasks according to children's abilities. The app is downloadable for $1.99.
*Kids Academy: This app will prepare your children for preschool with interactive games, videos and physical activities that will improve their math, writing and conversational skills. Downloadable for free, it offers the option of upgrading for more features and games.
*LeVar Burton Kids Skybrary: This app includes many interactive digital books and videos featuring actor and storyteller LeVar Burton. In addition, children can unlock animated programs and surf through seven magical islands with many book collections. Downloading the app is free, with subscriptions ranging from $4.99 per month to $39.99 per year.
*Kids Vocabulary, Grammar & Language-Learning Games: With this app, you can help get your children prepared for school. It offers language development games for children in kindergarten and preschool. In addition, it offers a cross-curricular game focused on learning math, reading, science and language that can be adjusted to various levels of difficulty. If you want to download the full version, it's $3.99. A three-month subscription is $9.99. A full year is $19.99.
*Toddler Kids Puzzles Puzzingo: Designed for babies, toddlers and kids, the app offers interactive programs, animated programs, sound features and many puzzles. And because it's supported in many languages, it can help your children learn a new language. Downloading the app is free, with options for various in-app purchases available.
---
Las mejores aplicaciones para niños pequeños
El uso de la tecnología a menudo genera inquietudes y esas preocupaciones aumentan cuando los niños usan la tecnología.
Sin embargo, hay muchas maneras en que la tecnología funciona como una herramienta para que los padres ayuden a sus hijos a aprender. Hay algunas aplicaciones pueden permitir que los niños desarrollen sus mentes de maneras que los preparen para la escuela y los eduquen sobre cómo usar la tecnología de manera segura.
Algunas de las mejores aplicaciones para los niños más pequeños incluyen las siguientes:
* Daily Vroom: Enfocada en padres y cuidadores, esta aplicación gratuita ofrece actividades de aprendizaje diarias y consejos para la edad de cada niño. Las actividades se pueden personalizar por tema, situación o fecha o programando una notificación diaria. Los consejos explican las habilidades que se desarrollan a través de cada actividad. Además, puede llevar un diario con fotos para supervisar el progreso de sus hijos. También hay una función para configurar la aplicación en español.
* Busy Shapes: Basado en la teoría del desarrollo cognitivo del psicólogo Jean Piaget, esta aplicación ofrece un patio de recreo digital para explorar. Al usar inteligencia artificial, se ajusta el nivel de dificultad de las tareas de acuerdo con las habilidades de los niños. La aplicación se puede descargar por $1.99.
* Kids Academy: Esta aplicación preparará a tus hijos para preescolar con juegos interactivos, videos y actividades físicas que mejorarán sus habilidades matemáticas, de escritura y de conversación. Se puede descargar de forma gratuita y ofrece la opción de actualizar para obtener más funciones y juegos.
* LeVar Burton Kids Skybrary: Esta aplicación incluye muchos libros digitales interactivos y videos con el actor y narrador LeVar Burton. Además, los niños pueden desbloquear programas animados y navegar a través de siete islas mágicas con muchas colecciones de libros. La descarga de la aplicación es gratuita, con suscripciones que van desde $4.99 por mes a $39.99 por año.
* Juegos de vocabulario, gramática y aprendizaje de idiomas para niños: Con esta aplicación, puede ayudar a sus hijos a prepararse para la escuela. Ofrece juegos de desarrollo del lenguaje para niños en jardín de niños y preescolar. Además, ofrece un juego interdisciplinario enfocado en el aprendizaje de matemáticas, lectura, ciencias y lenguaje que puede ajustarse a varios niveles de dificultad. Si quieres descargar la versión completa, cuesta $3.99. Una suscripción de tres meses cuesta $9.99. Un año completo cuesta $19.99.
* Rompecabezas para niños pequeños Puzzingo: Diseñada para bebés, niños pequeños y niños más grandes, la aplicación ofrece programas interactivos, programas animados, funciones de sonido y muchos acertijos. Y debido a que es compatible con muchos idiomas, puede ayudar a sus hijos a aprender un nuevo idioma. La descarga de la aplicación es gratuita, con opciones de varias compras adicionales.