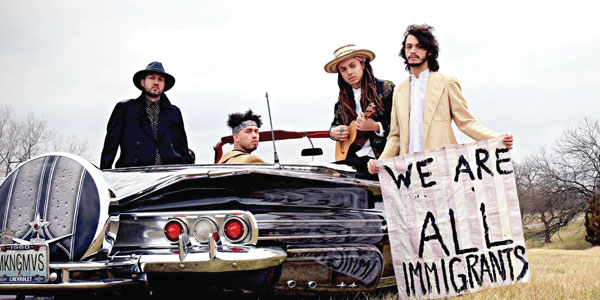 By Angie Baldelomar
Ask singer and guitarist Enrique Chi what spiritual signal marked the beginning of his rock band Making Movies and he'll probably say the Dia de los Muertos (Day of the Dead) celebration at the Mattie Rhodes Arts Center.
"I feel like that's where everything truly began for us," he said.
Founded in 2009 and based in the Kansas City area, the band also consists of Chi's brother Diego on bass and vocals, percussionist and keyboardist Juan Carlos Chaurand, and drummer Andres Chaurand. The band is among the many artists performing during Open Spaces 2018, a nine-week arts experience running through Oct. 24. When asked about how Making Movies was tapped to perform at Open Spaces, Chi replied: "I don't know how it happened, but Mayor Sly (James) is a big fan of ours."
Chi came to the United States from Panama as a child. As a result, the music he writes for Making Movies is permeated with immigrant identity themes.
"We understand that our role in Kansas City is helping people retain their immigrant identity. … If we don't do it, we have a responsibility we're neglecting," he said.
The band's music is influenced by cumbia, psychedelia, American roots music, son Cuban and spoken-word material. That mix is a product of Chi's background. He grew up surrounded by music. His father loved rock and roll. His mother loved any music she could dance to. The Beatles became the link between both of their tastes in music, he recalled.
Another influence on Chi's work was Mattie Rhodes. While working there, he wrote what would become Making Movies' first album, inspired by hearing and seeing other immigrant children's experiences.
"I could see what the kids were going through. … I remember being the outsider kid myself," he said.
Making Movies will perform from 4 to 5:30 p.m. Saturday (Oct. 6) at The Village at Swope Park in Kansas City, Missouri. For that upcoming performance, Chi said the band plans to set up voter registration booths to encourage people, particularly Latinos, to register to vote and make use of their voice.
"We have an opportunity to make (a) change, to elect people who share similar ideologies," he said. "We should take advantage of that."
Chi also said Making Movies is launching a new campaign soon, called "No te calles" ("Don't be silent"), where the band hopes to empower people and tell them they have a voice.
"We're explaining (to) people that they're not voiceless, and that they should raise that voice," Chi said.
---
Chi y Making Movies resaltan la identidad de los inmigrantes, empoderamiento a través de su música
Si le pregunta al cantante y guitarrista Enrique Chi qué señal espiritual marcó el inicio de su banda de rock Making Movies, probablemente dirá la celebración del Día de los Muertos en el Mattie Rhodes Arts Center.
"Siento que fue ahí fue donde todo realmente comenzó para nosotros", dijo.
Fundada en 2009 y con base en el área de Kansas City, la banda está compuesta por el hermano de Chi, Diego en bajo y voz, el percusionista y tecladista Juan Carlos Chaurand y el baterista Andrés Chaurand. La banda está entre los muchos artistas presentándose durante Open Spaces 2018, una experiencia artística de nueve semanas que estará abierto hasta el 24 de octubre. Cuando se le preguntó sobre cómo Making Movies llegó a participar de Open Spaces, Chi explicó: "No sé cómo pasó, pero el alcalde Sly (James) es un gran fan nuestro".
Chi vino a los Estados Unidos desde Panamá cuando era niño. Como resultado, la música que escribe para Making Movies está impregnada de temas de identidad de inmigrantes.
"Entendemos que nuestro papel en Kansas City es ayudar a las personas a conservar su identidad de inmigrante. … Si no lo hacemos, tenemos una responsabilidad que estamos descuidando", dijo.
La música de la banda está influenciada por la cumbia, psicodelia, música de raíces americanas, el son cubano y material hablado. Esta combinación es el producto del pasado de Chi. Creció rodeado de música. Su padre amaba el rock and roll. A su madre le gustaba cualquier música con la cual pudiera bailar. Los Beatles se convirtieron en el vínculo entre ambos gustos de música, Chi recuerda.
Otra influencia en el trabajo de Chi fue Mattie Rhodes. Mientras trabajó ahí, escribió lo que se convertiría en el primer álbum de Making Movies, inspirado por las experiencias de otros niños inmigrantes que vio y escuchó.
"Podía ver lo que los niños pasaban. … recuerdo ser el niño desconocido," dijo.
Making Movies se presentará desde las 4 p.m. hasta las 5:30 p.m. el sábado (6 de octubre) en The Village en Swope Park en Kansas City, Missouri. Para la próxima presentación, Chi explicó que la banda planea establecer cabinas de registro de votantes para alentar a las personas, especialmente a los latinos, a registrarse para votar y hacer uso de su voz.
"Tenemos la oportunidad de producir cambio, de elegir a personas con ideologías similares", explicó. "Debemos sacar ventaja de eso".
Chi también dijo que Making Movies pronto lanzará una nueva campaña llamada "No te calles", donde la banda espera empoderar a la gente y recordarles que tienen una voz.
"Estamos explicando (a) a las personas que no están sin voz, y que deberían elevar esa voz", Chi explicó.