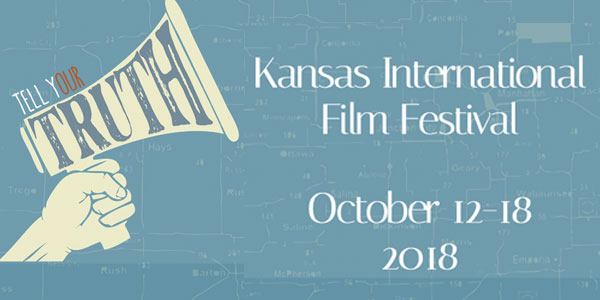 By Angie Baldelomar
The Kansas International Film Festival (KIFF) is coming to the Kansas City area again.
In its 18th edition, the KIFF will premiere on Friday night (Oct. 12), with "Everybody Knows" as the opening film at the cinematic art house of Overland Park, Kansas, the Glenwood Arts Theater. This year, the festival's central theme is "Tell Your Truth." According to Brian Mossman, KIFF co-founder, this year's films reflect the theme.
After playing independent movies at the Fine Arts Theaters for years, Mossman and his twin brother Benjamin decided to produce a festival where they could showcase independent filmmakers' work. That's how the KIFF got started.
KIFF is a non-profit organization dedicated to the exhibition and preservation of independent cinema. It aims to bring communities together by sharing diverse cultures and viewpoints, Mossman said.
"We do a very good job catering to (our) normal clientele," he said, referencing the festival's independent aspect. "We're a filmmaker's festival. We make sure to accommodate filmmakers because without them there would be no content for our festival."
Mossman said the audience will be surprised by the quality of the films on display.
"They are going to see quality films that they can't see anywhere else," he said.
Throughout the one-week festival, which will conclude Oct. 18, 144 films from 29 countries will play at the Glenwood. The list of films with Hispanic ties include "Everybody Knows," starring Penelope Cruz and Javier Bardem; "I'll Push You"; "Carnios"; "Funky Lola"; and "Writer's Block."
For more information on tickets and a complete schedule, visit www.kansasfilm.com.
---
Kansas International Film Festival abrirá el viernes en Overland Park
El Kansas International Film Festival (KIFF) está viniendo al área de Kansas City, otra vez.
En su 18va edición, el KIFF comenzará el viernes por la noche (12 de octubre), con el film "Everybody Knows" como la película de apertura en la casa de arte cinematográfica de Overland Park, Kansas, el Glenwood Arts Theatre. Este año, el tema central del festival es "Diga su verdad". Según Brian Mossman, cofundador de KIFF, las películas de este año reflejan ese tema.
Después de mostrar películas independientes en los Fine Arts Theaters por años, Mossman y su hermano gemelo, Benjamín, decidieron producir un festival donde pudieran mostrar el trabajo de cineastas independientes. Así es cómo KIFF comenzó.
"Hacemos un buen trabajo atendiendo a (nuestra) clientela regular", explicó, haciendo referencia el aspecto independiente del festival. "Somos un festival de cineastas. Nos aseguramos de acomodar a los cineastas porque sin ellos no habría contenido para nuestro festival".
Mossman dijo que la audiencia estará sorprendida por la calidad de las películas en exhibición.
"Van a ver películas de calidad que no pueden ver en ninguna otra parte", dijo.
A lo largo del festival, que durará una semana y terminará el 18 de octubre, 144 peliculas de 29 paises se exhibirán en el Glenwood. La lista de películas con lazos hispanos incluye: "Everybody Knows" (Todos lo Saben), protagonizada por Penelope Cruz y Javier Bardem; "I'll Push You"; "Carnios", "Funky Lola"; y "Writer's Block".
Para más información sobre boletos y para un calendario completo del festival, visite www.kansasfilm.com.