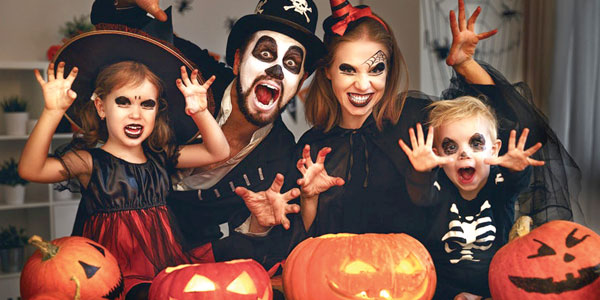 We're increasingly conscious of the dangers our children face in their daily life; news headlines and research data regularly remind us. But celebrations like Halloween, "the spookiest night of the year" designed to thrill and scare heighten our security awareness for our kids.
To keep costumed kids safe on the haunt for treats, communities nowadays organize safe trick-or-treat and options. Halloween is next Wednesday, and it's a school night. Merchants in the Brookside shopping district in Missouri will be handing out candy and other goodies to trick-or-treaters from 4 to 6 p.m.
There's a lot of Halloween fun taking place on the preceding Saturday, Oct. 27, too. Downtown Overland Park has organized a "trick-or-treat trail." The family-friendly event runs 2-4 p.m. and promises games, live music, and of course, candy treats. There's no charge, but organizers will be accepting donations for the Heartstrings Community Foundation.
Also on Saturday, Oct. 27, Lenexa Public Market is throwing a family-friendly Halloween bash with artists, games, dancing and treats. No Trick, Our Treat: Not Your Mummy's Halloween House Party starts at 5 p.m. Costume-judging, face-painting, caricature portraits and music are on the program at 8750 Penrose Lane in Lenexa. There's no charge.
Science City at Union Station is hosting its sixth Spookfest: Night at the Museum! The annual family Halloween celebration on Oct 27, 5-8 p.m. features spooky science demonstrations and activities, "spooktacular" science stage show, costume contest, creepy critters and a whole lot more. Admission is $8 per person.
Mount Washington Manor House, "Independence's scariest haunted house" will open at 7 p.m. on Oct. 27 and stay open till they "run out of bodies. Tickets are $5 for kids, $10 for adults. Mount Washington Manor House is located at 9515 E. Independence Ave. in Independence.
There are a lot of options, spooky and not-so-spooky for families to make the most of Halloween on the preceding Saturday, a search on the internet reveals. But if parents send their little trick-or-treaters out on Halloween night, experts recommend following these safety tips: Plan a route in advance, avoiding neighbors you don't know. Be sure an adult accompanies the kids. Take along a functioning, fully charged cell phone. Use reflective tape on costumes so motorists will notice them. Carry a flashlight with fresh batteries or glow stick and stay in well-lit areas. Cross streets at corners, using crosswalks where available and follow traffic signals.
Trick-or-treating is one of the joys of childhood. Pre-planning and heeding safety tips can help ensure youngsters make happy Halloween memories.  
_____________________________________________________________________________________________
Creando recuerdos de Halloween felices
Somos cada vez más conscientes de los peligros que enfrentan nuestros niños en su vida diaria; titulares de noticias y datos de investigación nos recuerdan constantemente. Pero celebraciones como Halloween, "la noche más espeluznante del año", diseñada para emocionar y asustar, aumentan nuestra conciencia de seguridad para nuestros niños.
Para mantener a los niños disfrazados en busca de golosinas a salvo, las comunidades hoy en día organizan eventos seguros para pedir truco o trato y otras opciones. Halloween es el próximo miércoles, y es noche de escuela. Los comerciantes en el distrito de compras Brookside en Missouri entregarán dulces y otras golosinas a personas que hacen trucos o tratos de 4 a 6 p.m.
También hay mucha diversión de Halloween el sábado antes de Halloween, el 27 de octubre. El centro de Overland Park ha organizado una "ruta de truco o trato". El evento familiar se llevará a cabo de 2 a 4 p.m. y promete juegos, música al vivo, y por supuesto, golosinas. No se paga entrada, pero los organizadores aceptarán donaciones para la Heartstrings Community Foundation.
También ese sábado, 27 de octubre, el Mercado Público de Lenexa está organizando una fiesta de Halloween para la familia con artistas, juegos, bailes y golosinas. No Hay Truco, Nuestro Regalo: No la Fiesta de Halloween de tu Mamá comienza a las 5 p.m. Jueces de disfraces, pintado de cara, retratos de caricatura y música están en el programa en 8750 Penrose Lane en Leneza. La entrada es gratis.
Science City en la Union Station está organizando su sexto Spookfest: ¡Noche en el Museo! La celebración familiar anual de Halloween el 27 de octubre, de 5 a 8 p.m., presenta demostraciones y actividades de ciencia espeluznantes, show de ciencia escénica «spooktacular», concurso de disfraces, criaturas espeluznantes y mucho más. La admisión es de $8 por persona.
Mount Washington Manor House, «la casa encantada más aterradora de Independence", abrirá a las 7 p.m. del 27 de octubre y se mantendrá abierto hasta que "se queden sin cuerpos". Las entradas son $5 para niños, $10 para adultos. Mount Washington Manor House está ubicada en 9515 E. Independence Ave. en Independence.
Hay muchas opciones, espeluznantes y no tanto para que las familias saquen el mayor provecho de Halloween el sábado anterior, así lo revela una rápida búsqueda en internet. Pero si los padres envían a sus pequenos a pedir truco o trato la noche de Halloween, los expertos recomiendan seguir los siguientes consejos: Planee una ruta con anticipación, evitando vecinos que no conoce. Asegúrese de que un adulto acompañe a los niños. Lleve consigo un teléfono celular completamente cargado y en funcionamiento. Use cinta reflectante en los disfraces para que los automovilistas los noten. Lleve una linterna con baterías nuevas o una barra luminosa y permanezca en áreas bien iluminadas. Cruce las calles en las esquinas, usando cruces peatonales cuando estén disponibles y siga las señales de tráfico.
Salir a pedir truco o trato es una de las alegrías de la infancia. La planificación previa y los consejos de seguridad pueden ayudar a asegurar que los pequeños hagan felices recuerdos de Halloween.