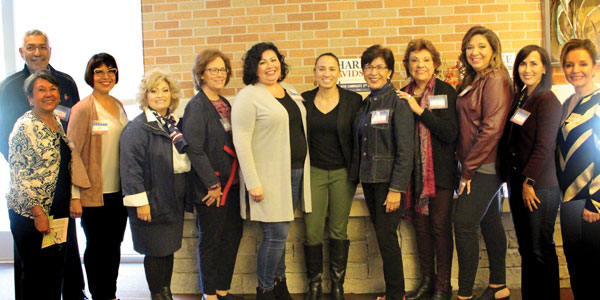 By Angie Baldelomar
On Oct. 20, a group of Hispanic leaders from the Kansas City area organized a reception in support of Sharice Davids, the Democratic candidate for the U.S. House of Representatives for Kansas' 3rd District.
Davids mingled with the dozens of people who attended the event, held at the Matt Ross Community Center in Overland Park. Davids then gave a brief speech.
Davids expressed thanks for the many people supporting her campaign, as shown by the fact that 96 percent of the money the campaign has raised has come from small donors, with an average contribution of $35. She remembered deciding to run for office after the last election cycle.
"I realized how much we needed new voices," she said. "What we're trying to do now is to create change."
The reception was organized and hosted by Angela Cervantes, David and Sarah Chavez, Connie Espinoza-Springfield, Henry and Mary Estrada, Edgar Galicia, Joelsette Hernandez-Jones, Mary Lou Jaramillo, Ramon and Sally Murguia, Clara Reyes and Diana Reyes Raymer of Dos Mundos, and Luisa Patterson.
---
Líderes hispanos del área organizan recepción para apoyar a candidata
El 20 de octubre, un grupo de líderes hispanos del área de Kansas City organizaron una recepción en apoyo de Sharice Davids, la candidata demócrata a la Cámara de Representantes de Estados Unidos para el 3er distrito de Kansas.
Davids convivió con las docenas de personas que asistieron al evento, que tuvo lugar en el Centro Comunitario Matt Ross en Overland Park. Davids dio un breve discurso.
Davids expresó su agradecimiento por las muchas personas que apoyan su campaña, como lo demuestra el hecho de que el 96 por ciento del dinero que la campaña ha recaudado proviene de pequeños donantes, con una contribución promedio de $35, como explicó la candidata. Recordó haber decidido postularse para el cargo después del último ciclo electoral.
"Me di cuenta cuánto necesitábamos nuevas voces", dijo. "… Lo que estamos tratando de hacer ahora es crear cambios".
La recepción fue organizada por Ángela Cervantes, David y Sarah Chávez, Connie Espinoza-Springfield, Henry y Mary Estrada, Edgar Galicia, Joelsette Hernández-Jones, Mary Lou Jaramillo, Ramón y Sally Murguía, Clara Reyes y Diana Reyes Raymer de Dos Mundos, y Luisa Patterson.