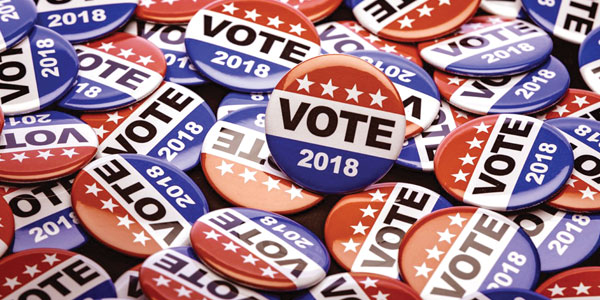 November 6
Polls are open from 6 a.m. to 7 p.m.
Your vote is important to all of us –
please vote for the good of our community. Not voting is the same as a vote for the other candidate. Let's not do that again.
Share your voting choices with your friends. Many people don't vote because they don't feel confident or informed enough – an endorsement from a close friend can make the difference. As important, you can make a difference by voting Nov. 6.
Amendment 1 – YES: Amendment 1 will reduce big money lobbyist influence in Jefferson City, limit megadonors' ability to skirt state campaign finance laws, make sure the Sunshine Law applies to all government business, and establish a nonpartisan redistricting commission. Passing Amendment 1 will be a huge step toward cleaning up corruption in Missouri Government. Vote YES.
Amendment 2 – YES: Amendment 2 would legalize marijuana for medical use in Missouri. It was written with special consideration for the needs of veterans, and has lower taxes than other initiatives.
Amendment 3 – NO: Amendment 3 would also legalize medical marijuana, but with more restrictions, higher taxes, and strange rules that would particularly benefit a single individual (the amendment's major backer, Brad Bradshaw).
Amendment 4 – YES: This is probably the least important question on the ballot, but unfortunately a constitutional amendment is the only way to change Bingo regulations, and apparently folks want them changed this way. We don't see harm in it, so we're voting yes.
Proposition B – YES: Proposition B would incrementally raise the statewide minimum wage to $12/hour. Unless the composition of our state legislature changes dramatically (and we hope it does) this is our only hope to raise the wage in the metro, since local initiatives have been blocked at the state level.
Proposition C – YES: Another medical marijuana plan. It's important for Amendment 2 to pass with more votes than Prop B (so Amendment 2 will take precedence in enactment) but we hope that Prop C passes as a backup plan.
Proposition D – YES: Proposition D would gradually raise the gas tax by 10 cents to fund transportation infrastructure. We don›t love sales taxes but we have to face facts that our infrastructure, especially our bridges, are in an unsafe state of disrepair and must be fixed.
Complete, personalized ballot at www.vote411.org
---
6 de noviembre
Las urnas estarán abiertas desde las 6 a.m. hasta las 7 p.m.
Tu voto es importante para todos – por favor vota para el bienestar de nuestra comunidad.
No votar es lo mismo que votar por el otro candidato. No lo hagamos otra vez.
Comparte tus preferencias de votación con tus amigos. Muchas personas no votan porque no se sienten lo suficientemente seguras o informadas, el respaldo de un amigo cercano puede marcar la diferencia. Igual de importante, puedes marcar la diferencia votando el 6 de noviembre.
Enmienda 1 – SÍ: La Enmienda 1 reducirá la influencia de los lobbistas en la ciudad de Jefferson City, limitará la capacidad de los mega-donadores para eludir las leyes estatales de financiamiento de campañas, se asegurará de que la Ley Sunshine se aplique a todos los asuntos del gobierno y establezca una comisión de distritos no partidistas. La aprobación de la Enmienda 1 será un gran paso hacia la limpieza de la corrupción en el gobierno de Missouri. Vote SÍ.
Enmienda 2 – SÍ: La Enmienda 2 legalizaría la marihuana para uso médico en Missouri. Fue redactada con especial consideración para las necesidades de los veteranos y tiene impuestos más bajos que otras iniciativas.
Enmienda 3 – NO: La Enmienda 3 también legalizaría la marihuana medicinal, pero con más restricciones, impuestos más altos, y reglas extrañas que beneficiarían particularmente a una sola persona (el principal patrocinador de la enmienda, Brad Bradshaw).
Enmienda 4 – SÍ: Esta probablemente es la pregunta menos importante en la papeleta, pero desafortunadamente una enmienda constitucional es la única manera de cambiar las regulaciones de Bingo y, al parecer, las personas las quieren cambiar de esta forma. No vemos ningún daño, así que votamos a favor.
Proposición B – SÍ: La Proposición B elevaría, de manera incremental, el salario mínimo estatal a $12 por hora. A menos que la composición de nuestra legislatura estatal cambie dramáticamente (y esperamos que lo haga), esta es nuestra única esperanza de aumentar el salario en el área metropolitana, ya que las iniciativas locales han sido bloqueadas a nivel estatal.
Proposición C – SÍ: Otro plan de marihuana medicinal. Es importante que la Enmienda 2 sea aprobada con más votos que la Proposición B (para que la Enmienda 2 tenga prioridad en su promulgación), pero esperamos que la Proposición C sea aprobada como un plan de respaldo.
Proposición D – SÍ: La Proposición D elevaría gradualmente el impuesto a la gasolina en 10 centavos para financiar la infraestructura de transporte. No nos encantan los impuestos a las ventas, pero tenemos que enfrentarnos a la realidad de que nuestra infraestructura, especialmente nuestros puentes, se encuentran en un estado de deterioro inseguro y deben ser reparados.
Papeleta completa y personalizada en www.vote411.org.