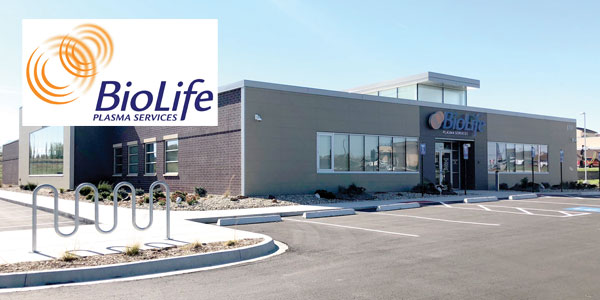 BioLife Plasma Services is opening a plasma collection services center on Saturday (Nov. 10) in northwestern Kansas City, Missouri.
A subsidiary of Shire, BioLife Plasma Services is an industry leader in operating high-quality plasma donation centers nationwide. The plasma collected at BioLife is processed into various life-saving therapeutics, including treatment for patients with hemophilia and immune disorders, and for use as blood volume replacement and tissue sealing.
"BioLife Plasma Services is pleased to add a BioLife center to the Kansas City community – and we appreciate the support of residents who donate their plasma that is used in life-saving therapies for patients," said Tyson Brimberry, center manager, in a press release.
The open house is scheduled for 11 a.m.-5 p.m. Saturday at the new site, located at 8761 N. Ambassador Drive. According to the press release, the new facility is approximately 15,000 square feet, and features a free supervised playroom and free wireless internet. BioLife will employ between 30 to 60 employees there.
For more information on the plasma donation process and to locate additional centers, visit the BioLife website: www.biolifeplasma.com.
---
BioPlasma Services abrirá un centro de servicios de recolección de plasma el sábado, 10 de noviembre, en el noroeste de Kansas City, Missouri.
Como subsidiario de Shire, BioLife Plasma Services es un líder de la industria en operar centros de donación de plasma de alta calidad en todo el país. El plasma recogido en BioLife se procesa en varias terapias que salvan vidas, incluyendo el tratamiento para pacientes con hemofilia y trastornos inmunitarios y para usar como reemplazo de volumen sanguíneo y sellado de tejidos.
"BioLife Plasma Services se complace en añadir un centro BioLife a la comunidad de Kansas City, y apreciamos el apoyo de los residentes que donan su plasma que se usa en terapias para salvar la vida de los pacientes", dijo Tyson Brimberry, gerente del centro, en un comunicado de prensa.
La casa abierta está programada para las 11 a.m. hasta las 5 p.m. el sábado en el nuevo sitio, ubicado en 8761 N. Ambassador Drive. Según el comunicado de prensa, las nuevas instalaciones tendrán aproximadamente 15,000 pies cuadrados y cuentan con una sala de juegos supervisada gratuita y conexión inalámbrica a internet gratuita. BioLife empleará entre 30 y 60 empleados allí.
Para más información sobre el proceso de donación de plasma y para localizar centros adicionales, visita el sitio web de BioLife: www.biolifeplasma.com.