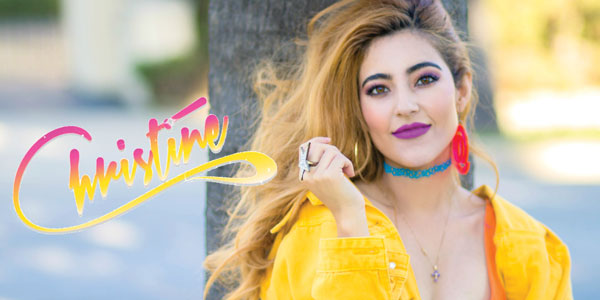 By Angie Baldelomar
Christine has always been drawn to music.
Growing up in a musical family and being related to Ecuadorian artists Patricia and Kiko Gonzalez, the Latina singer knew from a young age that music would be her career path. And the daughter of an Ecuadorian father and American mother is pursuing that career, having broken into the Ecuadorian market with her "electronic pop" and bilingual lyrics, as showcased on such singles as "Next Time," "Besame" and "Fire and Ice." In 2016, she was nominated for a best new artist award.
Christine hopes to reach the point where people think of Ecuador when they think of her.
"I want to be (what) Shakira is to Colombia. … I want to be that artist for Ecuador," she said.
Christine studied music with an emphasis on vocal performance, first at Florida Atlantic University, then at the University of San Diego. She grew up in Quito, Ecuador, and later in Miami, submersed in Hispanic and U.S. cultures.
Now a Californian, Christine writes, performs and co-produces her own music, allowing her to have control over the final product. Her lyrics are in English and Spanish as a reflection of who she is, she said.
"I just can't translate," Christine said. "Sometimes you can't really translate feelings, so I thought, ' Why not (have) both languages?'"
Christine is working on her next EP. Fixturing a mix of rhythm and blues, reggaeton urbano and her bilingual lyrics, with more emphasis on the Spanish lyrics, it is expected to be released later this month.
Through her music, Christine wants to share a message of connection and bravery in sharing what people are feeling.
"Don't be afraid to express yourself," she said. "You need to allow yourself to be sad, happy, … to feel whatever you feel and express it."
Stay up to date on Christine and her new music by following her on her social media platforms: Instagram (@christinemusicofficial), Facebook (www.facebook.com/ChristineMusicOfficial) and Twitter (@ChristineMusic7).
---
———————————
Prometedora cantante latina espera hacer incursión en los Estados Unidos
Christine siempre se ha sentido atraída por la música.
Al crecer en una familia musical y siendo familia de los artistas ecuatorianos Patricia y Kiko González, la cantante latina supo desde corta edad que la música sería su carrera. Y la hija de padre ecuatoriano y madre estadounidense está siguiendo esa carrera, entrando al mercado ecuatoriano con su "pop electrónico" y letras bilingües, como se demuestra en singles como "Next Time", "Bésame" y "Fire and Ice". En 2016, fue incluso nominada a mejor artista revelación.
Christine espera llegar al punto donde las personas piensen en Ecuador cuando piensen en ella.
"Quiero ser (lo que) Shakira es para Colombia. … Quiero ser esa artista para Ecuador", dijo.
Christine estudió música con énfasis en actuación vocal, primero en Florida Atlantic University, y luego en la Universidad de San Diego. Creció en Quito, Ecuador y luego en Miami, sumergida en la cultura hispana y estadounidense.
Ahora viviendo en California, Christine escribe, interpreta y co-produce su propia música, permitiéndole tener control sobre el producto final. Sus letras están en inglés y español como un reflejo de quién es ella, explica.
"No puedo traducir", Christine dijo. "A veces, no puedes traducir sentimientos, así que pensé, '¿por qué no tener ambos lenguajes?'"
Christine está trabajando en su siguiente EP. Presentando una mezcla de rhythm and blues, reggaetón urbano y sus letras bilingües, con más énfasis en sus letras en español, se espera que el álbum sea lanzado hasta finales de este mes.
A través de su música, Christine quiere compartir un mensaje de conexión y valentía para compartir lo que las personas sienten.
"No tengas miedo de expresarte a ti mismo", indicó. "Necesitas permitirte sentir tristeza, felicidad, … sentir lo que sea que estés sintiendo sin miedo a expresarlo".
Manténgase al día sobre Christine y su nueva música siguiéndola en sus plataformas de redes sociales: Instagram (@christinemusicofficial), Facebook (www.facebook.com/ChristineMusicOfficial) y Twitter (@ChristineMusic7).