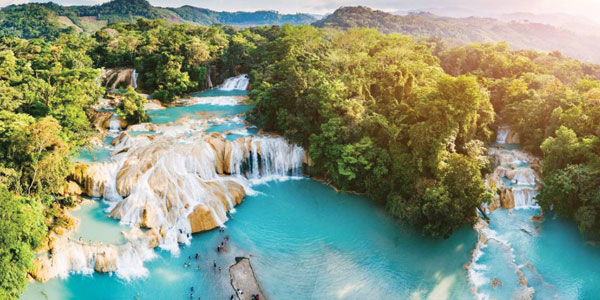 By Tom Sawyer
Welcome tourists! In this edition, we will talk about Chiapas, Mexico. A state in our neighboring country Mexico, which besides being a border with Guatemala is one of the sites where important Mesoamerican cultures developed in the pre-Columbian era. The state, founded in 1824, is the sixth most populated state in Mexico with a population close to 5 and a half million residents.
This time, I've decided to not only to speak about a city but about the whole state -since it has a few attractions each of the cities but all of them of great quality. Tuxtla Gutiérrez is the capital of the state and in 2011 was named by the British newspaper The Financial Times as one of the 8 cities worldwide of the future. San Cristóbal de las Casas, founded in 1528, it was the capital of the state until leaving its place to the current capital. There you can enjoy the fusion of indigenous and Spanish culture in a traditional and picturesque city surrounded by mountains and vegetation. Chiapa de Corzo is the oldest colonial city in the state and was also the capital, here is the starting point of the sinkhole canyon.
The round flights from Kansas to Chiapas have an average price of $550, and at least 2 layovers. This is because the only cities close to Chiapas that have international connections are Mexico City, Guadalajara or Monterrey. My advice is that you arrive at Tuxtla International Airport and from there start your journey. As a suggested means of transport, I advise you to travel within the cities you walk, since they are small cities. You can travel on foot without much difficulty, to move between city and city I advise you to use authorized buses and vans. Although there are some car rental agencies, being a state submerged in the jungle there is some risk driving in private vehicles at night. Accommodation in these cities has an average price of $30 per night in 3-star hotels and $60 in 5-star hotels. You can also find a variety of hostels for $15 per night. If we talk about the gastronomy of the state is very diverse, since it has several dishes with centuries of history. Some recipes come from the ancient Mayans, Mexicas, Olmecs, and others. Do not miss trying the great variety of tamales, fruit-based candies and tascalate (a drink made with corn, sugar, and cinnamon). Prices are around $10 in tourist areas, but if you eat at markets or small shops on the street, you will be surprised at how you can enjoy a delicious meal for $3.
Here are some of the places you should not miss during your visit to the state of Chiapas:
My advice is that you get directly to the capital Tuxtla Gutiérrez. Here you can get a cheaper flight than the other cities with an international airport. There are a variety of agencies to hire different tours. Do not miss the opportunity to visit Miguel Álvarez del Toro Zoo, considered one of the best in Latin America. Its nature reserve simulates the natural habitat of each species. They also hold the regional fauna that is in danger of extinction, including the tapir, quetzal, macaws, and jaguars. The admission fee is $2.
The heart of San Cristóbal de las Casas is located in the Plaza 31 de Marzo, every night you can enjoy the marimba in its 2-story kiosk and dance with the music. Directly opposite is the Cathedral, built between the 16th and 17th centuries, influenced by Baroque, Moorish and indigenous styles. Do not miss out on taking a coffee from Chiapas in the Andador Real de Guadalupe. Chiapas coffee is one of the best not only in Mexico but also worldwide. The world leader in organic coffee with Peru. Also, enjoy the 5 viewpoints that offer an impressive view of the Sumidero Canyon from above, the admission price is $2.
In Chiapa de Corzo, one of the main tourist attractions in the Sumidero Canyon National Park. The walls surrounding the Canyon began to form more than 135 million years ago based on sediments and calcium minerals. They were formed by the action of some marine animals such as corals, so it is assumed that at that time this area was submerged under a shallow sea. But by geological movements more than 15 years ago the marine waters retreated from this region giving the start to the Canyon that we know today. There are 4 boats from which you can go out to take your boat trip, with an average price of $14. You can also enjoy the quiet sound of nature of some wild animals that live in the area among crocodiles, spider monkeys, and exotic birds.
Palenque was founded in 1567 and houses one of the most important archaeological sites of the Mayan world. This ancient Mayan city is a World Heritage Site by UNESCO since 1987. In 2005 the area covered 2.5 square kilometers. It was estimated that only 2% of the total area covered by the city had been explored, with more than 1,000 structures still covered by the lush jungle. It is believed that the Mayans began to build this city from 100 BC, where the predominant village was dedicated to agriculture favored by the many springs that surround it. This historic city is surrounded by more than 1,700 hectares of lush vegetation. You can practice trekking and discover the flora and fauna of the region where a great variety of birds and mammals live.
________________________________________________________________________________________________
Conoce Chiapas
Bienvenidos turistas, en esta edición nos toca hablar de un estado de nuestro país vecino México, que además de ser frontera con Guatemala es uno de los sitios donde se desarrollaron importantes culturas mesoamericanas en la época precolombina. Nos referimos a Chiapas, México. Estado fundado en 1824 y que es el sexto estado más habitado de México con una población cercana a los 5 millones y medio de habitantes.
En esta ocasión he decidido no sólo hablar de una ciudad, sino de un estado ya que cuenta con pocas atracciones cada una de las ciudades pero todas ellas de grandísima calidad. Tuxtla Gutiérrez, es la capital del estado y en 2011 fue considerada por el diario británico The Financial Times como una de las 8 ciudades a nivel mundial que tienen características para ser una ciudad del futuro. San Cristóbal de las Casas, ciudad fundada en 1528 y que fue la capital del estado hasta dejarle su lugar a la capital actual, aquí podrás disfrutar de la fusión de la cultura indígena y la española en una ciudad tradicional y pintoresca rodeada de montañas y vegetación. Chiapa de Corzo, es la ciudad colonial más antigua del estado y que también fuera capital del estado, aquí es el punto de partida del Cañón del sumidero.
Los vuelos redondos de Kansas a Chiapas tienen un costo promedio de $550, y cuentan con al menos 2 escalas, esto se debe a que aunque tiene 3 aeropuertos internacionales todos ellos sólo tienen conexión con pocas ciudades, por lo que seguramente una de tus escalas será en Ciudad de México, Guadalajara o Monterrey. Mi recomendación es que llegues al Aeropuerto Internacional de Tuxtla y de ahí comiences tu recorrido. Como medio sugerido de transporte te recomiendo dentro de las ciudades que camines, al ser ciudades relativamente pequeñas podrás recorrerlas a pie sin mayor dificultad, para trasladarte entre ciudad y ciudad te recomiendo utilices autobuses y furgonetas autorizadas de alguna de las centrales de autobuses, aunque existen algunas agencias de renta de vehículos al ser un estado sumergido en la selva existe algo de riesgo el conducir en vehículos privados principalmente por las noches. El hospedaje en estas ciudades tiene un costo promedio de $30 por noche en hoteles 3 estrellas y de $60 en hoteles 5 estrellas, también podrás encontrar gran variedad de hostales por $15 la noche. Si hablamos de la gastronomía del estado es muy basta, ya que se cuenta con varios platillos con siglos de historia, algunas recetas provienen de los antiguos mayas, mexicas, olmecas entre otros. No te pierdas de probar la gran variedad de tamales, dulces a base de frutas y el tascalate una bebida hecha a base de maíz, azúcar y canela. Los costos por comida rondan los $10 en las zonas turísticas, pero si comes en mercados o en pequeños locales en la calle te sorprenderá como hasta con $3 puedes disfrutar de una deliciosa comida.
A continuación te platico algunos de los lugares que no deberás perderte en tu visita por el estado de Chiapas:
Tuxtla Gutiérrez, mi recomendación es que llegues directo a la capital, aquí podrás llegar de una manera más económica que a las otras ciudades con aeropuertos internacionales, además aquí existe más variedad de agencias para poder contratar distintos recorridos turísticos, no pierdas la ocasión para visitar el Zoológico Miguel Álvarez del Toro considerado uno de los mejores de latinoamérica, debido a que se encuentra dentro de una reserva natural simulando el hábitat natural de cada especie al máximo, además de que cuenta con fauna regional que se encuentra en peligro de extinción como lo son el tapir, quetzal, guacamayas, jaguares entre otros; además el costo de entrada es de $2.
San Cristóbal de las Casas, el corazón de la ciudad se ubica en la Plaza 31 de Marzo y es un referente esencial de la ciudad, todas las noches podrás disfrutar de la marimba en su kiosko de 2 pisos y debes aprovechar para bailar un poco al son de la música. Justo enfrente se encuentra la Catedral construida entre los siglos XVI y XVII, con influencia del estilo barroco, morisca e indígena. No desaproveches para tomar un café chiapaneco en el Andador Real de Guadalupe, que por sino lo sabes el café chiapaneco es uno de los mejores no sólo en México sino a nivel mundial, líder mundial en café orgánico junto con Perú. Además disfruta de los 5 miradores que ofrecen una vista impresionante del Cañón del Sumidero desde las alturas, el costo de entrada a estos es de $2.
Chiapa de Corzo, uno de sus principales atractivos turísticos es su Parque Nacional del Cañón del Sumidero, las paredes que rodean al Cañón empezaron a formarse hace más de 135 millones de años a base de sedimentos y minerales de calcio, formados por la acción de algunos animales marinos como los corales, por lo que es de suponerse que en ese entonces esta zona estaba sumergida bajo un mar poco profundo. Pero por movimientos geológicos hace más de 15 años las aguas marinas se retiraron de esta región dando el inicio al Cañón que conocemos actualmente. Hay 4 embarcadores desde los cuales podrás salir a dar tu recorrido por lancha, con un costo promedio de $14, podrás disfrutar además del tranquilo sonido de la naturaleza el de algunos animales salvajes que habitan en la zona, podrás ver cocodrilos, monos arañas, aves exóticas entre otros animales.
Palenque, la ciudad fue fundada en 1567 y alberga una de las zonas arqueológicas más importantes del mundo maya, esta antigua ciudad maya es Patrimonio de la Humanidad por UNESCO desde 1987, para el año 2005 el área abarcaba 2.5 kilómetros cuadrados y se estimaba que tan solo habían sido explorado el 2% de la superficie total que abarcó la ciudad, permaneciendo más de 1,000 estructuras aún cubiertas por la frondosa selva. Se cree que los mayas empezaron a fundar esta ciudad desde 100 a.C en donde la aldea predominante se dedicaba a la agricultura favorecida por los numerosos manantiales que la rodean. Esta histórica ciudad está rodeada por más 1,700 hectáreas de exuberante vegetación, podrás practicar trekking y descubir la flora y fauna de la región en donde gran variedad de aves y mamíferos habitan.