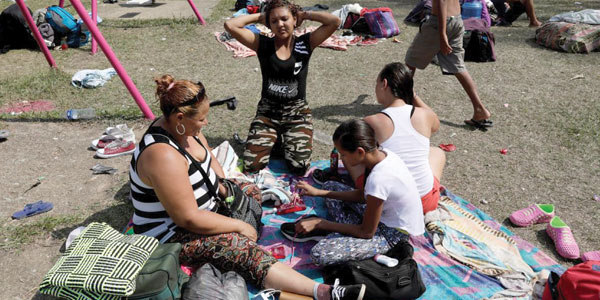 By Chara
The migrant caravan that is traveling through Mexico is a controversial issue with Mexican citizens.
Many Mexicans are complaining that the caravan from Central America is costing the Mexican government money. Other citizens have supported the caravan and said Central Americans are welcome in Mexico.
Caravan supporters have provided the travelers with food, water and shelter. Those who oppose the caravan have complained. One complaint has been that the travelers have left their lodgings dirty and in poor conditions.
"I think it is fair that they want to get out of their countries because (of) the violence and crime. We can support them," Mexico City resident Sofia Garcia said. "However, (when) they come to Mexico, (they should) enter in peace and do it with order."
"They can't enter Mexico using violence," Garcia added. "I didn't like the fact that they were not respecting law enforcement and they were destroying things. That is not the way to do things."
In addition, some Mexican citizens are unhappy that some caravan members have demanded transportation and other things to facilitate their journey from Central America to the United States, where they hope to seek asylum.
"We can give them food and water, but they can't expect that we (should) provide (them) with everything," Garcia said. "Mexico is already in a bad economic situation. We have a lot of poverty and we need to support our citizens first."
On the other hand, caravan supporters argue that Mexico should treat the travelers with respect.
"They are humans, we need to support them," Mexican Brenda Perez said. "We shouldn't act like (U.S. President) Donald Trump. We should welcome our Central American brothers and sisters."
The caravan is reportedly near the U.S.-Mexico border. President Trump has ordered the U.S. military to secure the border. Although caravan members know of the environment that awaits them, they have said they will keep going and seek asylum in U.S. territory.
---
Caravana de migrantes divide a los mexicanos
La caravana migrante que está viajando a través de México es un tema controversial para los ciudadanos mexicanos.
Muchos mexicanos se quejan de que la caravana de América Central le está costando dinero al gobierno mexicano. Otros ciudadanos han apoyado la caravana y dicho que los centroamericanos son bienvenidos en México.
Los partidarios de la caravana han proporcionado a los viajeros comida, agua, y refugio. Los que se oponen a la caravana se han quejado. Una queja ha sido que los viajeros han dejado sus alojamientos sucios y en malas condiciones.
"Creo que es justo que quieran salir de sus países debido a la violencia y el crimen. Podemos ayudarlos", dijo Sofía García, residente de la Ciudad de México. "Sin embargo, cuando vienen a México, deberían entra en paz y hacerlo en orden".
"No pueden entrar a México usando la violencia", agregó García. "No me gustó el hecho de que no respetaran a las autoridades y destruyeran cosas. Esa no es la forma de hacer las cosas".
Además, algunos ciudadanos mexicanos no están felices con que algunos miembros de la caravana demandaran transporte y otras cosas para facilitar su viaje desde Centroamérica hasta los Estados Unidos, donde esperar pedir asilo.
"Podemos darles comida y agua, pero no pueden esperar que debamos proporcionarles todo", dijo García. "México está en una mala situación económica. Tenemos mucha pobreza y necesitamos ayudar a nuestros ciudadanos primero".
Por otro lado, los partidarios de la caravana argumentan que México debe tratar a los viajeros con respeto.
"Son humanos, necesitamos ayudarlos", Brenda Pérez, una mexicana, dijo. "No deberíamos actuar como Donald Trump. Debemos darles la bienvenida a nuestros hermanos y hermanas centroamericanos".
La caravana se está acercando a la frontera de Estados Unidos con México. El presidente Trump ha ordenado al ejército estadounidense que asegure la frontera. Aunque los miembros de la caravana saben del ambiente que les espera, han dicho que seguirán en camino y buscarán asilo en territorio estadounidense.