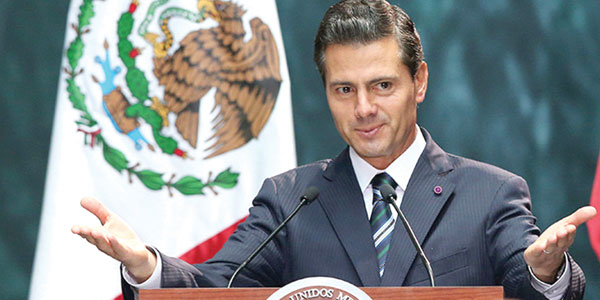 President Enrique Peña Nieto's tenure is coming to an end in Mexico, and he leaves a trail of the dead behind. He has certainly been the worst president in Mexico's modern history, a statement that I base on data: Under Peña Nieto, more Mexicans were killed than under any other recent administration.
In the last six years, 122,889 Mexicans so far have died as a result of violence. These are official figures (available here: bit.ly/2LGFnty), beginning on Dec. 1, 2012, though they don't include intentional homicides recorded in October and November of this year.
The numbers bring to mind a war zone:
— 2012: 1,699 deaths
— 2013: 18,106 deaths
— 2014: 15,520 deaths
— 2015: 16,909 deaths
— 2016: 20,547 deaths
— 2017: 25,339 deaths
— 2018: 24,769 deaths
The death toll during Peña Nieto's tenure far surpasses the 104,089 deaths recorded under Felipe Calderón, who was president from 2006-2012. Additionally, Peña Nieto presided over the surge in intentional homicides that started in 2014, and his administration proved to be incapable of an effective response. As a leader, he was quite useless.
In fact, Peña Nieto was president only in name. He always seemed paralyzed by circumstances, never knowing what to do. During his election campaign in 2012, which was overloaded with TV ads and impossible claims, he pledged that he would stop Mexico's rampant violence "promptly and efficiently." It was all a sham.
The least you can expect from a president is that he work to protect his fellow citizens from murderers. But as the number of victims rose, Peña Nieto claimed that all the bad news was simply a matter of perception, and spent millions on publicity. He never understood that not even a thousand TV ads could prevent a single death or erase a family's agony.
People who supported Peña Nieto either helped him cheat his way into power or then became accomplices of one of the most incompetent politicians the country has ever seen. Elections have consequences. They aren't merely chess games between political parties. When you vote for a disastrous president, the consequences will be disastrous.
The numbers of the dead are indeed terrible, but it's sadder still when you recall that each victim had a name, a face, a life. And each left a void that cannot be filled merely with vague statements or excuses. Peña Nieto was a failure: He couldn't, didn't want to, or didn't know how to pursue justice for the victims or console the grieving. In an administration marked by ineptitude and indifference, thousands of people were killed, yet nothing was done about it.
It's impossible to summarize Peña Nieto's presidency without mentioning the way he kowtowed to a bullying Donald Trump; the disappearance in 2014 of 43 college students from Ayotzinapa Rural Teachers' College — we still don't know what happened to them, which is unbelievable — and the corruption scandal involving a home purchased by his wife. Did it really never occur to Peña Nieto that the first lady buying a $7 million house from a government contractor would not be a huge conflict of interest? His blindness in this matter was the clearest sign that Mexico was in serious trouble because it had elected a morally impaired president.
In years to come, when we recall Peña Nieto's administration — when students read in textbooks about massacres, burial pits and impunity — many will ask: How could someone like that get to be president? How could Mexicans allow it? Why did the opposition, if there actually was one, never remove him? I hope the new government has the ethical wherewithal to investigate Peña Nieto's involvement in the purchase of that luxury home. If not, the best that Mexicans can hope for is that he will just go away. He has done enough damage.
P.S. Deploying an army in the streets of Mexico has never succeeded in reducing violence or corruption, nor has it prevented human rights violations. I hope that Andres Manuel López Obrador, Peña Nieto's successor, doesn't follow in his footsteps with the recent proposal to form a new national guard to combat violence. It's critical that López Obrador not make mistakes in this regard.

__________________________________________________________________________________________________
Enrique Peña Nieto: El Peor Presidente
Enrique Peña Nieto se va con todos sus muertos. Es, sin duda, el peor Presidente que haya tenido México en su historia moderna. Esto está basado en datos terribles. Durante su presidencia fueron asesinados más mexicanos que en cualquier otro gobierno reciente. Por eso es el peor.
En lo que va de su gobierno han sido asesinados 122.889 mexicanos. Estas cifras son solo equivalentes a zonas de guerra. Son cifras oficiales (y aquí las puedes verificar https://bit.ly/2LGFnty). Van del primero de diciembre del 2012 al 30 de septiembre del 2018. Y todavía nos falta sumar todos los homicidios dolosos de octubre y noviembre de este año. EPN dejó el país como cementerio.
— 2012: 1.699 muertos
— 2013: 18.106 muertos
— 2014: 15.520 muertos
— 2015:16.909 muertos
— 2016: 20.547 muertos
— 2017: 25.339 muertos
— 2018: 24.769 muertos
Total: 122.889 muertos en la presidencia de Enrique Peña Nieto.
Estos son muchos más que los 104.089 muertos del sexenio de Felipe Calderón (2006-2012). Lo más grave de todo fue la incapacidad de Peña Nieto de hacer algo. Fue un Presidente inútil. La gráfica muestra cómo los asesinatos dolosos se empezaron a disparar a partir del 2014, y su administración fue incapaz de reaccionar.
Peña Nieto fue Presidente sólo de nombre. Las gigantescas cifras de criminalidad muestran a un Presidente pasmado, paralizado, que nunca supo qué hacer. Durante su ilusoria campaña electoral en el 2012, recargada de anuncios de televisión y promesas imposibles, dijo que iba a detener el crimen de una "manera pronta y eficaz". Fue una farsa.
Falló en lo más básico. Lo menos que se le puede pedir a un Presidente es que evite que maten a sus ciudadanos. Pero Peña Nieto, confundido, creía que las malas noticias eran una cuestión de imagen y se gastó millones en publicidad. Nunca entendió que mil anuncios de televisión no podían evitar una sola muerte. Ni borrar la agonía de las familias.
Los que votaron por Peña Nieto, o le ayudaron tramposamente a llegar al poder, son cómplices de haber empujado en la presidencia a uno de los políticos más incompetentes que haya tenido el país. Las elecciones tienen consecuencias. No son sólo un juego de ajedrez entre partidos políticos. Y cuando se escoge a un presidente nefasto las consecuencias son, también, nefastas. Basta con contar los muertos.
Y perdonen los malditos números. Sabemos que cada uno es una cara, un nombre, una vida, un hueco que deja. Ese vacío no se llena con declaraciones vagas y excusas. El caso es que Peña Nieto fue un fracaso: No pudo, no quiso o no supo. Su gobierno estuvo marcado por la torpeza e indiferencia. En México se mata, y no pasa nada. Es imposible hacer un breve recuento de la fatídica presidencia de Peña Nieto sin mencionar su sumisión ante todos los deseos del bully Donald Trump; la desaparición en el 2014 de los 43 estudiantes de Ayotzinapa — es increíble que hoy todavía no sepamos dónde están — y el caso de corrupción de la "Casa Blanca". ¿De verdad nunca pensó que era un enorme conflicto de interés que su esposa le comprara una casa de $7 millones de dólares a un contratista de su gobierno? Su ceguera en este conflicto fue la señal más clara de que estábamos en graves problemas y frente a un Presidente moralmente incapacitado.
Cuando recordemos la presidencia de Peña Nieto — o cuando los niños vean en los libros de historia las masacres, las fosas y la impunidad — muchos se van a preguntar: ¿Cómo pudo llegar alguien así a la presidencia? ¿Cómo lo permitieron los mexicanos? ¿Por qué la oposición, si de verdad era oposición, nunca promovió un juicio político para sacarlo?
Espero que el nuevo gobierno tenga la ética para iniciar un juicio a Peña Nieto por la Casa Blanca. Pero si no pasa nada, lo mejor que podemos esperar los mexicanos es que se vaya. Lejos. Bastante daño hizo ya.
Posdata/advertencia: La militarización de las calles de México nunca ha logrado reducir el crimen, la corrupción y evitar violaciones a los derechos humanos. Ojalá que Andrés Manuel López Obrador no siga el camino de Peña Nieto y Calderón. Los mexicanos no votaron por más de lo mismo (aunque cambie de nombre y se llame Guardia Nacional). Advertencia a López Obrador: En esto no se puede equivocar. Es vital.