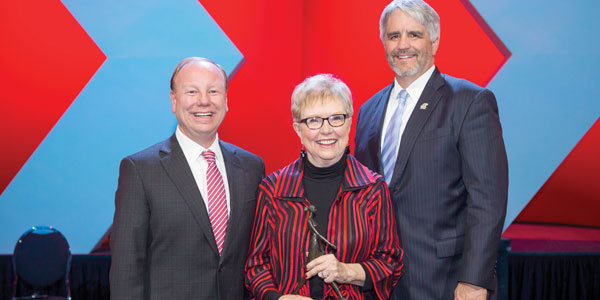 By Angie Baldelomar
Former Kansas City, Missouri, Mayor Kay Barnes, also the city's first woman mayor, received the Kansas Citian of the Year Award during the Greater Kansas City Chamber of Commerce annual dinner on Nov. 20 in the Convention Center's Kay Barnes Ballroom.
Dr. Roy Jensen of the KU Cancer Center and last year's recipient presented the award to Barnes.
The award is always a surprise. Pam Whiting, chamber vice president of communications and media relations, said this time was no exception.
"She was surprised and pleased (about receiving this award)," Whiting said.
Barnes assumed office in 1999 and served two consecutive terms until 2007. She is attributed with being the key to continuing the renaissance of downtown Kansas City. During her terms, the downtown revival started with the opening of the new H&R Block World Headquarters, the Sprint Center and the Power & Light District.
Barnes also was a strong advocate for minorities, including members of the LGBTQIA community and women. She was a founder of the Central Exchange and the University of Missouri Women's Resource Service Center.
---
Ex alcaldesa de KCMO recibe premio
La ex alcaldesa de Kansas City, Missouri, Kay Barnes, que también fue la primera alcaldesa de la ciudad, recibió el Premio Kansas Citian of the Year durante la cena anual de la Cámara de Comercio de Gran Kansas City el 20 de noviembre en el salón de baile Kay Barnes del Centro de Convenciones.
Dr. Roy Jensen, del Centro de Cáncer de KU y el ganador del año pasado, entregó el premio a Barnes.
El premio es siempre una sorpresa. Pam Whiting, vice presidenta de comunicaciones y relaciones con los medios de la Cámara, dijo que esta vez no fue la excepción.
"(Barnes) estaba sorprendida y complacida (de haber recibido este premio)", dijo Whiting.
Barnes asumió el cargo en 1999 y sirvió dos mandatos consecutivos hasta el 2007. A ella se le atribuye ser la clave para continuar con el renacimiento del centro de Kansas City. Durante sus períodos, el reavivamiento en el centro de la ciudad comenzó con la apertura de la nueva sede mundial de H&R Block, el Sprint Center y el Power & Light District.
Barnes también fue una firme defensora de las minorías, incluyendo los miembros de la comunidad LGBTQIA y las mujeres. Fue la fundadora del Central Exchange y el Centro de Servicios de Recursos de la Universidad de Missouri.