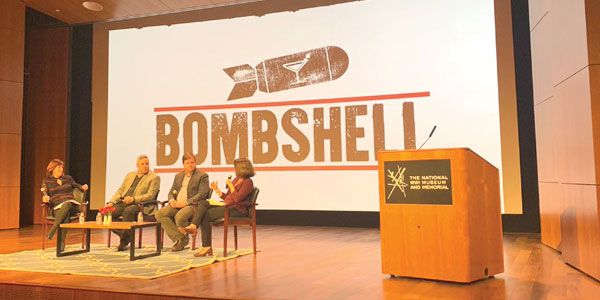 By Angie Baldelomar
On Tuesday (Dec. 4), a public forum brought national security experts together to discuss public engagement with U.S. wars and government transparency as part of a live recording of the podcast "Bombshell" at the National World War I Museum and Memorial in Kansas City, Missouri.
Most people do not know much about the armed conflicts the United States is involved in, ranging from what the goal is to whether there is an end in sight, said Emily Manna, policy analyst at Open The Government, a non-partisan coalition that focuses on government transparency and an event co-host. This lack of information results in the public being unable to take positions.
"(People) can't weigh in effectively," she said.
The average U.S. taxpayer has spent more than $23,000 on America's wars, without understanding how and where that money is spent. This event was a way to encourage Americans to ask their elected officials about the wars, Manna said.
Often, however, people are reticent to ask because they assume most of it is classified information. But 50 to 90 percent of the information that is classified "could probably be safely released," she said.
"Sometimes, stuff is being kept secret because it reveals something embarrassing, … like a failure," Manna said.
That makes it more difficult to know which government programs are working or not.
The experts at the forum were John Ismay, a New York Times correspondent and former Navy explosive ordinance disposal officer; and Steve Leonard, Divergent Options co-founder and former senior military strategist.
"I think it's important for experts to just get out of D.C.," Manna said. "It's important to talk to people where they're at."
By doing so, Manna hopes it will help demystify the topic and break the notion that the information should be difficult for citizens to access.
"There needs to be a demand for information so that elected officials answer," she said.
Manna suggests checking out Open The Government's citizen's guide, where people can learn more about how to ask officials for information.
To hear the entire forum, be on the lookout for the podcast episode "Bombshell: Live at the National World War I Museum and Memorial."
____________________________________________
---
Foro público aboga por transparencia del gobierno a través de la participación pública
El martes (4 de diciembre), un foro público reunió a expertos en seguridad nacional para discutir el compromiso público con las guerras de Estados Unidos y la transparencia del gobierno como parte de una grabación en vivo del podcast "Bombshell" en el Museo y Memorial Nacional de la Primera Guerra Mundial en Kansas City, Missouri.
La mayoría de las personas no saben mucho sobre los conflictos armados en los que Estados Unidos está involucrado, desde cuál es el objetivo hasta si hay un final a la vista, dijo Emily Manna, analista de políticas de Open The Government, una coalición no partidista que se enfoca en la transparencia del gobierno y coanfitrión del evento. Esta falta de información hace que el público no pueda tomar una posición.
"(La gente) no puede opinar de manera efectiva", dijo.
El contribuyente promedio de los Estados Unidos ha gastado más de $23,000 en las guerras de Estados Unidos, sin entender cómo y dónde se gasta ese dinero. Este evento fue una manera de alentar a los estadounidenses a preguntar a sus funcionarios electos acerca de las guerras, dijo Manna.
A menudo, sin embargo, las personas son reticentes a preguntar porque suponen que la mayoría de la información es clasificada. Pero entre el 50 al 90 por ciento de la información que es clasificada "probablemente podría divulgarse de manera segura", indicó.
"Muchas veces, las cosas son mantenidas en secreto porque revelan algo vergonzoso, como una falla o error", Manna explicó.
Eso hace que sea más difícil saber qué programas gubernamentales están funcionando o no.
Los expertos en el foro fueron John Ismay, corresponsal del New York Times y ex oficial de disposición de ordenanzas explosivas de la Marina; y Steve Leonard, cofundador de Divergent Options y ex estratega militar.
"Creo que es importante que los expertos salgan de D.C.", dijo Manna. "Es importante hablar con las personas en sus lugares de origen".
Al hacer eso, Manna espera que el foro ayude a desmitificar el tema y a romper la noción de que la información debería ser difícil (de acceder) para los ciudadanos.
"Necesita haber una demanda por información para que los funcionarios electos respondan", dijo.
Manna sugiere consultar la guía para ciudadanos de Open The Government, donde las personas pueden obtener más información sobre cómo solicitar información a los funcionarios.
Para escuchar todo el foro, esté atento al episodio del podcast "Bombshell: Live at the National World War I Museum and Memorial".