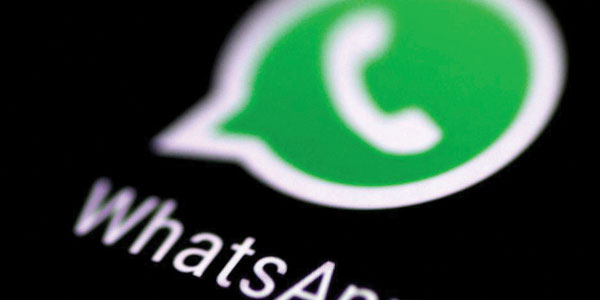 By Tere Siqueira
An app that has operated as an ad-free platform since its inception will soon begin displaying commercials.
In 2019, commercials will begin appearing in the Status feature of WhatsApp, as multiple news agencies have reported. Launched in 2017 and inspired by the Snapchat app, WhatsApp Status allows users to share photos or short videos that stay online on the app for 24 hours. The feature was developed to work hand in hand with the recently launched WhatsApp Business app, which allows companies to answer customer-service queries directly.
WhatsApp is used by 1.5 billion users worldwide, including half of U.S. Hispanics. The Pew Research Center recently reported that the app is the dominant messaging platform in Latin America.
Initially released in 2009, WhatsApp was bought in 2014 by Facebook co-founder Mark Zuckerberg, who paid co-founders Jan Koum and Brian Acton more than $19 billion for it. After selling the chat app, both entrepreneurs worked for a brief time for Facebook. Insiders claimed they left the company after learning the app would host commercial content at the expense of users' privacy.
Koum and Acton had planned to keep the app ad-free. Facebook, however, had a different vision for it.
This is not the first time Facebook has inserted advertising onto an app. In 2016, it launched a similar ad-serving model on Instagram Stories. According to the Wall Street Journal, the ads on the WhatsApp Status feature will be powered by Facebook's native advertising system.
Facebook expects to attract many businesses through the move because the instant message platform reportedly has 191 million daily users. Indeed, media outlets have reported that allegedly almost 100 companies are testing the ad-focused demo feature, including Uber.
---
WhatsApp incluirá anuncios en la función de estados
Una aplicación que ha operado como una plataforma sin publicidad desde su inicio pronto comenzará a mostrar anuncios.
En 2019, los comerciales comenzarán a aparecer en la función Estado de WhatsApp, tal como lo informaron varias agencias de noticias. Lanzado en 2017 e inspirado en la aplicación Snapchat, WhatsApp Status permite a los usuarios compartir fotos o videos cortos que permanecen en línea en la aplicación durante 24 horas. La característica fue desarrollada para trabajar de la mano con la aplicación de WhatsApp Business que de igual manera fue lanzada recientemente, ésta permite a las empresas responder directamente a las consultas de servicio al cliente.
WhatsApp es utilizado por 1.5 billones de usuarios en todo el mundo, incluida la mitad de los hispanos en los EE. UU. El Centro de Investigación Pew informó recientemente que la aplicación es la plataforma de mensajería dominante en América Latina.
Lanzado inicialmente en el 2009, WhatsApp fue comprado en el 2014 por el cofundador de Facebook Mark Zuckerberg, quien pagó a los co-fundadores Jan Koum y Brian Acton más de $19 mil millones por ella. Después de vender la aplicación de chat, ambos empresarios trabajaron por un breve tiempo en Facebook. Los iniciados afirmaron que dejaron la compañía después de saber que la aplicación alojaría contenido comercial a expensas de la privacidad de los usuarios.
Koum y Acton habían planeado mantener la aplicación sin publicidad. Facebook, sin embargo, tuvo una visión diferente para ello.
Esta no es la primera vez que Facebook inserta publicidad en una aplicación. En el 2016, lanzó un modelo similar de publicidad en Instagram Stories. Según el Wall Street Journal, los anuncios en la función de estado de WhatsApp serán impulsados ​​por el sistema de publicidad nativo de Facebook.
Facebook espera atraer a muchas empresas a través de la mudanza porque, según se informa, la plataforma de mensajes instantáneos tiene 191 millones de usuarios diarios. De hecho, los medios de comunicación informaron que supuestamente casi 100 compañías están probando la función de demostración centrada en la publicidad, incluyendo a Uber.