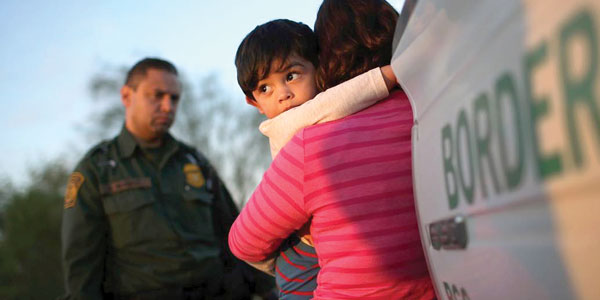 By Tere Siqueira
Research suggests that deportation and the forced separation of immigrants have negative effects that extend to communities in the United States.
According to a recent Society for Community Research and Action study, deportation has psychological and economic effects on communities, along with the immigrant families who are directly affected. In studying the effects on communities, the authors found that many cases of withdrawing from civic engagement are related to immigration policies.
"Deportation policies have negative effects for everybody – not just in immigrant communities," stated Regina Langhout, a psychology professor and the lead author of the piece. "When families are torn apart without their consent, it has very negative outcomes for everyone."
In addition, by examining data from the George W. Bush and Obama administrations, the researchers discovered that anti-immigrant sentiments have been fueled by misinformation, creating a heightened sense of fear, mistrust and psychological distress among immigrant communities and other marginalized groups. Moreover, they found that, regardless of the first-hand experience, the broader community suffers negative consequences of deportation. For example, immigration raids and deportation build tension in communities, resulting in a lack of relationships among community members and a mistrust of public institutions.
However, the research showed that legislative actions and policies intended to support immigrant integration and opportunities for civic engagement decreased the self-reported psychological distress among Hispanic immigrants.
In related news, the authors shared policy recommendations that could reduce the negative effects within communities. They also urged community organizations to get involved and build supportive social networks to create a sense of belonging and to help deal with the effects of deportation.
---
De acuerdo a una investigación la deportación y la separación de familias impacta en las comunidades
La investigación sugiere que la deportación y la separación forzada de inmigrantes tienen efectos negativos que se extienden a las comunidades en Estados Unidos.
Según un reciente estudio de la Sociedad de Investigación y Acción Comunitaria, la deportación tiene efectos psicológicos y económicos en las comunidades, junto con las familias inmigrantes que se ven directamente afectadas. Al estudiar los efectos en las comunidades, los autores encontraron que muchos casos en los que se evitan las actividades cívicas que están relacionadas con las políticas de inmigración.
"Las políticas de deportación tienen efectos negativos para todos, no sólo en las comunidades de inmigrantes", dijo Regina Langhout, profesora de psicología y autora principal de la obra. "Cuando las familias se destrozan sin su consentimiento, tiene resultados muy negativos para todos".
Además, al examinar los datos de los gobiernos de George W. Bush y Obama, los investigadores descubrieron que los sentimientos antiinmigrantes se han visto alimentados por desinformación, creando un mayor sentimiento de temor, desconfianza y angustia psicológica entre las comunidades de inmigrantes y otros grupos marginados. Además, descubrieron que, independientemente de no tener contacto directo, la comunidad en general sufre las consecuencias negativas de la deportación. Por ejemplo, los allanamientos y la deportación crean tensiones en las comunidades, lo que resulta en una falta de relaciones entre los miembros de la comunidad y una desconfianza en las instituciones públicas.
Sin embargo, la investigación mostró que las acciones y políticas legislativas destinadas a apoyar la integración de los inmigrantes y las oportunidades para el compromiso cívico disminuyeron la angustia psicológica personal entre los inmigrantes hispanos.
En noticias relacionadas, los autores compartieron recomendaciones de política que podrían reducir los efectos negativos dentro de las comunidades. También pidieron a las organizaciones comunitarias a involucrarse y crear redes sociales de apoyo para crear un sentido de pertenencia y ayudar a enfrentar los efectos de la deportación.