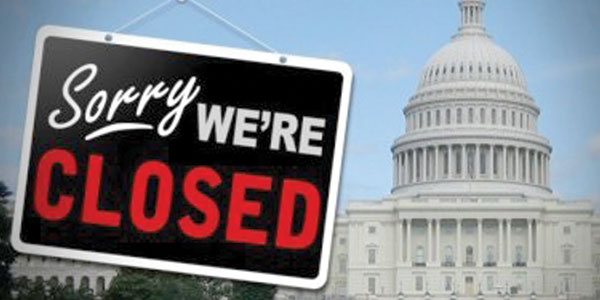 By Angie Baldelomar
The federal government is in the middle of a partial shutdown that is affecting operations of about a fourth of its departments and agencies.
As multiple news agencies reported, the shutdown started on Dec. 22, after President Trump and congressional Democrats failed to reach a budget deal to include $5 billion for his long-promised U.S.-Mexico border wall. Some essential work is still being performed, such as mail delivery and law enforcement; however, the shutdown has affected operations at nine departments, including Justice, Treasury, Transportation and Homeland Security.
About 800,000 of the 2.1 million federal workers nationwide are affected by the shutdown in some way. More than half of them are home without pay, while the rest are still working. Those working will most likely be compensated later, but the ones sent home have no such expectation.
Because of the shutdown, many national parks are closed. Some have remained open with limited staffing or through help from states. Joshua Tree National Park remained open, but it was forced to close after officials could not clean bathrooms fast enough and visitors were damaging the park.
Safety visitor is another concern. Outside Magazine reported that a man died in Yosemite National Park on Christmas Day after falling into a river, but his death went unreported for days because of shutdown-related delays.
CNN reported that hundreds of Transportation Security Administration (TSA) officers, who are required to work without pay during the shutdown, were calling in sick at four major airports. TSA officials have said this is not affecting their work.
Tens of thousands of law enforcement personnel also are working without pay, including workers from the FBI, the Drug Enforcement Administration, the Bureau of Prisons, and Customs and Border Protection. Most immigration courts are closed, causing a delay in deportation.
"That is the irony of this shutdown," Judge Amiena Khan, executive vice president of the National Association of Immigration Judges, told The New York Times. "The impact is most acutely felt in immigration courts and proceedings, where cases will not be going forward."
In addition, the Internal Revenue Service is closed. During a shutdown, the agency does not answer questions or pay tax refunds.
Departments not affected by the shutdown include the Pentagon, the Department of Veterans Affairs, and the Department of Health and Human Services.
---
Mientras el cierre de gobierno continúa, trabajadores federales sienten los efectos
El gobierno federal se encuentra en medio de un cierre parcial que está afectando las operaciones de cerca de un cuarto de sus departamentos y agencias.
Como informaron varias agencias de noticias, el cierre comenzó el 22 de diciembre, después de que el presidente Trump y demócratas del Congreso no lograran alcanzar un acuerdo presupuestario para incluir $5 mil millones para el prometido muro fronterizo entre México y Estados Unidos de Trump. Todavía se está realizando algún trabajo esencial, como la entrega de correo y las fuerzas del orden; sin embargo, el cierre ha afectado las operaciones en nueve departamentos, incluidos los de Justicia, Tesoro, Transporte y Seguridad Nacional.
Alrededor de 800,000 de los 2.1 millones de trabajadores federales en todo el país se ven afectados por el cierre de alguna manera. Más de la mitad de ellos están en casa sin paga, mientras que el resto sigue trabajando. Los que trabajan probablemente serán compensados más tarde, pero los enviados a casa no tienen tal expectativa.
Debido al cierre de gobierno, muchos parques nacionales están cerrados. Algunos se han mantenido abiertos con personal limitado o con ayuda estatal. El Parque Nacional Joshua Tree permaneció abierto, pero se vio obligado a cerrar después de que los funcionarios no pudieron limpiar los baños lo suficientemente rápido y los visitantes dañaran el parque.
La seguridad de los visitantes es otra preocupación. La revista Outside informó que un hombre murió en el Parque Nacional de Yosemite el día de Navidad después de caer en un río, pero su muerte no fue reportada por días debido a retrasos relacionados con el cierre.
CNN informó que cientos de oficiales de la Administración de Seguridad del Transporte (TSA, por sus siglas en inglés), que deben trabajar sin paga durante el cierre, se reportaron enfermos en cuatro aeropuertos principales. Los funcionarios de la TSA han dicho que esto no está afectando su trabajo.
Decenas de miles de agentes de la ley también están trabajando sin remuneración, incluidos los trabajadores del FBI, la Administración de Control de Drogas, la Oficina de Prisiones y la Protección de Aduanas y Fronteras. La mayoría de los tribunales de inmigración están cerrados, causando un retraso en la deportación.
"Esa es la ironía de este cierre", dijo a The New York Times la jueza Amiena Khan, vicepresidenta ejecutiva de la Asociación Nacional de Jueces de Inmigración. "El impacto se siente más en los tribunales y procedimientos de inmigración, donde los casos no avanzarán".
Además, el Servicio de Rentas Internas está cerrado. Durante un cierre, la agencia no responde preguntas ni paga reembolsos de impuestos.
Los departamentos no afectados por el cierre incluyen el Pentágono, el Departamento de Asuntos de Veteranos y el Departamento de Salud y Servicios Humanos.