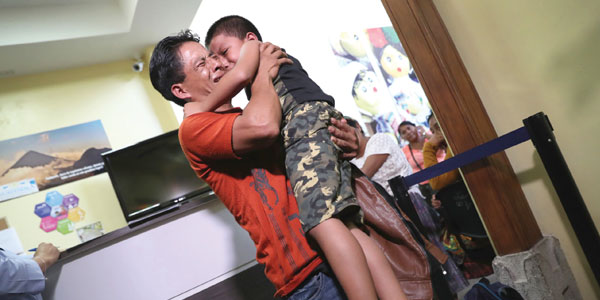 By Angie Baldelomar
The Trump administration probably separated thousands more immigrant children from their parents at the U.S.-Mexico border than has previously been made public, according to a new government report released on Jan. 17.
The federal government has reported a little more than 2,700 children were separated from their parents after a federal court ordered in June 2018 the reunification of the families. But even before the administration unveiled the zero-tolerance policy in the spring of 2018, staff of the Department of Health and Human Services noted a "sharp increase" in the number of children separated from a parent or guardian, according to the new report by the agency's Office of Inspector General.
Investigators have concluded that thousands more might have been separated during an influx that began during the summer of 2017, well before the policy was made public in April 2018.
"The total number of children separated from a parent or guardian by immigration authorities is unknown," the report said.
Facing significant public pressure, President Trump was forced to rescind the family separation policy last June.
Before the zero-tolerance policy, officials began informally tracking separations. This informal tracking revealed that, in 2016, of all of the children in government care, 0.3 percent have been separated from a parent or guardian. By August 2017, the number had risen to 3.6 percent, the report said.
Regardless of the inspector general's report, the Trump administration has not ruled out bringing family separation back in a different form. It has reportedly weighed family separation alternatives, including a "binary choice" plan that would give parents the option to separate voluntarily or be detained together for years.
_________________________________________________________________
El gobierno podría haber separado a miles de familias
El gobierno de Trump probablemente separó a miles de niños inmigrantes de sus padres en la frontera de Estados Unidos y México de lo que se había hecho público anteriormente, de acuerdo a un nuevo informe del gobierno publicado el 17 de enero.
El gobierno federal informó que poco más de 2,700 niños fueron separados de sus padres después de que una corte federal ordenara en junio de 2018 la reunificación de las familias. Pero incluso antes de que la administración diera a conocer la política de tolerancia cero en la primavera de 2018, el personal del Departamento de Salud y Servicios Humanos notó un "fuerte aumento" en el número de niños separados de un padre o tutor, según el nuevo informe de la Oficina del Inspector General de la agencia.
Los investigadores han llegado a la conclusión de que miles de familias más podrían haber sido separadas durante una afluencia que comenzó durante el verano de 2017, mucho antes de que la política se hiciera pública en abril de 2018.
"Se desconoce el número total de niños separados de un padre o tutor por autoridades de inmigración", dice el informe.
Frente a una importante presión pública, el presidente Trump se vio obligado a rescindir la política de separación de familias en junio pasado.
Antes de la política de tolerancia cero, funcionarios comenzaron a rastrear las separaciones informalmente. Este seguimiento informal reveló que, en 2016, de todos los niños bajo el cuidado del gobierno, el 0.3 por ciento fue separado de un padre o tutor. Para agosto de 2017, el número había aumentado a 3.6 por ciento, según el informe.
Independientemente del informe del inspector general, la administración de Trump no ha descartado que la separación de familias regrese de una forma diferente. Según se informa, ha sopesado las alternativas de separación de familias, incluido un plan de «elección binaria» que les daría a los padres la opción de separarse voluntariamente o ser detenidos juntos durante años.